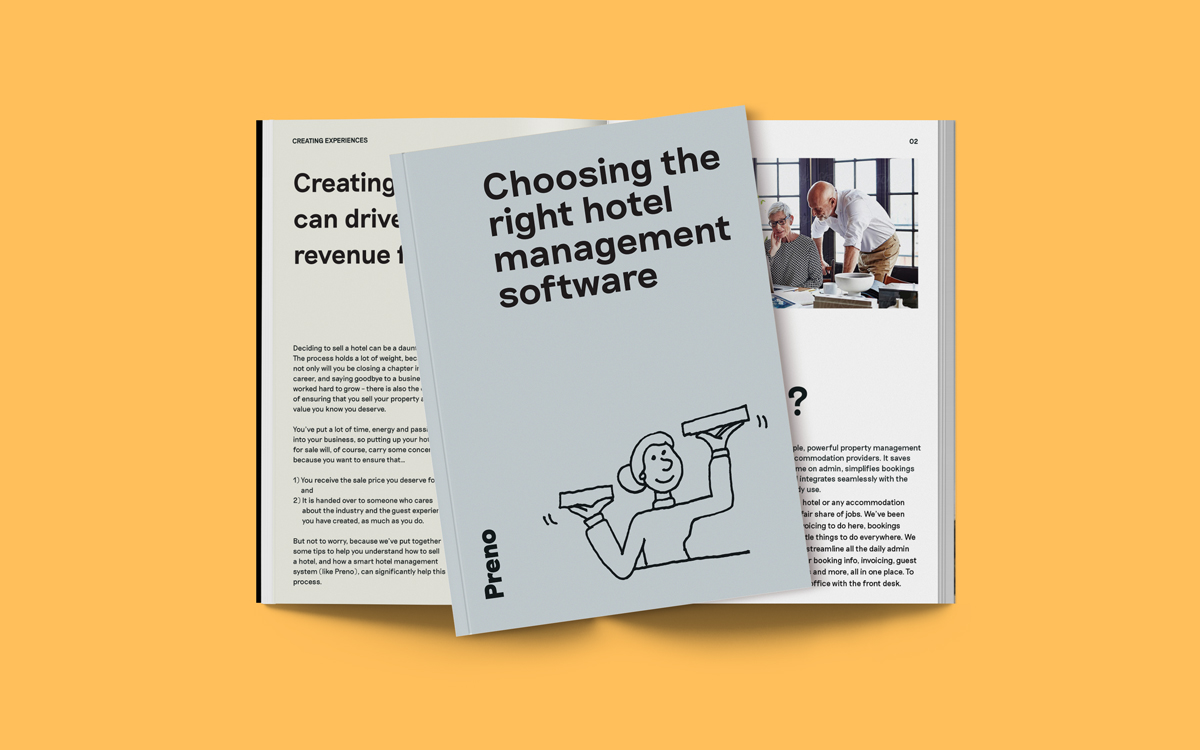 Choosing the right hotel management software for you
Great businesses are built on great systems and processes. And while many in the accommodation industry still rely on manual spreadsheets and paper records, there's a simpler and smarter way to get things done – with a powerful Property Management System.
Property Management Systems (PMS) like Preno are very intuitive pieces of software, designed to help accommodation owners run their businesses smoothly. They take the confusing and lengthy admin out of the mix – so operators can focus on looking after their their staff, their business, and most importantly, their guests.
While PMS software can make running your accommodation simple, choosing the best solution can feel complicated. With so many options on the market, it's tough to know which will best meet your needs. That's why we're breaking down some of our top tips on choosing a PMS that will work for you – and for your accommodation business. 
Set your goals
Before you start researching all the hotel management software on the market, take a moment to think about what you want your solution to achieve. Ask yourself questions like…
What are the biggest pain points of the software you currently use? 

What issues are in dire need of solving? (E.g. are you spending too much time on admin?)

Which processes need streamlining? 
Maybe your booking process takes place across multiple systems, and important details are falling through the cracks. Perhaps you need to improve the connection and communication between the front- and back-of-house. Or maybe you want a simple way to get to know your guests, so you can offer them a truly personalised experience. 
Whatever your goal (or goals) might be, get clear on them first. This way, when you start looking at PMS options, you'll have a much better idea of whether it can deliver.
Tick off the technical side of things
There are a few technical fundamentals that your chosen software should meet. Here are three of our top points to consider…
1. Mobile-optimised
Check that the software has a clean, simple, and user-friendly mobile app, so that it's easy to use on-the-go.
2. Cloud-based (remote access)
The best systems can be used any time, anywhere. The cloud is pivotal in making that happen. Ensure that any software you're looking into is cloud-based, and can be accessed by every key team member who needs it.
3. Integrated with other smart apps
Make a list of all the tools and systems you already have in place – like, for example, Xero accounting software. When you look into PMS options, use this list to check that the new tool will successfully integrate with all your existing ones.
Fully understand the features on offer
You don't want to spend time and energy implementing a new system, only to find out that it doesn't quite cover all your needs. Have an in-depth look at the features available before you make a decision, and double-check that the software can do everything you need it to. 
Features you might need could include…
1. Reporting
Does the software provide in-depth reporting? A feature like this can be transformational. Detailed reports can help you make totally informed decisions, and take total control of your business.
2. Bookings
Can you take bookings directly through the software? If you can rearrange bookings, confirm new reservations, and arrange room changes – all from one simple system – you can keep your customer service streamlined.
3. Guest information
Does the platform let you build guest profiles? Knowledge is power, and having a detailed customer database is invaluable. If you can take note of their favourite wine, or the way they take their coffee, you can use this info to create a genuinely tailored experience.
4. Securely store credit card info
If the software lets you safely and securely store and charge guest credit card details, that's a major plus. If you can store multiple cards for one booking, even better. This will help fast-track your check-in process, making it seamless for your guests.
5. Accounting integration
We've already touched on the importance of a PMS software integration with your existing tools. This is particularly important when it comes to accounting. A system that connects with your accounting software will make life easier for both you and your accountant. It'll give you detailed financial reporting and analytics, make reconciling and end-of-year effortless, and offer up real-time oversight on your business's progress.
6. Email automation
Automated emails – e.g. receipts, personalised reminders and thank you notes – can save you a copious amount of time. If improving guest communication is near the top of your list, you might like to choose a software solution that lets you create personalised templates, so that you can optimise your email marketing.
7. Housekeeping organisation
Does the software help you track and update housekeeping? This can be a great help in keeping your accommodation running like a well-oiled machine; ensuring every guest's stay is hiccup-free.
8. Rates and availability
Does the tool let you set rules for check-in/check-out dates and room rates? The ability to respond dynamically to upcoming events and market changes can be a real game-changer for your business.
Some PMS solutions might offer a few of these features – and some, like Preno, will offer all of them and more. Before making any decisions, dig deep into the features on offer. Check that they'll help you achieve your business goals.  
PRENO TIP: Look ten steps ahead
When choosing your solution, don't just consider what your business looks like now. Think about where you want it to be years from now, too. Will the PMS software be able to grow with your business? Will its features cater to your business not just today, but tomorrow too? 
Choosing a product-focused company like Preno is a great way to future-proof your systems. We release new products and updates regularly, which means the product you sign up for today will be an even better product a few months or years down the track.   
Consider the cost
Most property management systems have a monthly cost attached, so you'll need to factor this into your business's budget. Some solutions – Preno included – base their pricing on the size of your accommodation business. This means that whether you operate a boutique B&B or a large chain of hotels, there will be a package that works for you. 
Look for solutions that are clear on their pricing and upfront about any additional costs (like booking fees). Depending on the size and scope of your business, these can quickly add up. This is  why Preno is very transparent aboutcosts, – there are no hidden charges and overall cost is based on the number of users or bookings. 
Every business is different, so flexibility around pricing is a major bonus, too. Preno is uniquely flexible, in that there are no fixed contracts, low set-up fees, and month-to-month subscriptions. You can even adjust your pricing yourself, based on the number of units in use at the time.
PRENO TIP: Factor in new hardware costs
Explore whether the system will run on your existing hardware and tools, or whether you'll need to buy additional equipment – like a tablet, or laptops for individual team members. If so, be sure to leave room for these purchases in your budget.
Check out the support
It can take time to wrap your head around new software, so it's good to know that there's a helping hand along the way. Look into the support available for each solution. Have they published plenty of blog posts, articles, and videos to help explain how to use the software? Are there in-depth FAQs and robust troubleshooting guides? Does it come with access to real people who'll be there to answer all your burning questions? If not, you might find your new PMS software makes life less 'stress-free', and more stressful. 
At Preno, customer support is a priority. Along with our large library of help articles, videos, and recordings, we also offer convenient 24/7 personalised support through our in-app chat. With Preno, this level of support is all part of the service, and comes at no additional cost to our customers.
Try before you buy
PMS solutions like Preno often come with the option of a free trial, and we recommend grabbing the opportunity with both hands. Pick a select few and give them a go. Look out for ease of navigation and user-friendliness. Staff turnover in the accommodation industry can be high, so you want something speedy and simple to learn. This will save you time teaching and reteaching complicated systems. It will also give you a chance to test out the software's troubleshooting and customer service. Always refer back to your original goals, and make sure the PMS is set up to help you achieve them. 
PRENO TIP: Get your team on board
When implementing a new system, it's important to have the support of those who'll be using it the most; your staff. You might like to pick a couple of key people to be involved in the software-picking process. At first, you might find that your front-desk superstars are happy with the current system, just because they know it so well. But try and encourage them to look at it with a critical eye. Ask them what is and isn't working about your current system, and what they'd look for in a new one. Get them to trial the software and make sure that it ticks all their boxes. If your team has had some ownership in the decision-making process, they'll be that much more invested in making sure the new system is a success. 
'Choosing Your PMS' Checklist
We've pulled together this handy checklist, summing up all the key points we've covered. Refer back to it when exploring your PMS options, to help make sure your solution will change your business for the better. 
Does it have a mobile app?

Is it cloud-based?

Does it integrate with your existing software?

Does it come with detailed reporting features?

Will it let you track bookings?

Can it help you build guest profiles?

Will it let you securely store credit card details?

Can it help you save time with automated emails?

Does it keep track of housekeeping?

Will it let you dynamically change rates?

Is it affordable?

Will you need to purchase new hardware to make it work?

Does it come with solid customer support?

Can you do a free trial?

Is it user-friendly?

Is your team on board with it?

Will it help you achieve your business goals?
Good luck!
Choosing the right PMS solution might seem like a big task. But get it right, and you and your business will never look back. 
We hope this resource has offered up some helpful tips. If you're ready to try out a solution that's loved by some of the world's finest accommodation providers, you can sign up for a free trial with Preno today.
Want to see Preno in Action? Join our free webinar: Sign up here
Subscribe to our newsletter