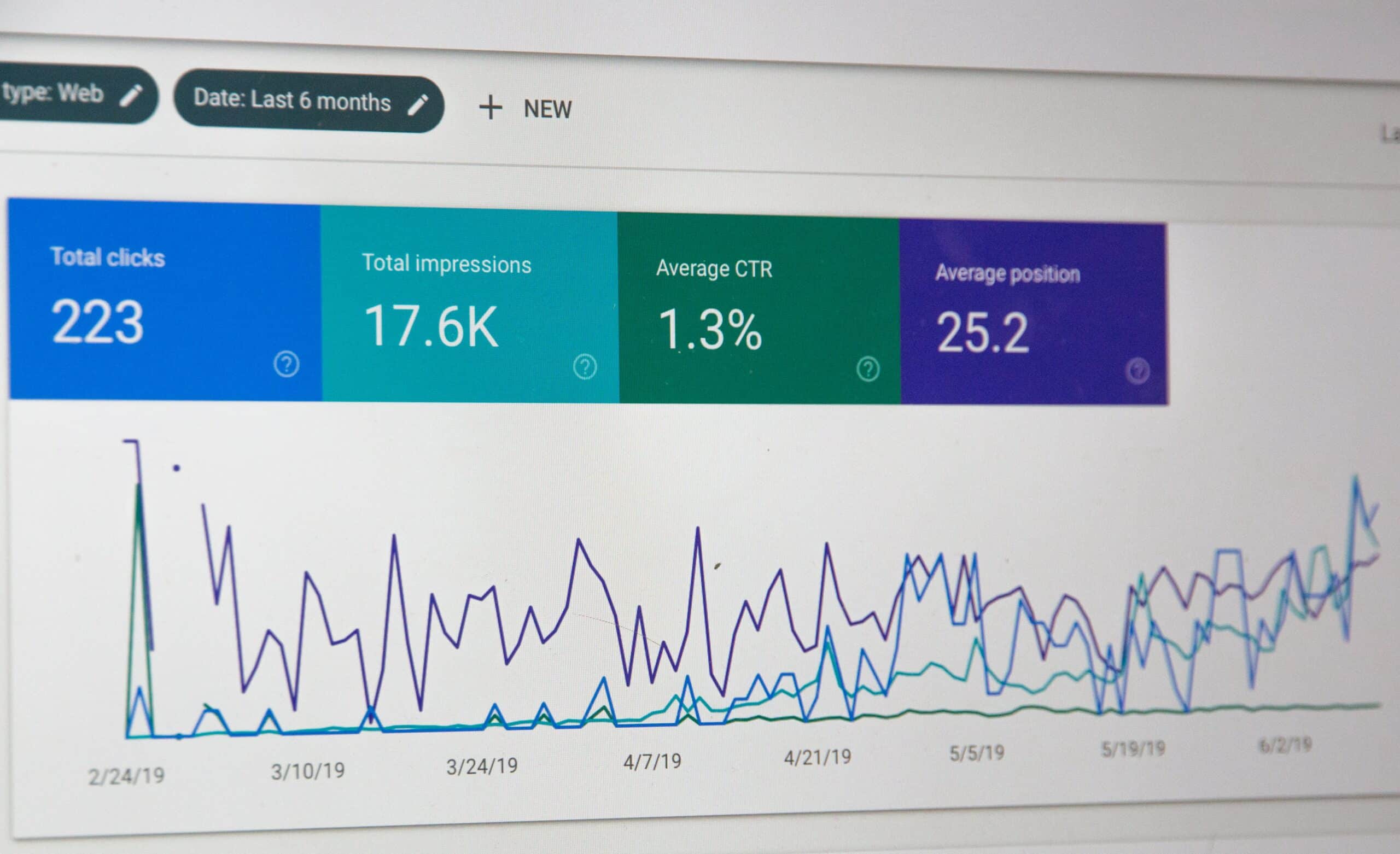 Digital marketing tips for hoteliers and operators
Whether you are a complete newbie to marketing or already know the basics, there are always opportunities to learn more. That's because digital marketing is always evolving and businesses need to adopt a more agile digital approach, especially during times of a global pandemic.
Finding the time for marketing can be a big ask as hoteliers and operators are often low on resources. We've put this article together to help you determine if you have the capacity to start this journey yourself, or if you need to outsource your marketing activities. Here, we touch on three key elements: developing a marketing plan, organic SEO, and local Facebook targeting.
Let's start by putting a marketing plan together. This is a strategic approach and needs to align with your overall business goals.
Create a marketing plan that can attract more guests to your property and give you a clear direction to achieve your main objectives. Here are a few questions to guide the development of your marketing plan:
Who is your target audience?

What makes your property unique?

Who are your competitors—both direct and indirect?

What are you trying to achieve in the next financial year?

What is the status of your website? 

How are you tracking your activities—online and offline?
Setting up SMART objectives can include: increasing brand awareness, generating more guests, or selling personalised products like linen or towels from your property. 
SMART objectives are:
Specific

Measurable

Attainable

Realistic

Time-specific
Hotel Tech Report gives an overview to explain SMART objectives relating to the hotel industry.
Understanding your target audience can determine what marketing channels you should explore first. For example, think about how your guests find your property. Is it through your website, Facebook advertising, newspaper, Google, Instagram, an Online Travel Agency (OTA),  or your local community? A part of developing your plan can include checking in with your OTA or your community to see what marketing initiatives you can do together.
Focus on what makes your property special and show customers why they should stay with you. Create your own point of difference. It can include a range of things, like a priceless view, location close to shops, restaurant, exclusive style, or private balcony.
Look at what your competitors are doing, study their promotions, review the feedback you get from your guests. Sign up to their emails, follow them on social media, and analyse their SEO. Think about what you can offer your guests.
Invest time in your website, by refining your web copy, images, tags, links, and messages. Your website is your window to the outside world and at the heart of your digital marketing activities. Your website can give guests a clear idea of what your property is about, and a powerful tool to showcase your property's unique features. It is where your information like blogs, images, videos, live to tell your story. Your website also plays an important role when you use email marketing or want to gather reviews from your guests, it is a place to send your guest to, so they can find the information they are looking for.
Set a goal that you'd like to achieve in the next financial year. With Covid-19 disrupting the tourism industry, use your time to plan for what may come next? We expanded on this topic in a recent article on 'How to be smart with your time when revenue is down'.
Search engine optimisation (SEO) 
How can accommodation providers use keywords to drive and improve organic search results and increase the quality of website traffic? 
Keywords are how people search online. Identifying keywords can help you connect with the right audience when you use them to optimise your website and content. 
Keywords are less about your content than how your audience engages with that content. In order to create the best, you need to think like your potential customer. What words will they use to search to get to your website or article? Once you have listed a few keywords, you can start to build your first SEO campaign. SEO stands for search engine optimization and it is the process of using keywords to get the best traffic from search engine results page.
Develop a content plan around keywords and support that plan with blogs, videos, and pillar pages. If you're new to pillar pages, check out his great article from Hubspot that explains why Pillar pages matter for SEO here. 
Local SEO
Local SEO is a way to reach your potential customers at the exact time they're looking for the products and services you provide. Local SEO, which is sometimes known as local search engine marketing, improves website traffic through some strategic action focused on your own backyard. You need to show up in local searches.
What is 'Local Search?
Did you know that 46% of all Google searches are looking for local information? And 97% of people learn about a local company online? (Source: SEO Tribunal)
Local SEO is all about increasing search visibility for properties that serve their community face-to-face. These can be lodges, BnBs, resorts, or hotels that operate in a specific area. You want your business to appear in every relevant local search, from a property listing to a location-specific search on Google. Local SEO housekeeping also extends to managing online reviews and ratings, local social media engagement, and more.
To learn more about local search marketing, have a look at MOZ 's SEO introduction and their Beginners Guide to SEO. Alternatively, BuzzSumo is a trusted keywords platform that provides valuable insights and research for businesses of all sizes. 
What is local SERP
Search engine results pages (SERP) are the web-based pages that your customers see when they search for something online through a search engine, such as Google. As you know from your own experience, people use specific keywords to find things online and a search engine provides a SERP, which is the list of searches on a page.
Creating a Google My Business profile is important for a local search strategy you can learn how to set up your Google My Business page from Google.com/business and get started have a look at this YouTube video.  By doing this, Google can identify your property's listing and it will appear below the map people see when they perform Google search results with local intent. Below is an example of local SERP results next to the Google map.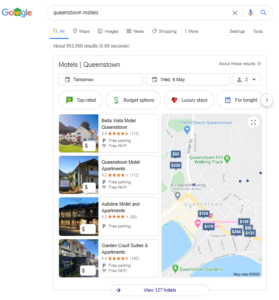 It's easy to see how this could help your property get more business. Here are a few easy steps to take to get started:
1. Make a list of that you want to try to rank for on search engine results pages(SERPs) 
2. Compile an audit to see which keywords are ranked higher and lower. Google Search Console or SEO Tool Box can help you do this.
3. Research your keywords to find the right ones for your business using Moz Keyword Explorer, SEMrush Keyword Magic Tool, or Ahrefs Keyword Explorer. Make sure to check out these functions when doing research:
Search volume trend

SERP analysis

Keyword suggestions

Data filtering

Keyword difficulty
4.  A great resource for keyword research is Google's keyword planner because the data is Google-search related. This tool can help you discover new keywords and provide you with a search volume range to see how many impressions a keyword might get.
5. Google Trends can provide you with search data on how a keyword has ranked over time.
To build out a keyword campaign, you need to sign up for a Google AdWords Account.  Google provides tutorials to make getting started easy.
Local Facebook marketing
If you have ever thought about using Facebook ads to promote your property to local audiences, now is a good time. The tourism industry will focus on local travel for the foreseeable future. Adjusting your Facebook approach to a specific audience once we move from Level 3 to Level 2 can help you get your messages or images to the right local audience.
Using Facebook ads can help you showcase your property to locals who are likely to book a getaway within the country. While international travel might be stalled, locals are more likely to want to treat themselves after being in lockdown for so long. 
How can local Facebook marketing help you?
Put your accommodation on the map and make it easy for locals to find you

Showcase your property to locals who are likely to book a getaway within the country

Create calls-to-action that are specific to your property

Easily target the right people you would like to show your ad to
Creating an ad is easy. You will need a FB business page and Facebook Business Manager to get started. Once your FB Business Manager account is set up. Scroll down on the top-right menu and select 'Audiences'. On the Audiences page, you can see all your saved Facebook audiences, once you have created them, as well as create new ones.
How to set your local Facebook ad audience?
Set up a FB business manager account with your FB pixel

Set your campaign objective (Brand awareness/Reach)

Custom audience (people that visited your website for example)

Choose your audience, you can specify more than one audience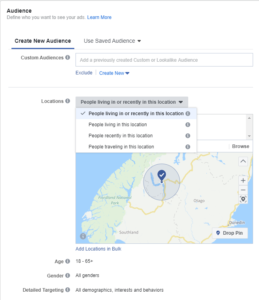 To find out more about set up and how to manage your Facebook audiences read more here. This will help you get started with Facebook ads. We also recommend looking up Facebook Ads on YouTube, since there are tonnes of tutorials to teach you how to get the most for your money. 
We're here to help
We're committed to helping hoteliers and operators get through COVID-19 and come out on top. For more on how to adjust your marketing strategy during the Coronavirus crisis, click here. Be sure to also check out the marketing tactics from our friends at Blue Eye Deer in this infographic
Subscribe to our newsletter