We spoke with Yohann Bourdin, operator of Wanaka Unlocked, and the beautiful Lime Tree Lodge. 
Like many other accommodation providers in New Zealand, the Alert Level 4 lockdown posed an enormous challenge for Lime Tree Lodge and Wanaka Unlocked to overcome. "We lost 100% of our bookings in that week," Yohann says. "It was really quite scary." The global pandemic has affected tourism globally in a devastating way.
However, as New Zealand's travel restrictions were lifted over time, interest in travelling to Wanaka gradually returned, but not without disruptions. After the move to Alert Level 3, Yohann began to receive enquiries from potential guests. At Level 2, bookings began to come through once again. And now, at Level 1, Yohann is looking at similar occupancy levels to those he experienced in winter last year. "I hope that Wanaka can lead the region in recovery post-Covid, and I am optimistic that we'll see local travellers supporting the skiing season in New Zealand". 
Yohann manages both Wanaka Unlocked and Lime Tree Lodge. Guests have the option to choose accommodation to suit their needs at Wanaka Unlocked or stay at the unique, ten-acre estate, Lime Tree Lodge is just outside of Wanaka.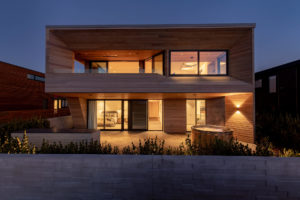 With the New Zealand winter ski season starting, Wanaka is a prime winter spot for Kiwi guests to come and enjoy the ski season and explore the district. With fewer international guests and reduced crowding, there will be many opportunities in and around Wanaka to explore during the upcoming school holidays. 
Yohann is attributing his positive fortune to Wanaka's favourable location – the Southern Alps are in Wanaka's backyard, making the town the perfect base for exploring Mount Aspiring National Park. For the more advanced skiers, the heli-skiing around Mt Aspiring will take your breath away. If skiing isn't your thing, there are still plenty of winter activities to enjoy. Take a jet boat ride on the Matukituki or Clutha River, or book a scenic helicopter flight. As operators are keen to welcome visitors back to the area, now is also a good time to find a deal to fit your budget.
With the snow piling up around the Crown Range, it is amazing to see why this is one of the most famous skiing destinations globally. Wanaka Unlocked and Lime Tree Lodge can be the perfect base for your ski holiday. In the surrounding areas, you're spoiled for choice. Ski areas like Soho Basin, Snow Farm, Cardrona, and Treble Cone all within a 40-minute drive from the town centre, giving you access to world-class facilities, terrain parks, wide-open trails, and spectacular views, plus the South Island's largest ski area and the longest vertical runs. 
Overcoming challenges
But that doesn't mean there aren't still challenges to overcome for accommodation operators like Yohann. Right now Yohann says his biggest challenge is determining the right price to attract guests.  
He's also already looking ahead to when the rush of the winter season is over. Yohann says he'll be using the seasonal downtime to prioritise marketing,  which will include leveraging the built-in email function within Preno to communicate to guests. Streamlining the systems used by Wanaka Unlocked and Lime Tree Lodge has been an ongoing project.  As part of this, they chose to introduce Preno as their property management system because of its simplicity and the efficiency of its integrations.
By using Preno with Staah, both Wanaka Unlocked and Lime Tree Lodge seamlessly receive online bookings directly into their Preno account, and Yohann praises the customisability of the platform's booking engine. Having moved from an all-in-one provider, Yohann's initial concerns about working with two separate companies were alleviated with Staah and Preno's onboarding support.
Using smart tools is key
In choosing Preno, simplicity was the priority, for Yohann.
"I'm a one-man band," he says. "So being easy to use is the most important thing." I do not need to spend a lot of time to find things using Preno. I really like how easy it is for me to have a complete overview of my bookings and the easy format of the reporting. Preno is one of the easiest systems that I've ever used." 
Less time spent on administration (a task that Yohann admits he is not a fan of) is time that he can dedicate to what is most important – looking after his guests and the owners of the other properties in Wanaka Unlocked's portfolio. 
"Preno fits right in working seamlessly with our payment app, channel manager, and accounting software we already know and use" says Yohann.
Despite the difficulties, Yohann hopes his story can inspire other accommodation providers to remain optimistic, take valuable learnings from every situation, and stay resilient as "It is not what happens to you, but how you handle it". 
If you're keen to experience the beauty of the Southern Alps in New Zealand yourself, reach out to Wanaka Unlocked or enquire about a stay at the lovely country estate Lime Tree Lodge. 
To experience Preno's simplicity for yourself, sign up for a free 14-day trial.