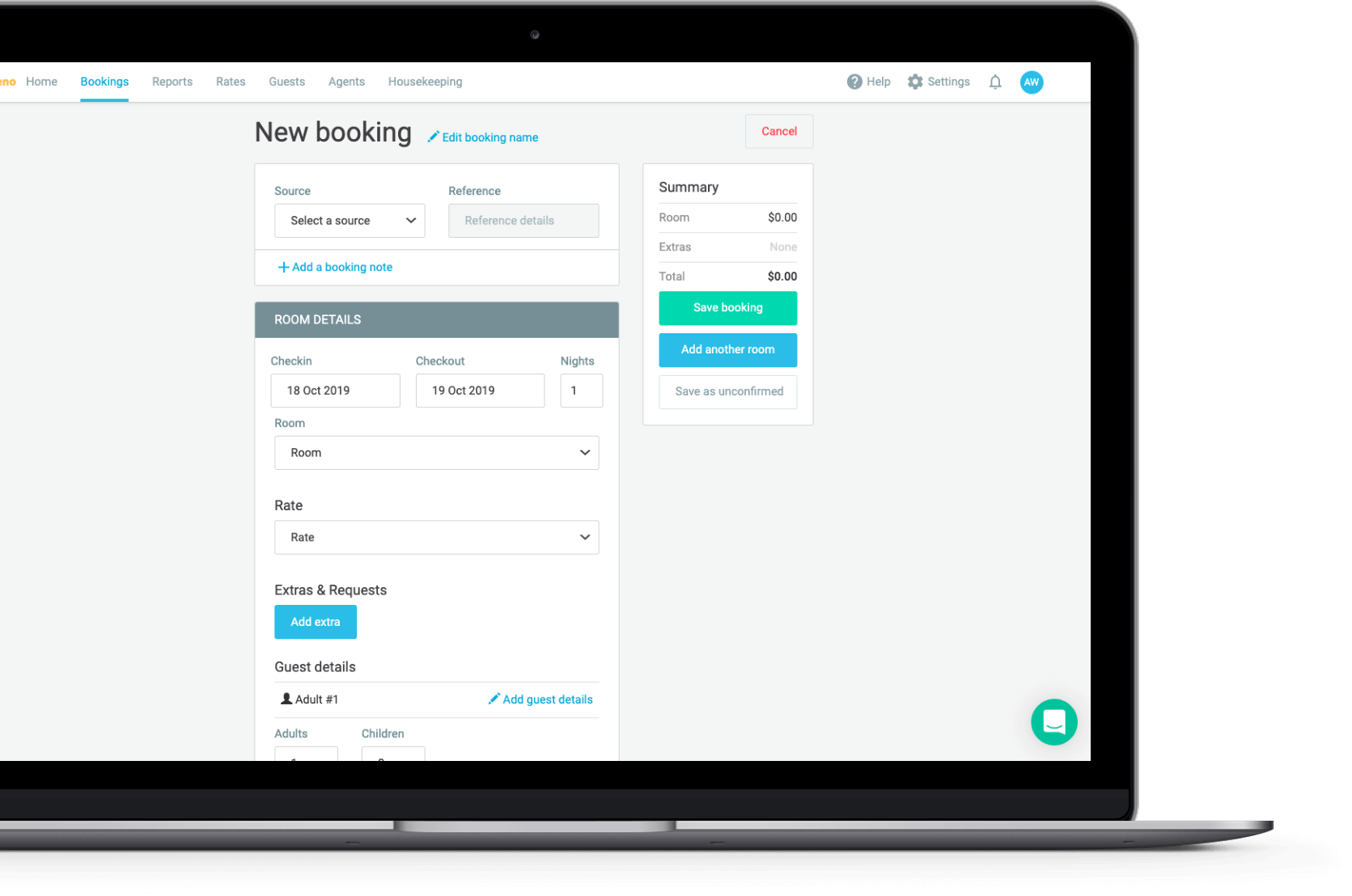 The best NZ property management software (PMS)
Preno is a cloud-based property management software that is designed for effortless use, and simple navigation.
Be comforted by Preno's sleek & simple, colour-coded grid, providing you options to view past, current & future bookings. 

Have flexibility to shift bookings & room types with Preno's simple drag & drop design. 

Conveniently filter groups, status & payment types, so you can view specific bookings types within your

property management system.

Make your repeat guests feel special by building personalised guest profiles.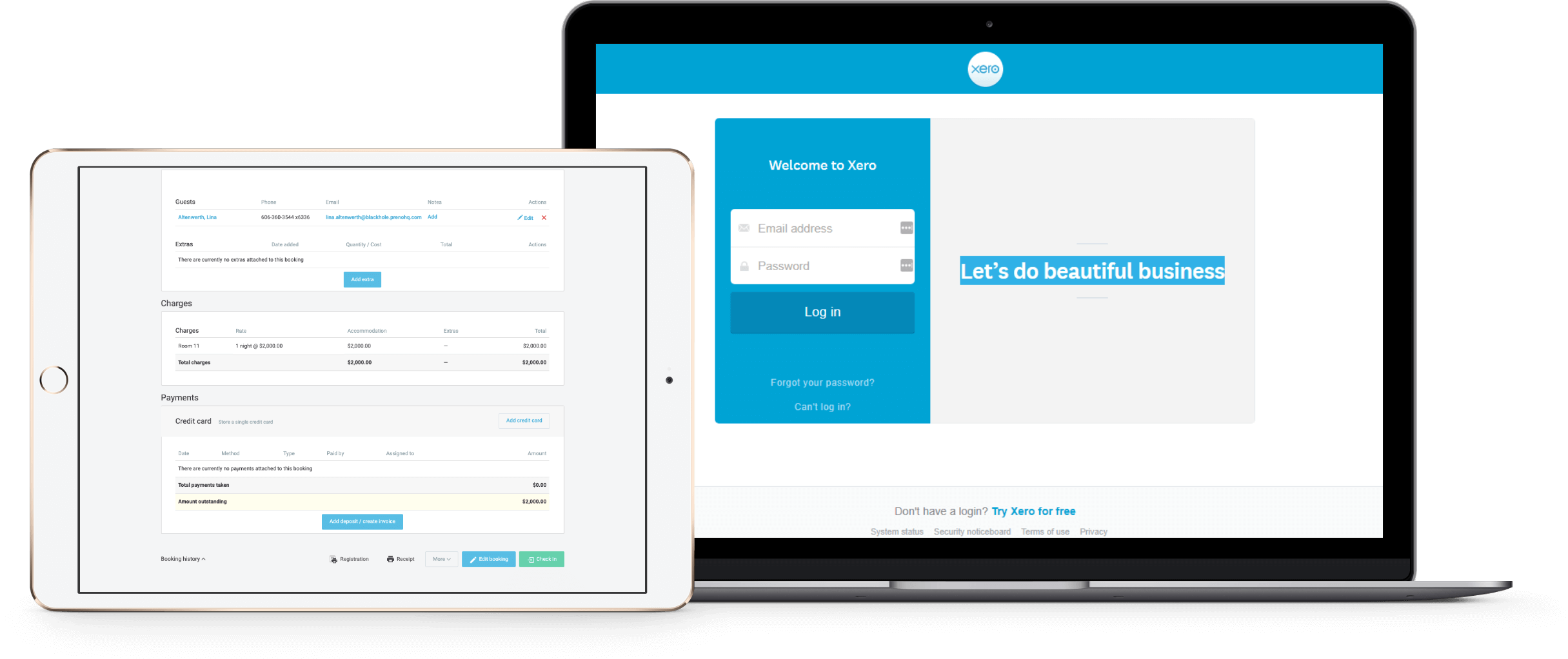 Property management software that connects with Xero
World-class integration of Xero accounting software with Preno's property management system.
Save time while Xero & Preno connect, automatically generating payments & invoicing. 

With the best

property management software

& accounting integration, deposits are seamlessly mapped, simplifying admin.

All data within Xero (if you have an existing account) will automatically transfer to Preno, so you can easily generate & send agent invoices.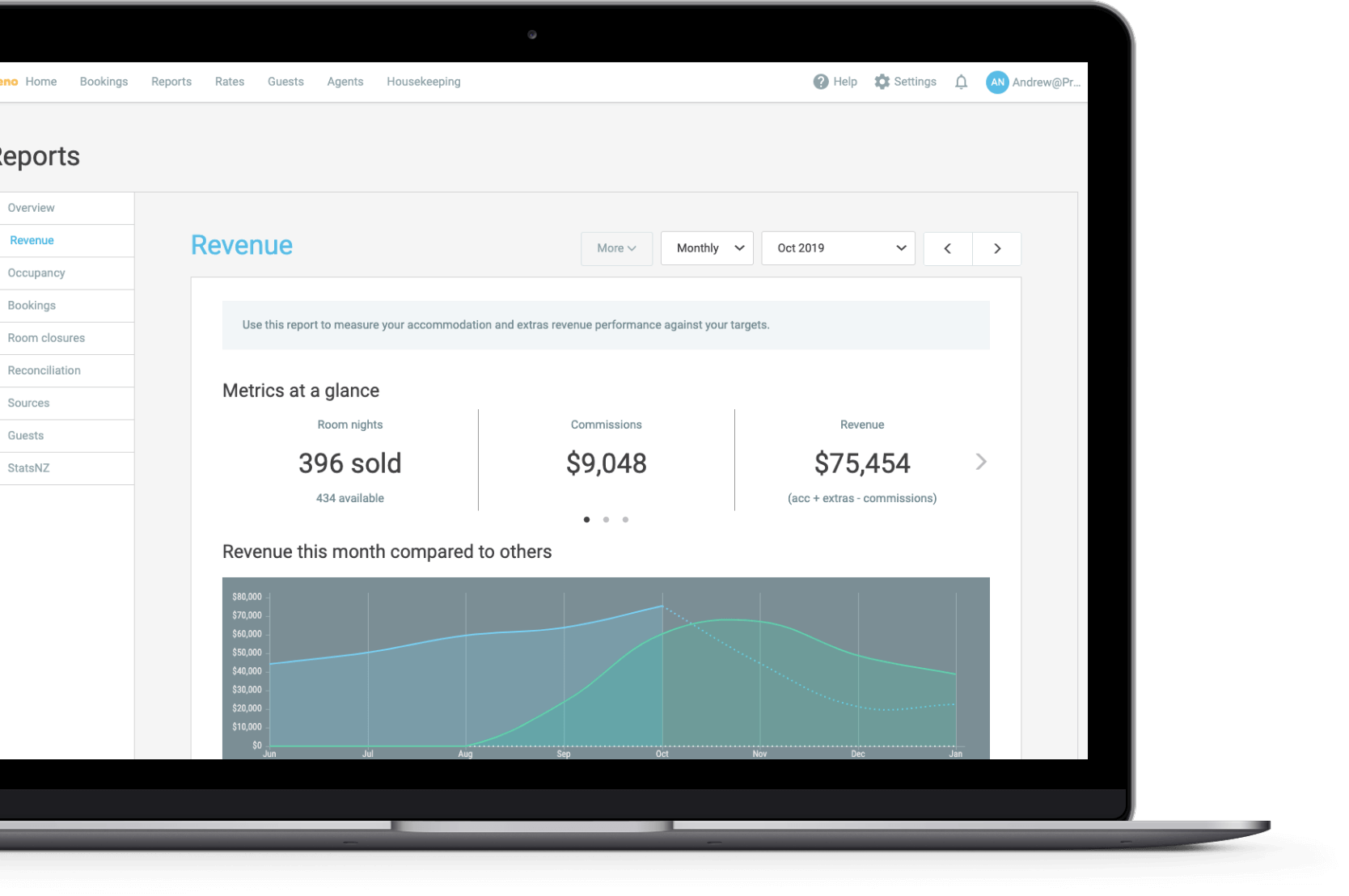 Insightful reporting within your property management software
As an insightful property management software, Preno creates automated reports so you can track occupancy, revenue, and other key metrics.
Preno's smart

PMS software

tools generate performance reports behind the scene, so you can track how your business is performing. 

Set future goals, analyse past property performance & pinpoint room for improvement. 

Easily download & understand

property management system

reports, that provide an overview of key metrics.

Optimise Preno's best property management software tools to make effective changes to your business.
Property management software (PMS) with a Channel Manager & Booking Engine bundle (& integrations)
With its very own Channel Manager (and integration with others), Preno's property management software (PMS) connects your hotel to online travel agents.
Preno offers its very own Channel Manager & Booking Engine – add this on to your property management software (PMS).

Preno also integrates with the other smart Channel Managers STAAH & SiteMinder. 

Have more distribution opportunities, with Preno's integration across a variety of OTA's.

Preno's channel manager integrations enable instant updates of room availability across each channel. 

Significantly reduce admin and risk of double bookings, as Preno's integrations work seamlessly with real-time updates.

Always remain up-to-date, while your web-based property management software imports guest & booking data directly from OTA's.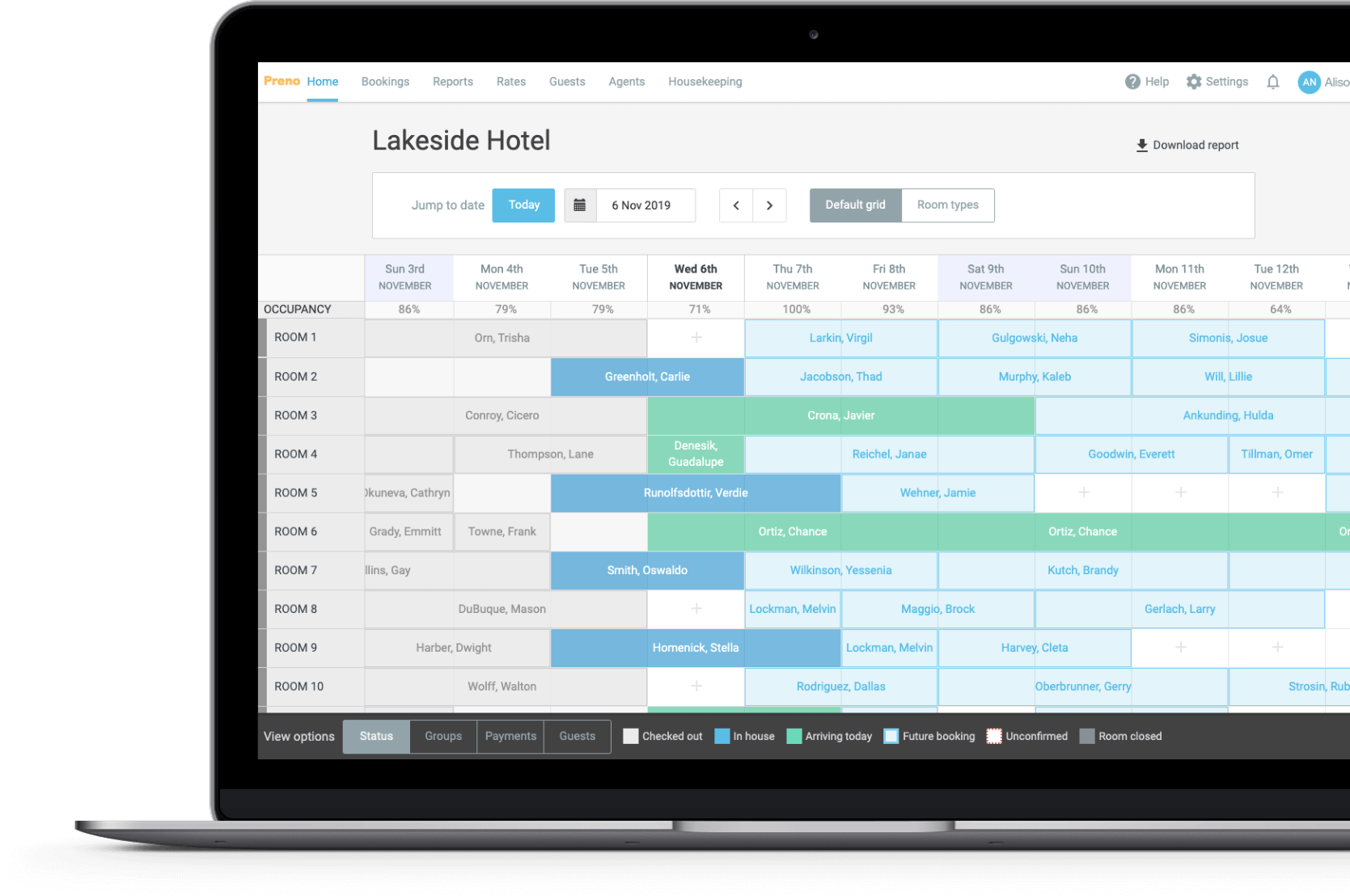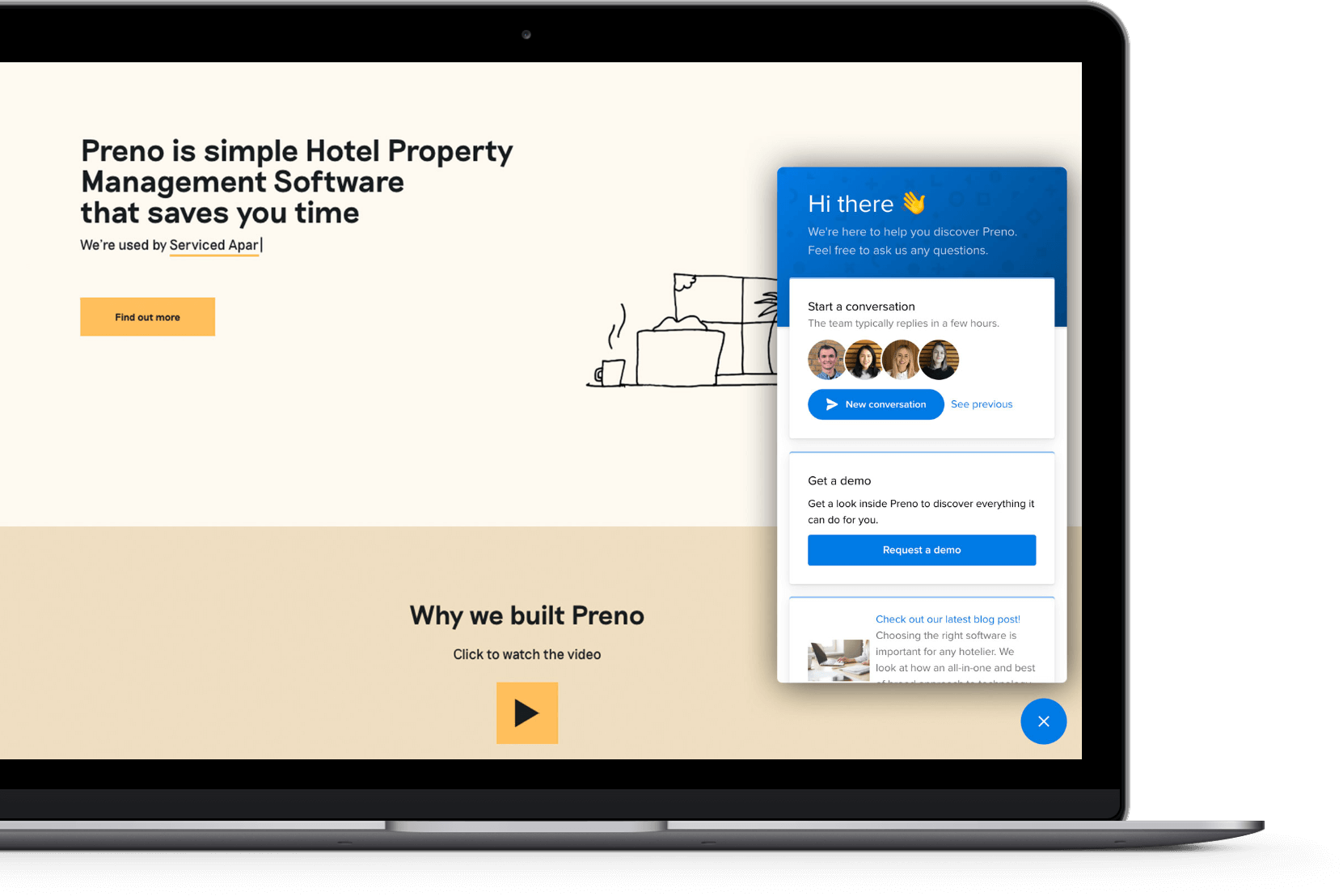 24/7, personal customer support
Preno is the best property management software service provider when it comes to customer support. We're here for you 24/7.
Our team are available 24/7, providing responsive, personalised customer support.

With Preno, you'll have unlimited access to raise any queries or concerns you may have in our in-app chat.

To get you set up & ensure any unique property requirements are addressed, we provide live demo's & training of our PMS software.