Preno and Xero working together
Use Preno with Xero to streamline your business by connecting front office admin with back office
accounting. Simplify invoicing, deposits, agent commissions, billing and more.

Preno automatically creates invoices, imports agent information and enables easy payment
reconciliations through Xero.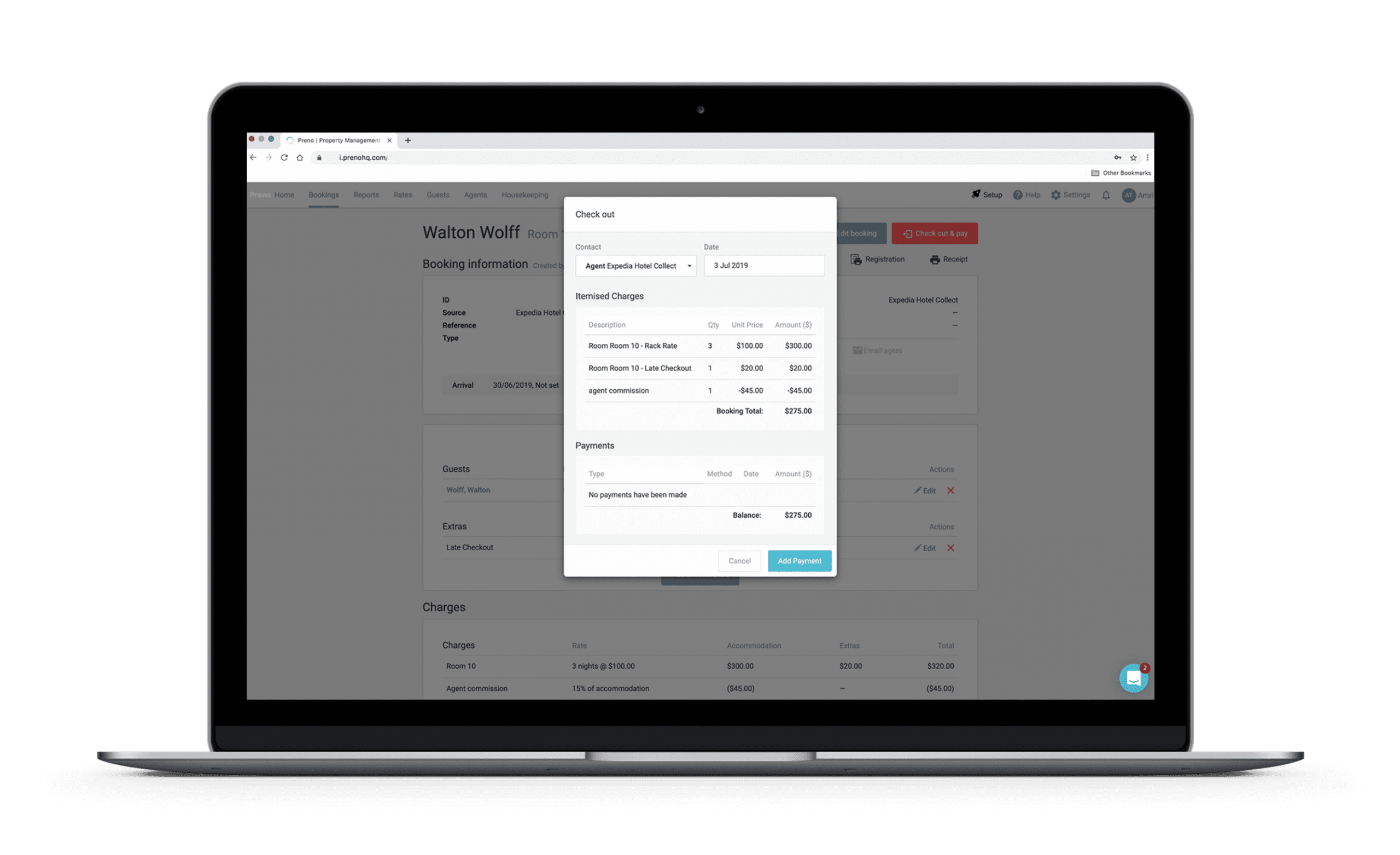 Automated Invoicing
Billing to guests, agents or corporates has never been easier. At check out, Preno creates an invoice and takes care of any commission. In addition, all line items including sold extras are automatically pushed to the correct account in Xero.
Easy Deposit and Prepayment Management
Make use of Xero's Prepayment feature for easy payment reconciliations for future bookings. It's also simple to create invoices for deposits and prepayments. Now you don't need to review a guest's account before check out.
Simplify Agent Commissions And Payments
Agents tend to use different commission rates and payment methods. Preno imports all of your agent information from your Xero account and allows you to quickly create invoices from the front desk.
Find out more
Join the many customers using Preno + Xero
"I bought Waiheke Island motel three years ago, that was using an antiquated booking system. I switched to Preno mainly because of its integration with Xero, and it's user friendly interface. In particular the motel has many contractor guests, many of whom require invoicing, and the Preno/Xero integration makes this easy to manage."
Christina Hyde, Onetangi Beach Apartments
"We went looking for an accommodation booking system that was easy to understand, easy to use, and most importantly, easy for the customer to adopt. We found Preno, and boy does it fit everything we needed and more. With direct integration into Xero, it's so easy to create invoices, you simply check the guest out, and you're done!"
Steve Mullen, Carbon Business Systems
"We are very pleased with Preno as our software solution for our accommodation bookings, for both local and international Members. Amelia and Max at Preno have excellent communication skills, and always provide a fast response and turnaround time. The software is user friendly, and we are enjoying using a cloud platform for our accommodation bookings. The integration with XERO accounting software makes the billing process seamless, and we would recommend Preno to any potential users."
Susan, The Christchurch Club