10 advanced features Preno & Xero can do together: a benchmark for PMS integrations
Achieving synergy: Preno's intelligent, yet simplified approach to PMS software
Preno is a leading hotel property management software that achieves a perfect synergy of automation and simplification.
Created to simplify and synchronise daily operations for hoteliers, Preno encompasses a suite of integrated tools, designed to manage accommodation businesses.
Leading the industry: how Xero's accounting software inspired Preno
Preno's simplified approach to software was inspired by Xero – an innovative accounting software, used by many industries.
Xero's carefully designed accounting software enables non-experts to manage their businesses efficiently and effectively. Preno follows the same approach with hotel operations.
Forming a partnership: integrating PMS software with hotel accounting
Since inception, Preno and Xero have integrated seamlessly – enabling hoteliers to manage their hotel bookings and accounting, all in one place.
The two applications work in synergy to automate invoicing, bookkeeping and payment processing – benchmarking the way hoteliers do business.
How they work together: 10 advanced features of Preno & Xero's integration
Transforming the way accommodation owners do business, Preno and Xero's integration eliminates the gap between front and back office. Saving hoteliers time, minimising communication gaps and errors, and double-handling of information.
Hoteliers are now able to access all of their accounting, guest, and reservation details in one simple place. Read on to see how…
1. Unmatched detail of Preno & Xero's integration
Combining two cutting-edge softwares, within Preno and Xero's integration, no detail is missed. Access refunds, historical invoices, current, past and future payments, and much more within your account with a simple click. Unmatched detailing that no other PMS integration can do.
2. Fast, simple integration set-up (just 30 seconds!)
The connection and set-up between Preno and Xero is effortless and stress-free. All you have to do is login to your Preno account, and start the linking process by authorising your Xero account. You can do this by using the drop-down menu, and selecting the correct account to link items to. Learn more about how to connect Xero to your Preno account.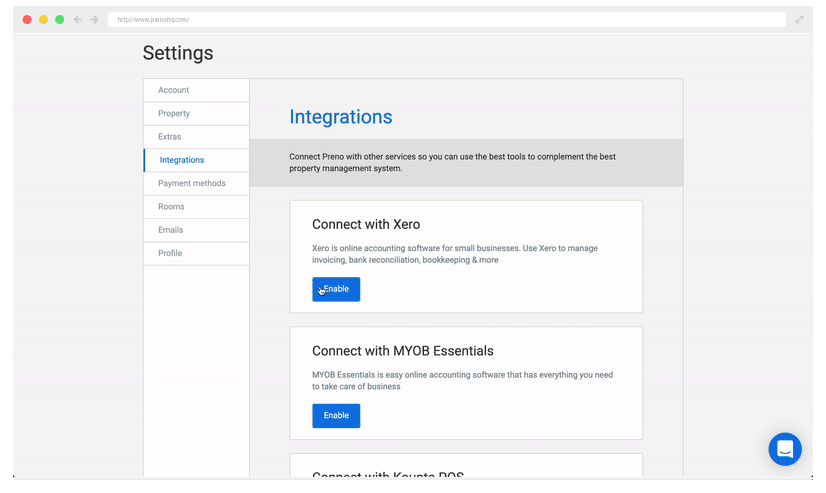 3. Connection of front office admin with back office accounting
Bridging the gap between front and back office, Preno and Xero's integration enables hoteliers to take care of accounts with simplified, comprehensive invoicing, agent commissions, billing, deposits, and more – all in one place.
4. Comprehensive agent commissions & payments
The great thing about Preno and Xero's integration is that all details are sent live from Preno to Xero –  ensuring everything is up to date, with no variances. If you're new to Preno but have an existing Xero account, you can easily import current companies, suppliers and agent information into Preno. Our integration automatically calculates commissions and updates Xero. (Commissions are coded against an expense account in your chart of accounts.)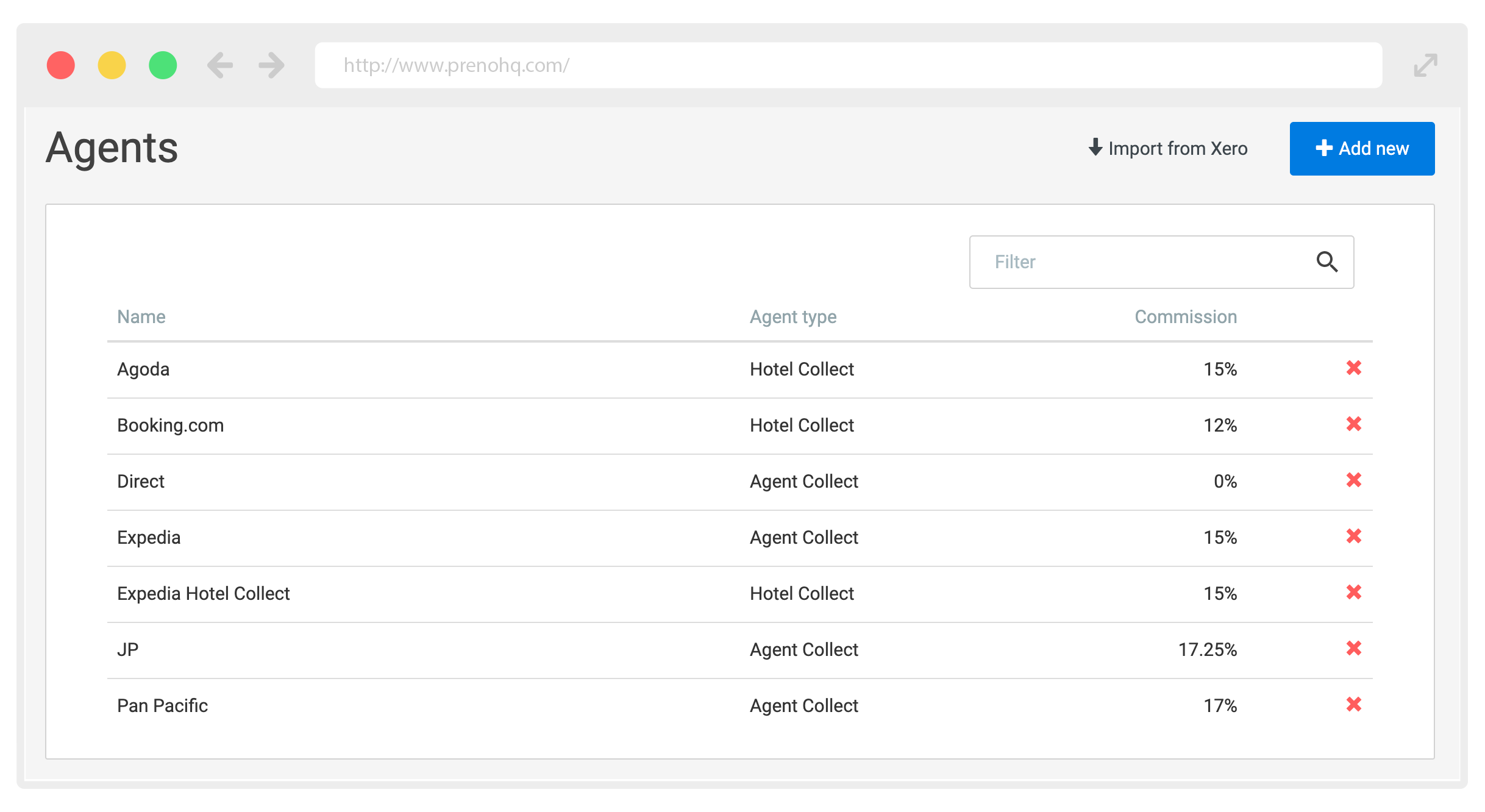 5. Ability to manage individual revenue streams by item or room type
Preno's Xero integration enables you to have multiple options over custom mapping from Preno to your chart of accounts. This means that if you have multiple revenue streams (e.g. minibar, activities, gift shop, etc.) they can each be coded separately within Xero. You can also have multiple commissions (expense account) and bank mappings too!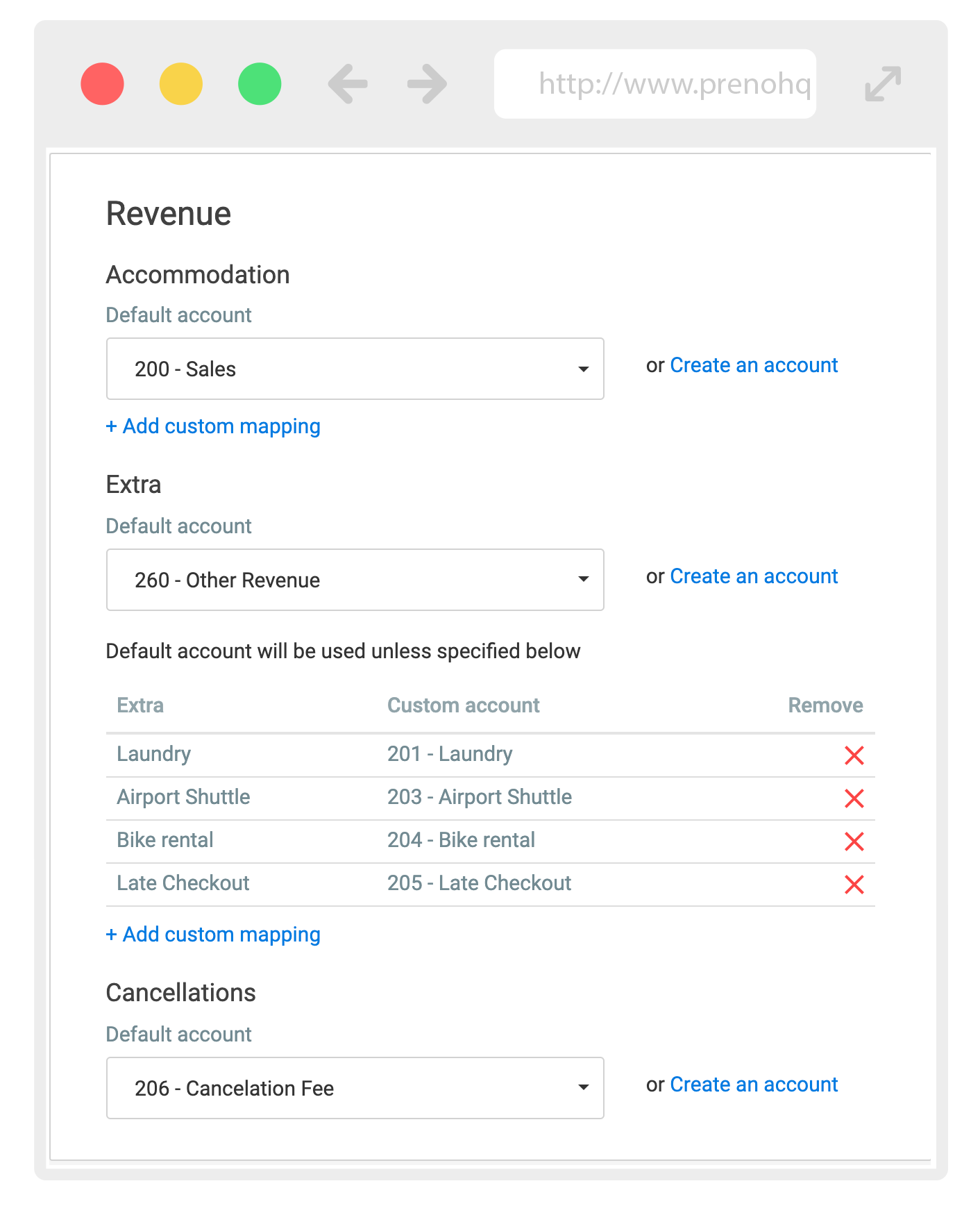 6. Easily view (from the booking grid) which bookings in Xero have invoices
From the Preno booking grid, there are many clear view options available to view important information at a glance. The 'payments' tab for example, showcases which bookings have invoices within Xero – and you can easily access these invoices directly in Xero, with two simple clicks.
7. Automated invoicing for guests & companies
With simplification in mind, both Preno and Xero's software design aims to reduce manual administration and human error. So when it comes to invoicing, everything is automated. Your Xero account will create line items, map extras, and create charges against the correct chart of accounts. You can also have custom descriptions on invoices – and, all guest details, room numbers, rates and room type data is also pushed through.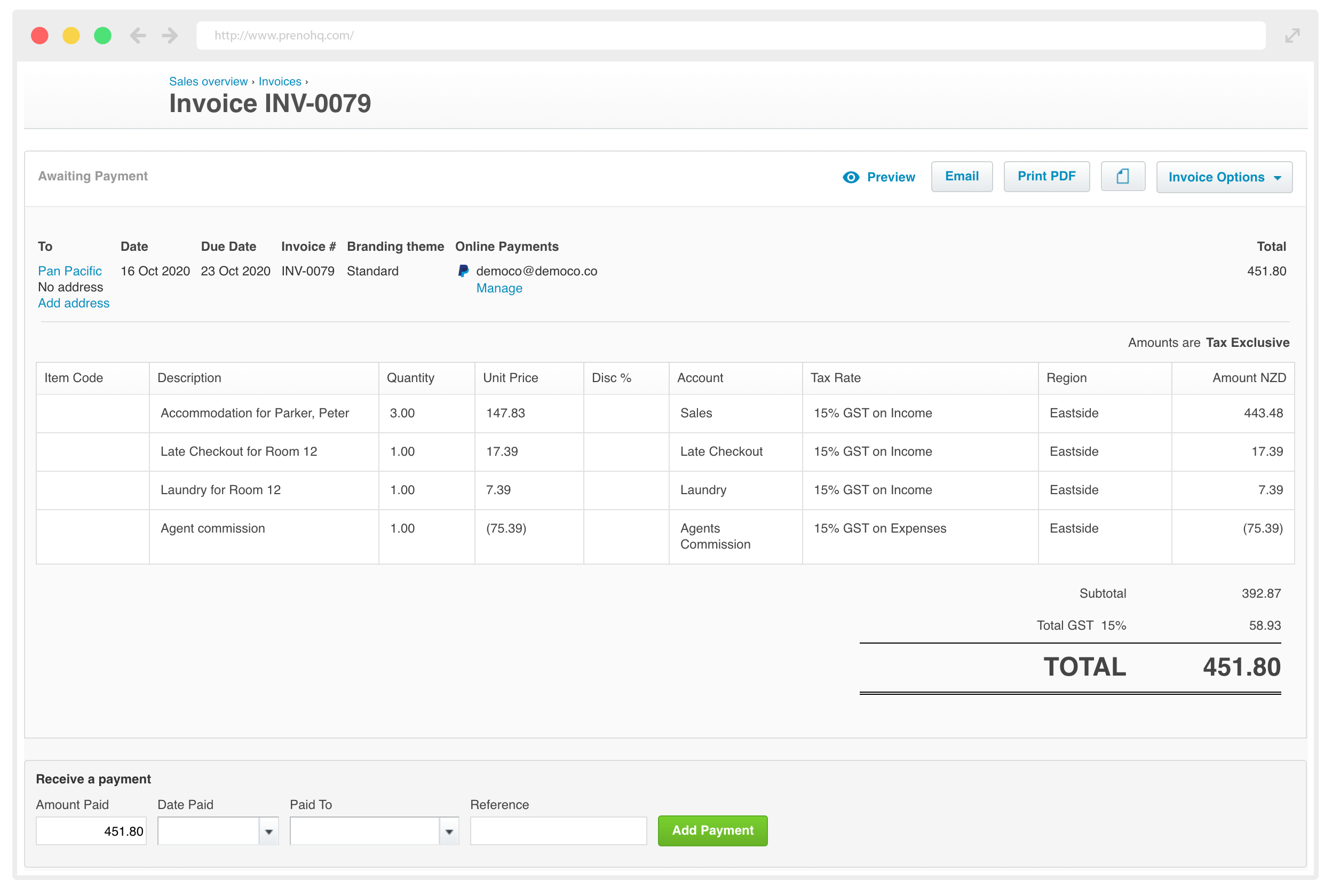 8. Effortless deposit & prepayment management
The combined automation of Preno and Xero means that everything is organised for you. As a hotelier, you can easily create deposits and manage these no matter how long in advance they may be. This integration ensures that everything is kept tidy and tax is applied at the correct time.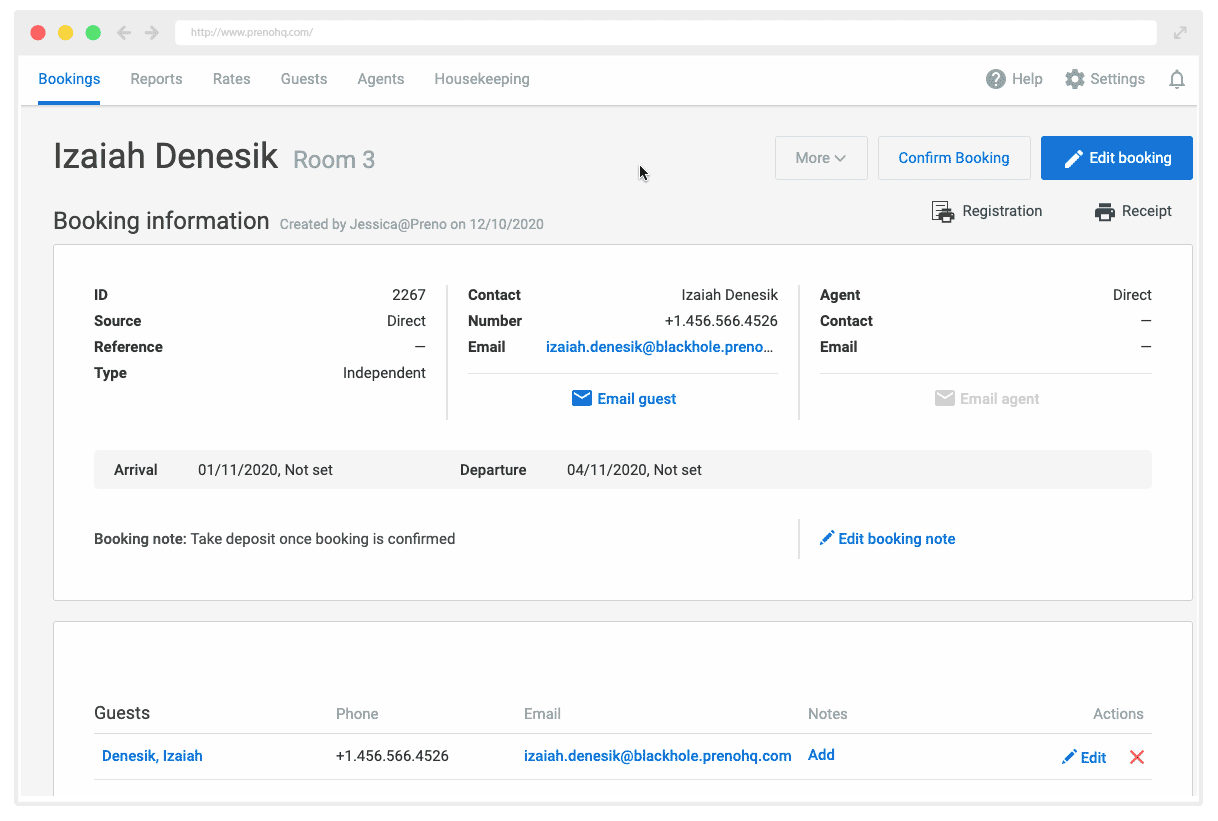 9. Faster, more efficient bank reconciliations
Within Preno, hoteliers can access a clear-cut view of different payment types – as our Preno and Xero integration automatically generates reconciliation reports. This means that hoteliers can take care of bank reconciliations much more efficiently. Learn more about reconciling transactions in Xero.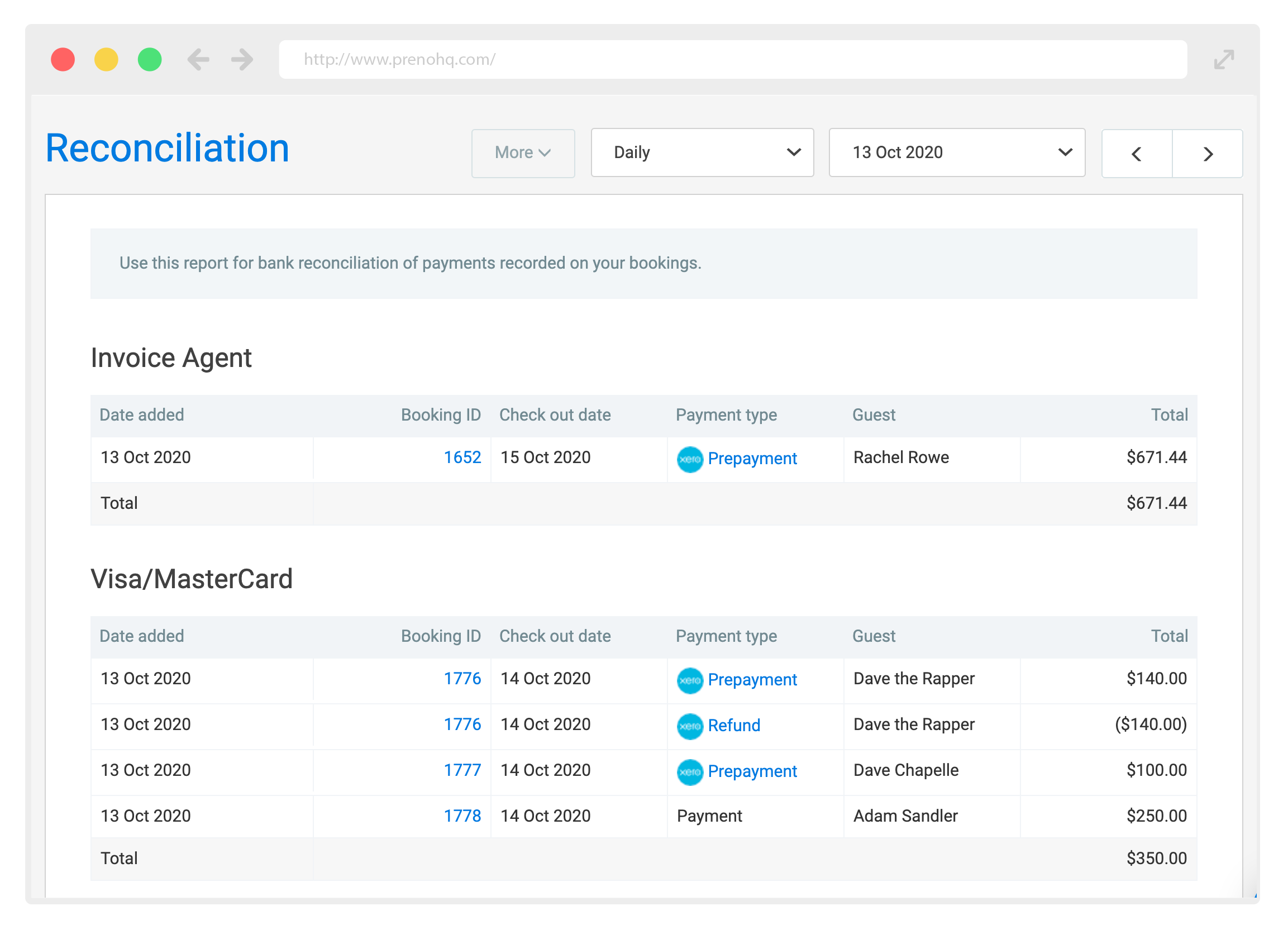 10. Flexibility to have detailed, individual line items within Xero
When using Preno with Xero, there is no loss of information or lack of detail. Preno automatically sends detailed item descriptions for extras and accommodation charges through to Xero – each of which will appear on the correct invoices.
PMS accounting software: an integration that champions
Preno & Xero's integration has established a user friendly interface for hoteliers
From the very beginning, Preno and Xero have worked well together. Our shared mission to simplify software, and enable hoteliers to organise their business efficiently, and without stress, has resulted in a seamless integration.
For too long, PMS and accounting programs in the hotel industry have been far too complicated. Hoteliers have had to deal with unachievable admin backlog, lengthy training processes, and gaps between front and back office – Preno and Xero's integration has changed this.
Want to see Preno in Action? Join our webinar: Sign up here
Searching for a smart PMS accounting software integration? Look no longer.
Talk with Preno about getting set up, or click here to learn more about our Xero integration.
Subscribe to our newsletter