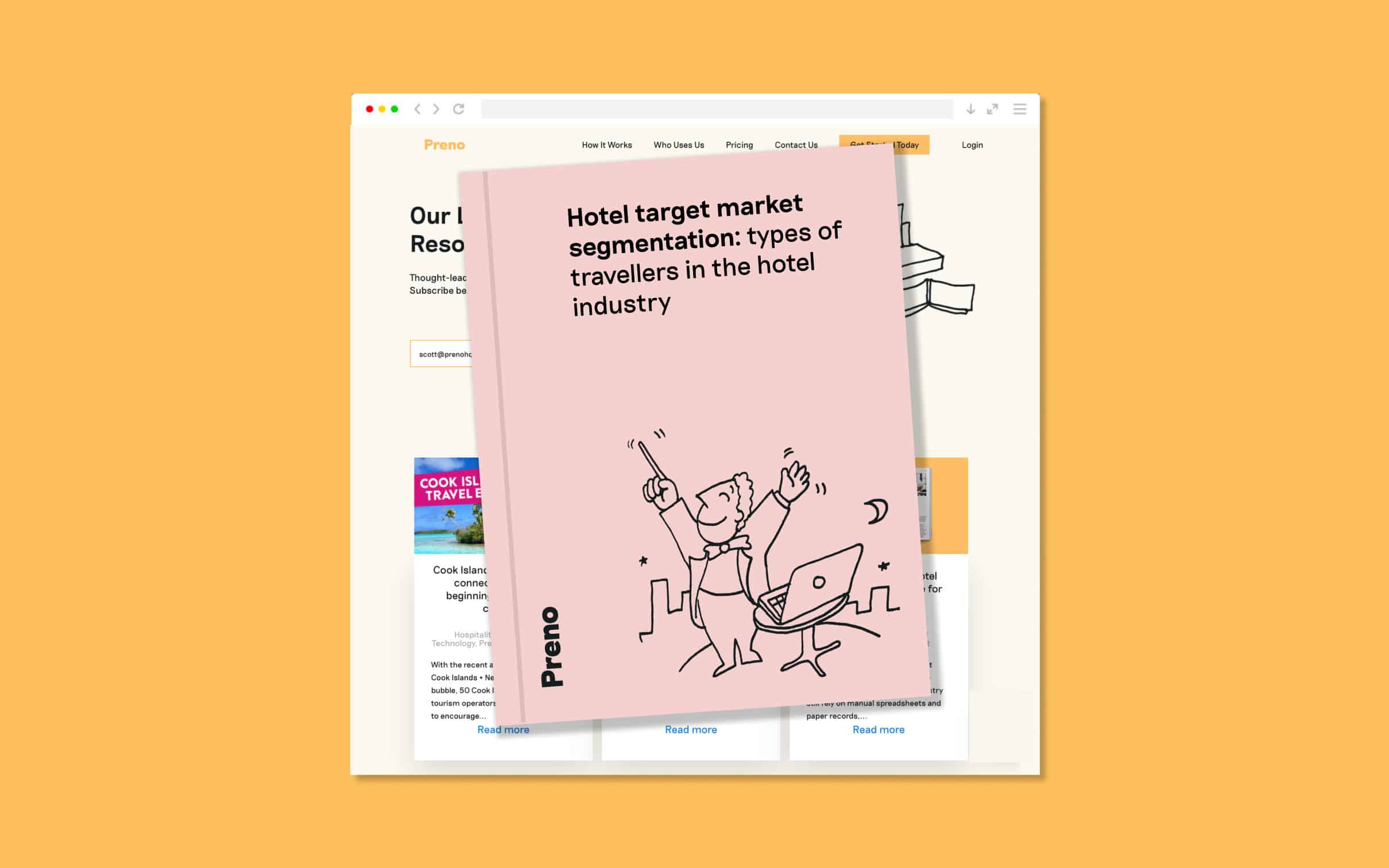 Hotel target market segmentation: types of travellers in the hotel industry
What is segmentation in the hotel industry & how to segment a hotel market
In order to remain competitive in the hospitality industry, it is first and foremost important that you understand your customers.
Understanding what your customers like, what sort of services they're looking for, what their travel habits are, and more, are vital pieces of information that contribute to the success of your hotel.
If you don't understand your customer, how else will you meet and exceed their expectations?
In order to understand your customer, you must first segment them. There are a wide variety of types of travellers out there – from families, to backpackers, to retirees – and each of them have different budgets and seek different experiences.
This is what we call hotel target market segmentation – the process of understanding and defining your target markets, so you can invest in marketing that appeals to them, and henceforth meet and exceed their travel expectations.
Specified market segmentation in the hotel industry helps you gain a competitive edge.
Let's take a deeper dive to help you define your hotel target market segments…
What is hotel target market segmentation?
As mentioned, hotel target market segmentation is, essentially, the process of segmenting types of tourists into groups based on their characteristics.
Hotel target market segments include characteristics such as:
Discretionary income
Family status
Life stage
Interests
Location
Age / generation
Beliefs & values
Etc…
What is the purpose of segmenting types of tourists?
Hotel target market segmentation helps you to define exactly what your customers like and expect
Segmenting types of travellers helps with both marketing before their stay, and impressing them during their stay.
For instance, if you segment your market to retirees, you might find that this group of people are searching for relaxing hotels, where airport transfers and scheduled meals and activities are provided.
On the other hand, if you find that your hotel target market are young backpackers, this might mean that they're likely searching for adventure, variability, and budget services.
By segmenting your hotel target market, you can angle your sales and marketing to the correct people, and not waste resources on travellers that don't fit your property and services.
This also helps once travellers arrive at your property, because they will be in their element, and you will understand how to cater to their travel expectations and behaviours.
What are the main types of hotel target market segments?
There are a wide variety of hotel target market segments, some of which are broad, others more specified. Drilling down on the characteristics we mentioned above is how hoteliers define the various segments.
Hotel target market segments examples – types of travellers segmented into broad groups:
Backpackers
Retirees
Families
Solo travellers
FIT's (free independent travellers)
Couples
Vacationers
Adventurers
Medical tourists
Business travellers
Etc…
These are some of the main types of tourists you might segment into your hotel target market – each, of course, have many independent characteristics (e.g. location, income, etc.) that influence their travel trends and behaviours.
How to identify & define your hotel target market
When defining your hotel target market, you will need to do a deep dive quite far in order to reach more specific target markets that less competitors are going after.
Explore the different types of tourist groups that we listed above to identify your main target markets and then drill down further to define specific segments.
Here are some examples of specified hotel target market segments using the groups above…
Specific hotel target market segments examples – segmented by individual details:
Backpackers, aged 18-30, from New Zealand & Australia
Retirees, aged 65-75, retired from wealthy careers, from America
Families, with children aged 5-10, from England
As you can see here, these hotel target market segments are very detailed, which is helpful in reaching travellers who are looking for exactly what your property offers.
For example, if you're a holiday resort with a kids club, defining your marketing reach to families with young children is likely to be more effective than say couples looking for a quiet, romantic getaway.
PRENO TIP
The hotel industry is constantly changing – be sure to explore all of your options when defining your key hotel target markets. And more than this, make sure to continuously review and refine your segments, because with changes to the market (like covid-19) your target markets may change. Always stay on top of types of traveller trends and behaviours, so you know what your target markets are looking for.
Market segmentation in the hotel industry is competitive & varied
As a hotelier, your main goal is to provide memorable travel experiences that exceed guest expectations. And the best way to do this is by understanding your customers.
Marketing your accommodation business to anyone and everyone may get you a few guests here and there (or maybe more), but will it get the guests who will be amazed by your service offering?
You can't please everyone, but you can please a select few. Put in the time to segment your hotel target markets, find out what potential guests like and connect this with the services at your hotel.
Take a step further than your competitors and go after specified hotel target market segmentation groups, and you'll be sure to reap benefits.
So now that you understand the weight of hotel market segmentation and you know how to segment hotel markets, you can benchmark your market reach.
Need help personalising the guest experience?
Build comprehensive guests profiles within Preno's property management software – trial for free.
Want to see Preno in Action? Join our free webinar: Sign up here
Subscribe to our newsletter