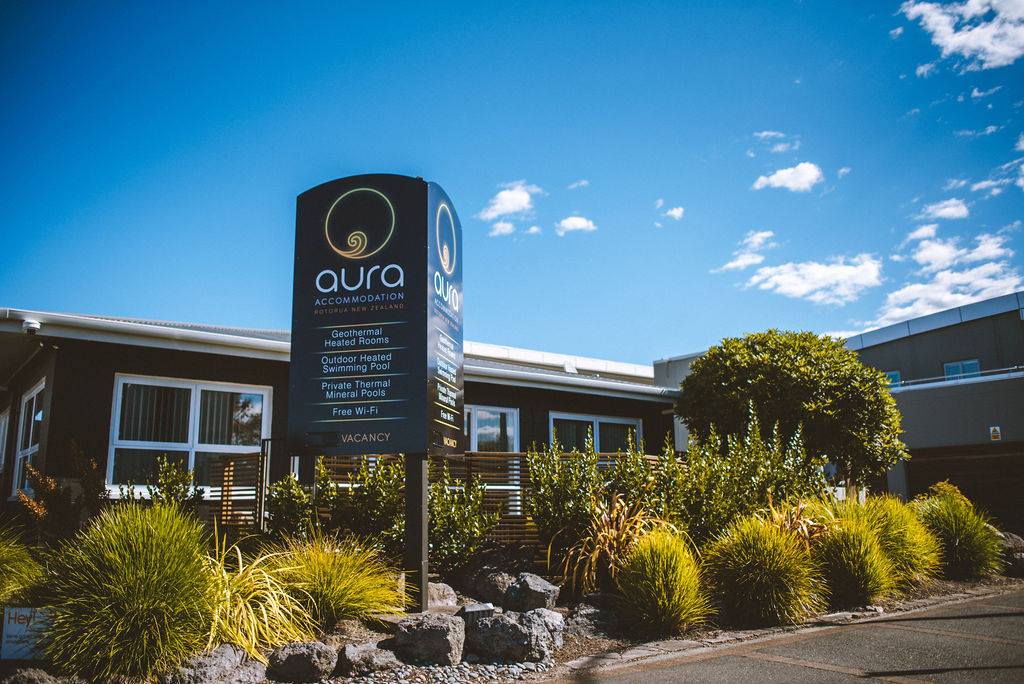 Meet our customers: Aura Accommodation
Over the weekend, I took a drive to Rotorua to visit Aura Accommodation. Owned and operated by Nick, Josh, and Indie the German Pointer. Aura is a recently refurbished motel with a modern approach to the business. Nick and Josh have created such a warm, friendly, and personable environment, they really do make you feel right at home! I had a nice chat to them, and found out a little bit more of their story:
Tell us a bit about yourselves?
Nick: Josh and I went to school together, I'm a teacher and Josh is a builder by trade. I'm originally from Auckland and Josh is from Hamilton. We were both coming up to a significant age milestone and wanted a change; try something new in a new industry. We looked into a variety of accommodation businesses in a range of locations across the North Island. Once we did a bit more investigating, we decided we needed something with a bit of scale. So we looked into dated motels and identified ways to turn them around and make them profitable. After a very short search we saw the Havana Motor Lodge in Rotorua and instantly knew it was perfect! It met every criteria we had, so we went about purchasing it. We purchased the Havana in July 2016.
How did you end up in the 'hotelier' industry?
Nick & Josh: We were both looking for a change from what we were doing and the opportunity presented itself. Having been around the world and stayed in all sorts of accommodation, we knew what that feeling was like for a guest to have a memorable experience. We wanted to make accommodation more personalised and connected, rather than isolated for the guest. As a teacher and a builder, we knew that we could both use our skill-sets to our advantage. We also thought it'd be a cool project, and that we could develop and build something that we could be proud of.
What is your favourite aspect of running Aura?
Josh: The people! Being able to have a good chat with the guests and sometimes share a beer and a BBQ in the evenings.
Nick: It is an amazing feeling to contribute to someone having a great experience, especially when you meet and exceed guests' expectations. Sometimes accommodation can be just a place to stay, but when you get to contribute to a memorable experience for the guest while they are with you, it truly is an amazing feeling.
What was it like coming into this industry without any prior experience?
Nick: The best thing was to have no experience. We never came in with an expectation on how it should have been for us. We just knew what we wanted it to be for our guests. We didn't have any preconceived notions and I think that has been an advantage for us. We are continually able to surprise and add more value for our guests. We had a fresh perspective and that has allowed us to see the industry differently and be able to do things that little bit different.
What made you decide to change property management systems?
Josh: Callista was clunky and hard to use and it would have taken ages to teach a part-timer how to use it.
Nick: In July 2016 we got Havana and also inherited Callista, a clunky complicated mess. We were looking for something more user friendly, when we spoke to Cam from SiteMinder, and he recommended Preno to us.
What features were you after when choosing your new property management system?
Nick: We were looking for something cloud based, with Xero integration. We also wanted to be able to profile and identify returning guests. Personalisation is such a big aspect of our business, and we wanted to make sure we could capture all that guest information. We also wanted something we could use on a touch screen, and when we saw how easy it was to drag and drop on the Preno grid, and how simple the user interface is, we knew this was it. We like how easy it is to use Preno.
How was the transition to Preno with SiteMinder integration?
Nick: Transition was easy, the team is very helpful and Cam from SiteMinder looked after us.
Tell us more about how you use Preno?
Nick & Josh: Most people still have the concept of a reception office, so we usually use Preno on a touch screen desktop in the office. When we can, we take the iPad out and check guests in that way. They're always amazed at how simple the process is, and all from the couch in the lobby, picnic table out the front, or admiring the pool. No need for a desktop, or an EFTPOS terminal, everything is there on the iPad.
What are your favourite features of Preno?
Nick & Josh: We like the integration with Braintree! Preno is also easy to use, and has a great support team. As a customer, you feel very valued, especially when we see Max (developer) come on to help with any questions or issues. We also like that we can record information about each guest, allowing us to personalize a lot of things.
What are some highlights of your journey in this industry?
Nick and Josh: Becoming Aura! When that sign went up with our new branding, it finally felt like ours. The Havana never really felt like ours, despite the 5 months of hard work we had poured into the place. On the 9th of December 2016, we launched Aura, and all that hard work to get to that point was all worth it. We had so much pride and a real sense of accomplishment.
Your favorite activity to do in Rotorua?
Nick and Josh: Mountain biking! There are lots of trails around here for mountain biking. Our location is also very accessible. It's 5 minutes to a mountain bike trail or 10 minutes to a lake. Both the Red Woods and Blue Lake are close by! Everything is just so accessible.
Thank you Nick, Josh, and Indie for letting us come by!
Centrally located, Aura Accommodation is a stone's throw away from the famous Eat Street, lakefront, and Government Gardens. Nick, Josh and Indie are awesome hosts, and they'll make you feel right at home. As accommodation owners, their aim is to create a unique, personalised experience for their guests. They'll show you exactly what hospitality means.
To find out how Preno can help, book your live demo.
Subscribe to our newsletter