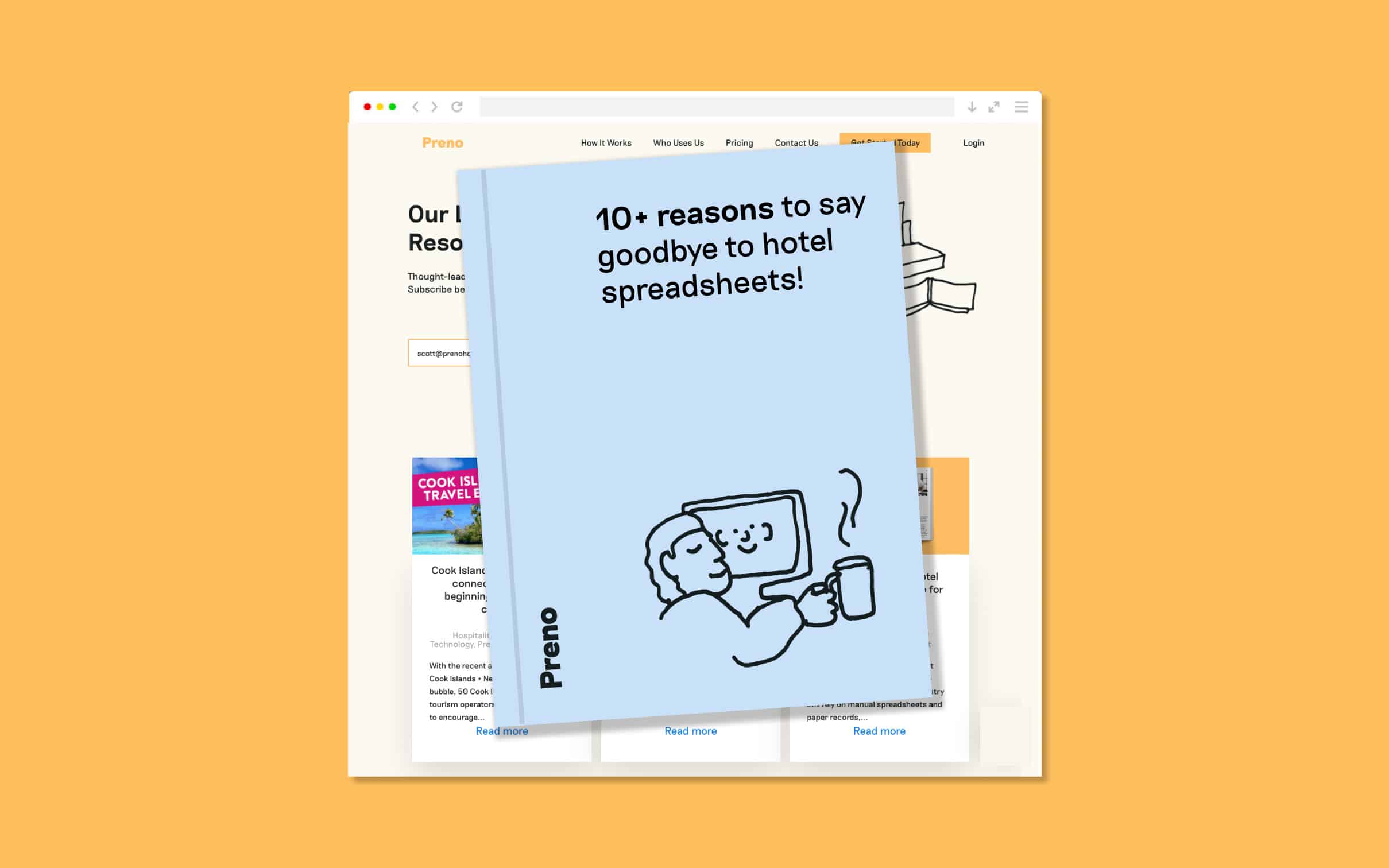 10+ reasons to say goodbye to hotel spreadsheets
Why hotel spreadsheets are an inefficient way to run your accommodation business
50 years ago, handwritten reservations and bookkeeping was the most efficient way to run an accommodation business. Soon after came the hotel spreadsheet.
While it became significantly more efficient in saving paper and having the option to store data electronically – hotel spreadsheets still have many limitations. Mistakes are easily made, data is hard to manage and hotel reservations are often overbooked or disorganised.
Everything is in one place. There is no paper. There are no confusing spreadsheets. Just automation and simplification.
Surprising fact: many hoteliers still use (& struggle with) hotel spreadsheets
It is hard to believe that, even today, in 2021, there are many accommodation owners still using hotel spreadsheets to run their business. In fact, there are even some still handwriting their reservations.
Hotel spreadsheets, as a method of property management, are inefficient, outdated, and risky – read on to find out why.
Why hotel spreadsheets are outdated & risky
1. Higher risk of mistakes
One of the most inefficient (and often stressful) parts of using a hotel spreadsheet to run your property, is the risk of mistakes. When using a hotel spreadsheet, it is all too easy to accidentally delete data, type incorrect numbers, and mishandle information.
Higher risk of typo's
Higher risk of duplicate information
Higher risk of accidentally deleting important information
Higher risk of double bookings
Higher risk of monetary mistakes
Mishandling of information
2. Unorganised & unprofessional
When it comes to hospitality, every service detail counts. When a guest is standing in front of you, using an untidy hotel spreadsheet takes extra time to find bookings, is easy to read the wrong details and looks unprofessional if guests see.
Difficult to organise
Difficult to scroll forward or backward to view other weeks
Looks unprofessional if guests see
Difficult to view data on mobile
Easy to misread information (especially if the guest is right in front of you)
3. Inefficient & time-consuming
Hotel spreadsheets, in short, are inefficient. There is no automation involved, which means you have to manually input data and waste valuable time on administrative tasks. As a hotelier, you have more important things to do – i.e. take care of your guests.
Inefficient; difficult to organise
Manual, time-consuming data entry
No automation or smart tools
Time wasted on administration
4. Risk of lost or leaked data
As a business, there is a lot of important data and information you need to securely store and organise. The use of a hotel spreadsheet comes with a high risk factor of losing or "leaking" important data. There is also no way to track user activity and know who authorised changes in the "system".
Risk of leaked data
No data or sensitive information storage
Easily hackable
No user activity history
No passwords or authentication processes
5. Data not backed up
In addition to the risk of lost or leaked data, another major issue with relying on a hotel spreadsheet to run your accommodation business is the fact that there is no back up system. Unlike cloud-based software, hotel spreadsheets are not backed up, so if your computer crashes, you risk losing everything.
Risk of computer or program crashing
Data not backed up
Risk of losing all data
Only accessible by one program (and often one device)
6. No smart or automated tools
Hotel spreadsheets come with many limitations. Essentially, a spreadsheet is a blank canvas that you have to edit and manually fill in. There is no automation, hence no tools. Cloud-based property management software on the other hand, does everything for you.
No automated emails
No reporting tools
No support
Have to do everything manually
7. No integrations with necessary apps
As a business, you have many departments and platforms to consider. You need your business to integrate with online travel agents, channel managers and accounting tools – but how can you do this if all of your data is in a manual hotel spreadsheet?
Inability to connect to channel managers
Inability to connect to online travel agents
Inability to integrate with accounting software (e.g. Xero)
Inability to integrate with point of sale or payment gateway systems
8. Inability to access from anywhere
Another limitation of hotel spreadsheets, is the difficulty (or lack thereof) to access your data from anywhere or from any device. Hotel spreadsheets are often limited to one computer, or difficult to login or view on other devices.
Cannot login from anywhere
No (or difficult) mobile access
Difficult to share across devices
Not compatible with all devices
Cannot work remotely (e.g. check up on your business while on holiday)
9. Difficult for staff training & collaboration
When onboarding a new employee, hiring a hotel minder, or attempting to collaborate with staff members; hotel spreadsheets are confusing and inefficient. There is no clear organisation of departmental information, connection across teams, or ability to use across various devices.
Confusing for new staff
Difficult to collaborate with other staff members
Inability to share across various devices
No connection between front and back office
Often limited to one computer
10. No security for sensitive information
As a business, it is your responsibility to protect sensitive information – not only yours, but that of your guests. Attempting to store credit card details or other sensitive information in a hotel spreadsheet can result in security breaches (and risk of breaking the law).
Difficult to restrict access to certain parts of a spreadsheet with sensitive info
Cannot store guest credit card details
No security for private data
Risk of information leaking to competitors
No safe way to secure private staff information
11. Disorganised data for reporting purposes
In order to move forward as a business, you must first look back. But how do you do this with an untidy hotel spreadsheet with zero reporting tools available? Hotel spreadsheets limit your ability to reflect and improve upon business performance, or have the opportunity to handover ownership or sell to prospective property buyers.
Difficult to look back on business performance
No automated reporting tools
Untidy to show prospective property buyers
Difficult to handover ownership of business
Still wondering why to say goodbye to hotel spreadsheets?
The hospitality industry is fast-paced, busy, and detail-oriented – in order to provide the best guest experiences, you need two things:
Dedicated customer service time
Efficiency and precision
The way in which you organise hotel reservations, invoices, and general guest information is a crucial element to your hotel's efficiency.
Hotel spreadsheets take time, limit opportunities and increase risk of things going wrong.
Save time with automation and spend more time doing what's most important: taking care of your guests.
Want to see Preno in Action? Join our free webinar: Sign up here.

Try Preno – a complete, cloud-based hotel management system.
Subscribe to our newsletter