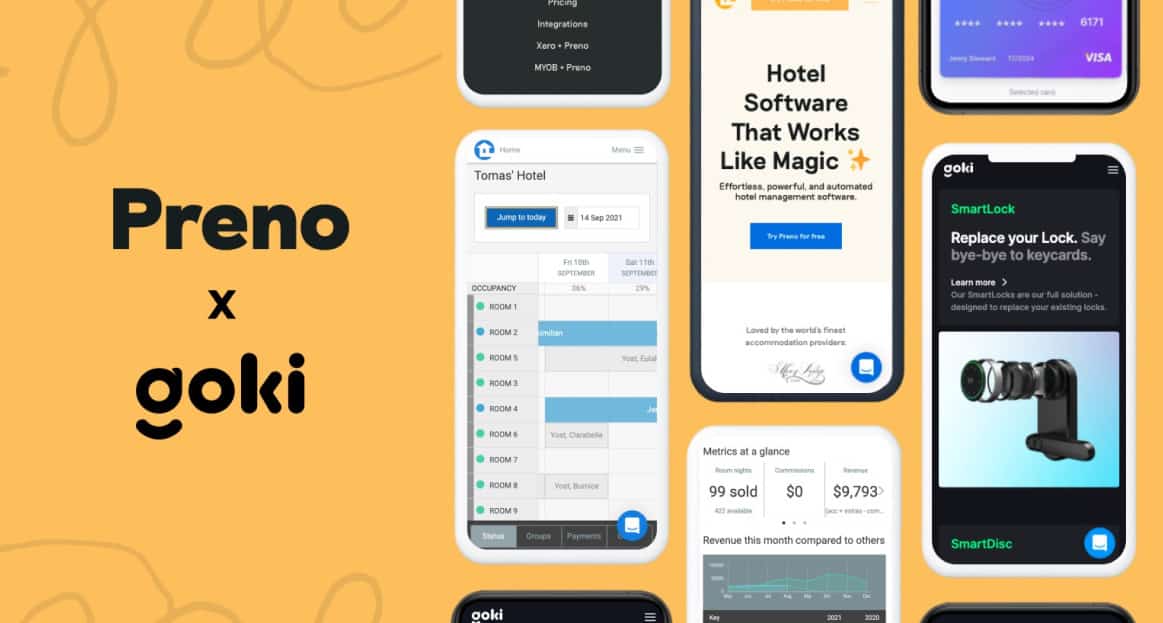 Preno + Goki Integration: putting your hotel property on autopilot
Announcing the release of our new integration with Goki smart lock technology
We're excited to announce the release of our brand new integration with Goki – a platform that automates contactless guest check-in, access and communication.
With this integration, hoteliers can put their properties on autopilot, by streamlining hotel processes with Preno's PMS, and providing guests with contactless self-check-in tools with Goki's smart locks.
(This means, no physical keys or keycards – guests can use their phones to access rooms. Goki's technology is not only seamless in use, but simple to set up – it can be installed on existing locks, and work wirelessly.)
We've joined forces to put power in the hands of hoteliers, and we're excited to see this integration in action for hotel operators across the world.
Learn more about how Preno can help your business grow
Subscribe and you'll receive an information pack with everything you need to know about optimising your hotel with Preno.
About Goki: how their locks streamline the guest experience
Goki is a hotel technology company that has advanced the way hoteliers check-in and out guests.
With powerful lock technology, Goki has created a product that allows guests to self-check-in, providing hoteliers with a more seamless check-in process, and guests with a contactless experience.
This product is especially transformative in smoothing processes, and keeping both hotel guests and staff safe during the pandemic.
Goki aims to streamline 3 main areas:
Automate & enable self-check-in for hotel guests
Automate & enable contactless hotel room access
Automate activation & deactivation of locks when guests check-in & out
Just like Preno, Goki's technology aims to streamline processes for hoteliers:
In keeping with this mission, Goki's lock software is designed so that hoteliers can self-install – they do not need to hire a technician, which saves money on installation costs, and provides a fully contactless experience (important with Covid-19). Hotel staff are also supplied with wrist bands, providing easy access to rooms and units for cleaning and upkeep.
Goki & Preno Together

Preno's new integration with Goki allows hoteliers to connect their rooms within the Preno PMS (Property Management System) with the individual Goki locks for each hotel room or unit.
Preno will seamlessly, and automatically push data to Goki when changes are made within the PMS, so that all Goki locks are up to date with the correct information and allocated to the correct guest and room.
This powerful functionality will allow guests to access their rooms without the need for checking in with front desk staff. This contactless check-in functionality will provide hotel guests and staff with peace of mind, by limiting human interactions during the age of the Covid-19 pandemic.
Together, Preno and Goki aim to make hotel processes more powerful and efficient, eliminating repetitive tasks via automation, so that staff can focus on guest satisfaction, and guests can enjoy their experiences.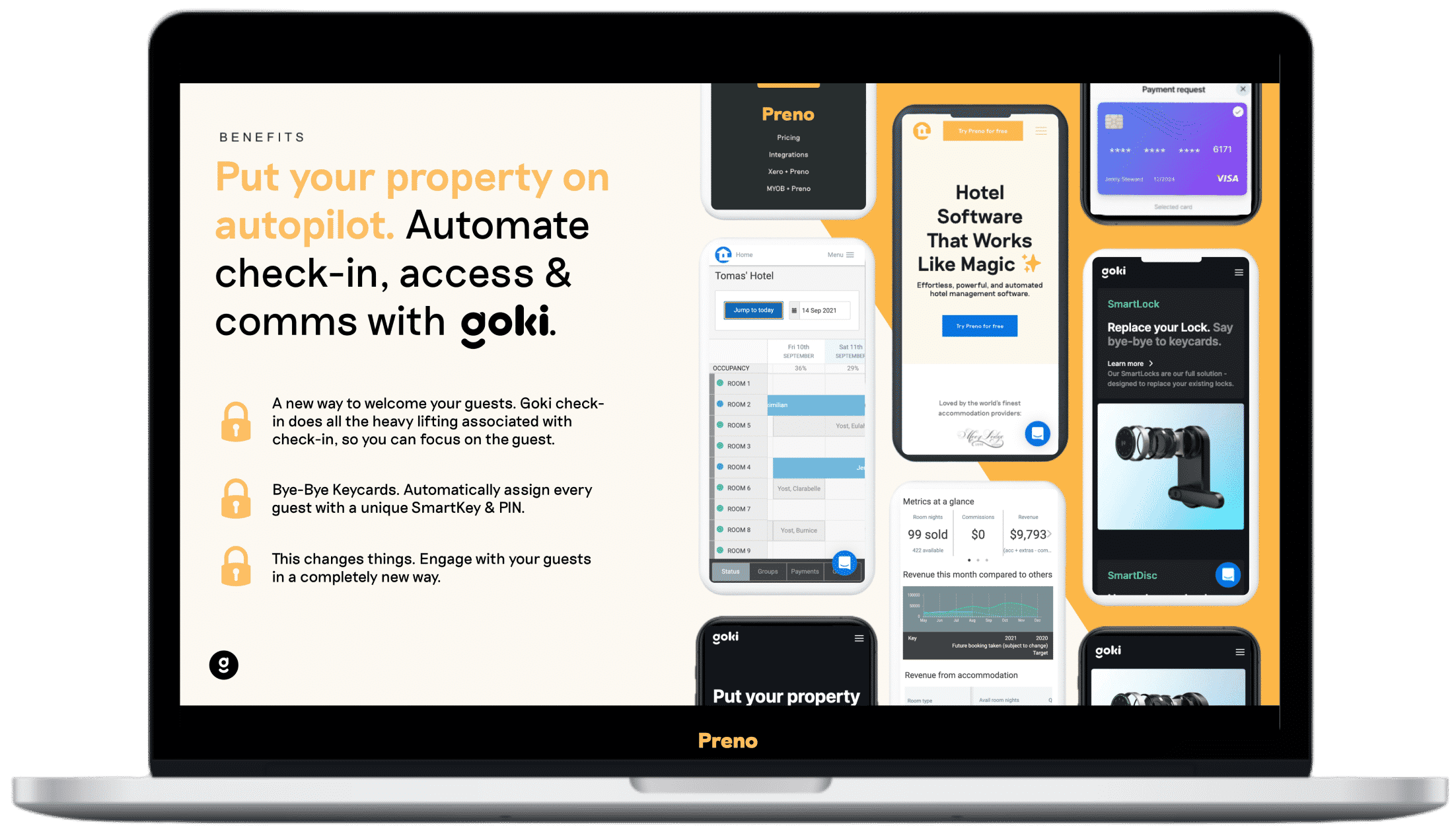 Searching for a powerful hotel tech stack that puts your property on autopilot? Trial Preno for free.
Subscribe to our newsletter