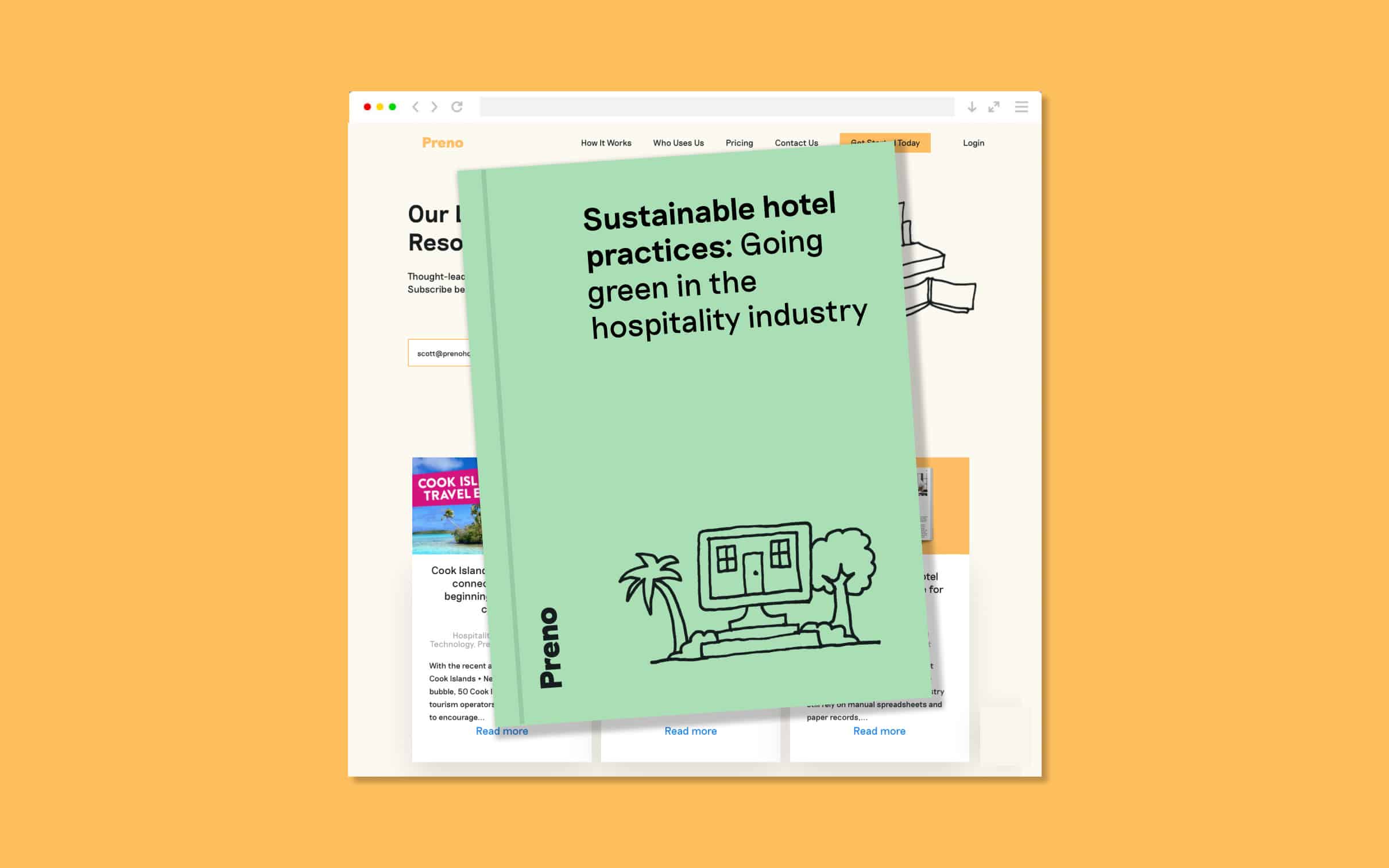 Sustainable hotel practices: Going green in the hospitality industry
Hotel sustainability tips to help you run an eco-friendly accommodation
What is a recurring issue that hoteliers have, and will continue to face in the future? Hotel sustainability – the impact your property has on the environment.
Sustainability in the hospitality industry – what is it?
Sustainability is a widely known topic and issue that business owners from all industries must take into consideration. In entirety, it takes into account all of the elements of a business that have the potential to impact future generations.
In simple terms, sustainable hotel practices are ones that consider and benefit current generations (guests), without causing detrimental impacts to future generations.
This means that hoteliers must consider what eco-friendly hotel practices they can implement in order to be sustainable. This includes things such as energy efficiency, water consumption, waste, and so on.
Hotel sustainability as a trend – why is it leading?
As an accommodation business, your property must consume a lot of water and energy in order to provide showers, spa facilities, electricity and so on.
The larger the property, the more guests you have, hence the more energy you consume. As a hotelier, it is your responsibility to minimise your environmental impact, henceforth preserving experiences for future generations.
This is hotel sustainability. The reason it'll forever trend in the industry?
Your hotel will forever have an impact on the environment, and with raising awareness and concerns of global warming and climate change, the issue will only grow further.
The modern traveller is an environmentally conscious one – if you're not considering your environmental footprint, you'll fall behind competitors.
Best environmental practices for the hotel industry
So how can hotels be more sustainable? Lets see:
When it comes to sustainability in the hospitality industry, there are a variety of sustainable hotel practices you can try. Small or large, every effort counts.
Be more energy efficient
One of the first things you want to consider when going green in the hospitality industry is how much energy your business uses. Then, you need to think about how you can reduce this.
Choose energy efficient appliances
Try solar powered technology
Use smart systems like HVAC
Encourage guests to save power
Reduce water consumption
Overuse of water is one of the most common impacts hotels have on the environment. Consider how you can reduce water consumption and be a more eco-friendly hotel in this regard.
Monitor water lines
Choose eco-friendly sources
Use less where possible (e.g. sprinklers)
Encourage guests to save water
Choose water efficient appliances
Recycle and reduce waste
It may seem obvious, but when considering 'what can hotels do to be more sustainable', recycling and waste management is a crucial aspect. As a hotel, it is your responsibility to have a strict recycling regime.
Have both rubbish & recycling bins in common areas & hotel rooms
Encourage guests to reduce waste
Offer refillable water bottles
Use biodegradable materials (e.g. food packaging)
Donate unused goods (e.g. furniture, food, etc.)
Source organic resources
Something else you can do to reduce your environmental footprint and increase positivity for future generations, is sourcing organically. It isn't just your environmental footprint to consider, it is also that of those you source resources from.
Choose organic food & drink sources
Purchase products from sustainable businesses
Minimise use of chemicals
Use eco-friendly hotel cleaning products
Source organic bedding & recycled furniture
Go paperless
Many hotels (and businesses in general) produce a lot of unnecessary waste with printing and bookkeeping on paper. In order to be a more eco-friendly hotel, you need to implement smart technology, and keep everything electronic.
Minimise printing
Encourage guests to save paper
Implement powerful technology
Hotel sustainability: it's more than a trend
Improving sustainability in the hospitality industry today, will benefit tomorrow
As defined earlier; sustainability is the concept of serving current generations, at the same time as maintaining preservation for future generations.
Today, your guests are enjoying lengthy showers and luxurious spa and pool facilities. Tomorrow, your guests cannot visit because there is a water shortage.
When it comes to implementing sustainable hotel practices, every little bit counts. The consideration of energy efficient options, the implementation of paperless tools and the sourcing of organic resources – everything you do today, will benefit tomorrow.
Hotel sustainability is more than a trend – it is a responsibility
If an individual can help save the environment, as a hotel enterprise, so can you.
Searching for a paperless solution?
Want to see Preno in Action? Join our free webinar: Sign up here.
Subscribe to our newsletter