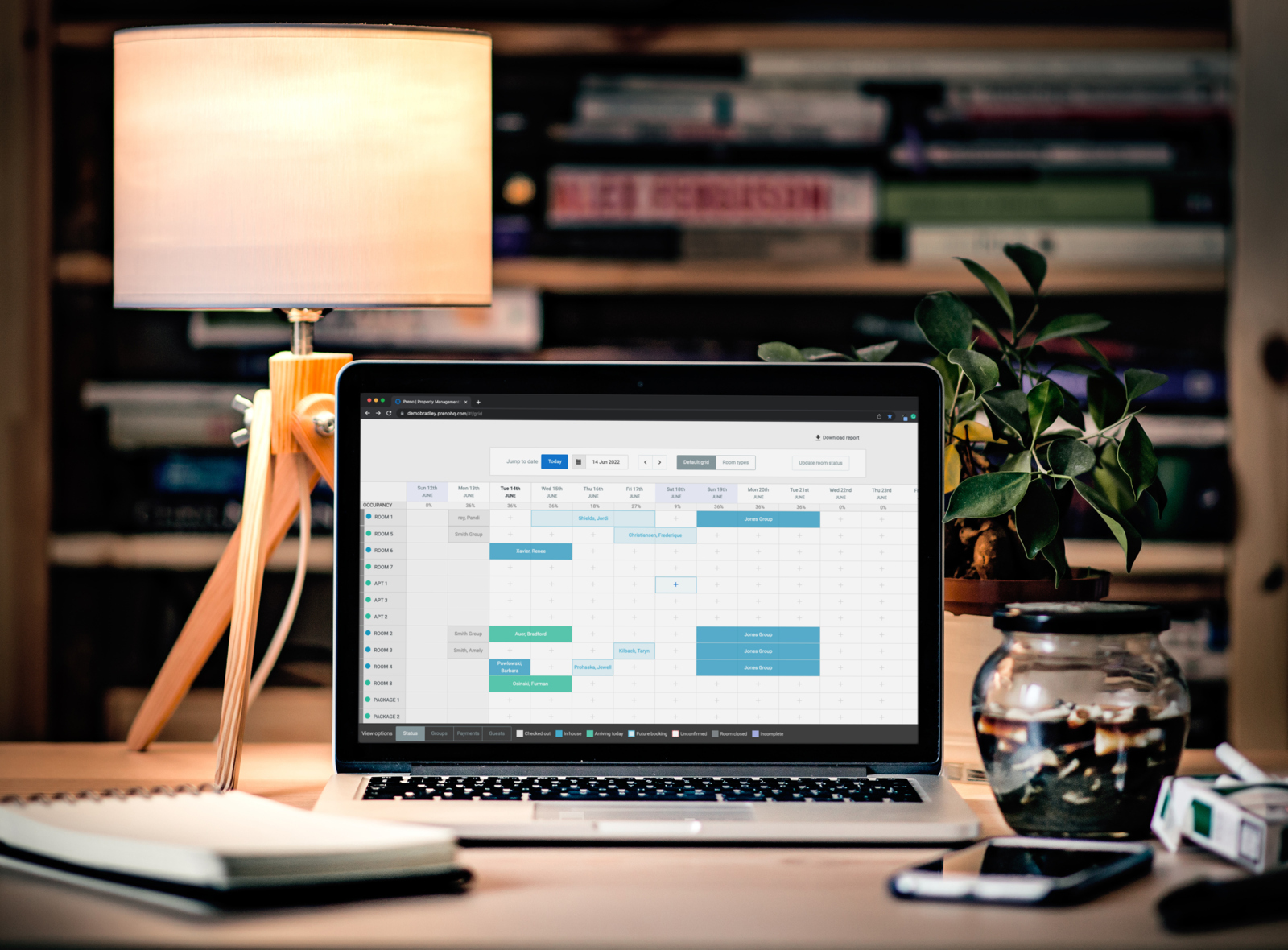 What is a Hotel Booking Calendar?
Increasing occupancy and revenue while creating a positive guest experience, is the goal for every hotelier. One of the easiest ways to achieve this is by using a hotel booking calendar and syncing it using a smart hotel channel manager.
In this article, we'll discuss what these are and how they can benefit your hotel business.
What is a hotel booking calendar?
A hotel booking calendar is an online calendar used by hotels to manage and keep track of room reservations. It gives you a 360-degree view of bookings that helps you avoid overbooking and underbooking, which can ultimately affect your revenue.
This system allows your guests to check the availability and book rooms for specific dates and time slots directly on your hotel's website. Most hotel booking calendars also allow guests to modify or cancel existing reservations, as well as view past reservations.
To get the most benefits from the hotel booking calendar, you need to connect it to your website and Airbnb. Let's see why this is important.
Why you need to connect your hotel booking calendar to your website 
When customers are looking to book a room in your hotel, the first thing they will do is search for your website. If they cannot find it, they will go to one of your competitors.
Seamless integration of your hotel booking calendar to your website will help enrich your customers' experience on your site.
There are the many advantages of connecting your booking calendar to your website: 
It allows customers to check the availability of rooms on your website.

It can help increase bookings by making it easier for guests to find and book your property.

Customers who find your website online can book with you directly instead of booking from online travel agencies (OTAs).

Builds trust and transparency between you and your customers.

It helps you keep track of reservations and occupancy rates. 

It allows you to own and manage your customer information.
Why you need to connect your hotel booking calendar to Airbnb 
More and more people are choosing to use Airbnb for their vacations. This is often because they can find unique places to stay, and they like the idea of supporting local businesses.
In fact, domestic bookings around the world show a month-on-month increase on Airbnb, as people renew their interest in local travel.
There are several reasons why people are increasingly choosing to book their stay on Airbnb. One of the main reasons is that it offers much more flexibility and choice than traditional hotels. You can often find properties that are closer to your destination, or in a more convenient location.
Another reason people are choosing Airbnb is for the added security and peace of mind that comes with booking through a trusted platform. With Airbnb, you can read reviews from previous guests, and get to know your host before you book. This helps to ensure that you have a positive and safe experience.
As a hotel, it's important to make sure that you're connecting your booking calendar to Airbnb so that you can capture some of this market.
Syncing your hotel booking calendar to Airbnb gives you the same advantages that you would gain when you integrate the calendar with your website.
Apart from ensuring your hotel is visible to those looking for Airbnb accommodation, you can simplify the management of your bookings and streamline the booking experience for your customers. That said, not all calendar syncing systems work well.
Besides erratic syncing, some calendars can also lose their sync abilities. These issues can eventually force hoteliers to have to block the dates out manually on their hotel booking calendars. If you are using multiple distribution channels – including your website, Airbnb, and other OTAs – the risk of double-booking is much higher if you're forced to update your bookings manually.
This is where a hotel channel manager comes in.
The benefits of using a hotel channel manager 
A hotel channel manager refers to software that connects your hotel's booking system with online travel agencies. The channel manager updates booking information across your distribution channels, along with rates and availability status. This effectively removes data silos and the hassles of having to enter data manually every time a booking happens.
With the hospitality sector facing growing competition, using a modern hotel channel manager is no longer an option, but a necessity for hotels. 
Here are the benefits of using a smart hotel channel manager:
Streamlines the booking process: 

A modern hotel channel manager updates the availability of your hotel rooms in real-time after receiving a reservation. For instance, once a customer books your hotel room on Expedia, the room will be closed on your hotel booking calendar and all the other channels.

Improves operational efficiency

: One of the most important benefits of a hotel channel manager is that it removes the challenges of manually managing bookings. A manual system is prone to errors, delays, and poor customer experience – all of which impact your brand reputation and revenue. A hotel channel manager software streamlines the booking process to help you optimize bookings, revenue, and guest experiences.

Helps you gain a clear competitive advantage.

 Customers prefer hotels that offer a seamless and quick booking experience. Using a cutting-edge hotel channel manager will give you a distinct advantage over hotels with primitive online booking capabilities.
Now comes the question – which hotel channel manager is right for your hotel? Not all hotel channel manager software is created equal. The right software is:
quick and easy to implement

offers support and useful resources to help you transition from your old system
This is exactly what Preno specialises in.
Why choose Preno as your hotel channel manager?
Preno is a comprehensive hotel channel manager and hotel property management software designed to give hoteliers a holistic view of bookings, guests, and calendars.
This powerful software comes loaded with features that every hotelier needs to stay ahead of the curve in the industry.
Check out the capabilities of this hotel channel manager:
Syncs automatically: It automatically syncs your hotel booking calendar with your website and 56 most popular OTAs to streamline bookings and guest experiences.
That's not all. It integrates the channel manager, booking engine, customer data, accounting, and housekeeping to maximize your efficiency and minimise the drain on your internal resources.
Offers real-time data: Preno offers real-time booking information across multiple sales channels. This allows your prospective clients to view room rates, vacancies, and availability to make a quick, informed decision.
Eliminates the risk of double-booking: The smart hotel channel manager locks in any booking made through any channel and reflects it across other channels. This effectively removes the risk of double-booking, preserving your brand image, and enriching the user experience.
Improve brand awareness: In the digitalised world of today, boosting your online presence is the key to building trust and attracting customers. Preno showcases your property across multiple distribution channels including popular OTAs. With enhanced online visibility, generating brand awareness and attracting your target customers is easier.
As the information on pricing and availability provided by your site is always accurate, OTA's will happily accept your listing. The more OTAs you are on, the more prospects you reach, and consequently, the higher your occupancy and revenue.
Gives you rich insights: As a hotelier, you want to have all the information that allows you to make data-driven, strategic decisions. This is an area Preno excels in and offers granular data related to:
Guest profiles and preferences that allow you to personalise experiences

Complete overview of business performance including the source of bookings, room type, dates, and revenue

Rich insights into the financial aspects across property management, accounting, and housekeeping

Financial reporting and detailed analytics with Xero integration

Historic data on revenue, occupancy, and performance

Real-time housekeeping updates

Holidays, special events, and
Dynamic rates: With Preno, you can set your room rate rules for individual room types and the software automatically adjusts rates based on these rules. You can also set rules for check-in/out dates and adjust multiple rates at the same time. This allows you to respond quickly to a dynamic market and make the most of every opportunity.
Preno also offers robust integrations with popular business tools, 24/7 support, and seamless migration from your old booking system.
Get in touch with us to know more about how Preno can help you optimise your business. 
Subscribe to our newsletter