Creating memorable guest experiences for your accommodation
Bigger isn't always better in the world of hospitality. Instead, guest experience is the ultimate differentiating factor when it comes to building guest loyalty. So how can you help your accommodation business stand out from the rest?
Here are four ways you can create memorable guest experience, no matter the size of your operations:
Make it personal
A customised guest experience starts by having guest data. Luckily, today's hotel property management software is making it easier to get a very clear picture of your guests' preferences. Armed with this information, you're better able to anticipate their needs or requests before they even have to ask. Imagine being able to pre-prepare a list of suggested local activities or eateries with your insider tips, based on what you already know about them. Or leaving surprise amenities in their room – like a water bottle for their workout, or their favourite bottle of wine already chilling. Perhaps they're in town for work but like to unwind at the end of the day, so you leave happy hour vouchers in their room. Whatever it is, it's these small touches that can make a big difference. What's more, with the right property management technology in place, it also frees up your time to focus on the face-to-face engagement that can help make your guests' experience more memorable.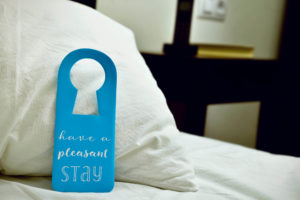 Go natural
Many travellers are increasingly becoming conscious of their carbon footprint. What if you could create a way for them to feel less concerned about their impact? Your business could donate a percentage from each booking to forestry projects or other carbon offset schemes. Offer the use of electric scooters, or provide information about public transport. Establish policies around energy and water use, recycling, and disposable plastic use.  Create natural features in your property – green walls, rooftop vegetable gardens or indoor spaces that mimic natural areas.
As society becomes more aware of the importance of sustainable practices, eco-friendly hotels have an opportunity to build strong brand loyalty. In fact, 70% of travellers say they would be more likely to book accommodation knowing it was eco-friendly, whether they were looking for a sustainable stay or not.
Be a 'smart' hotel
Today's travellers are all tech-smart; the vast majority are travelling with some form of device. So make it easy for them to be in complete control of how they experience their stay through connected devices. With automation, guests can control the lighting, temperature, blinds, and AV equipment in their room from one tablet. It also gives them the ability to set preferences – imagine being able to adjust lighting and blinds to suit your own body clock, or to wake up to the sunrise as your blinds automatically open.
Create distinctive interiors
In our social-savvy world, Instagram-worth interiors are a fast-track way to get your business noticed. Unique interior design, interesting in-room or corridor art, stylish meeting rooms or break-out spaces, candy bars or snack stations, or well-configured lobby spaces that encourage guest interaction are all ways you can create a very distinctive, and memorable guest experience.
With increased competition and rising guest expectations, standing out as an accommodation provider who offers a great guest experience is going to take more than comfy bedding and clean rooms. With some creative thinking, and the right technology to support you, you can create a memorable brand and in doing so, boost guest loyalty.
It starts by understanding guest behaviour. If your business could do with greater insight to drive decision making, then it could be worth trialing Preno in your hotel or motel. Sign up for a free trial here, and see how it works for you!
Subscribe to our newsletter