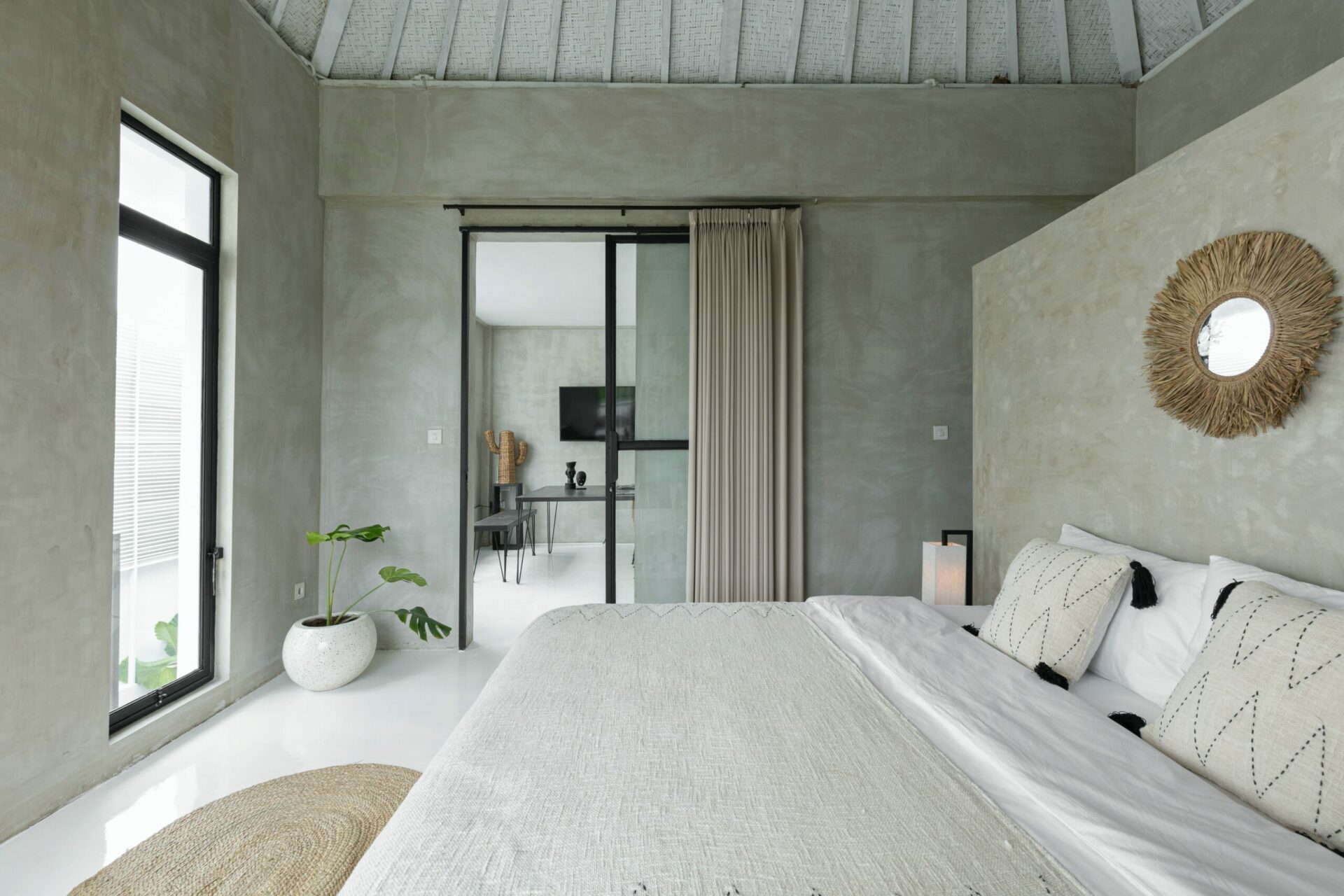 How To List Your Property on Booking.com: A Step-by-Step Guide
If you're a hotel owner or manager, there's a good chance you're always looking for new ways to market your property and attract guests. One effective way to do this is by listing your hotel on Booking.com. 
Booking.com is one of the world's largest online travel sites, with over 6.2 million properties listed in 222 countries. When you list your hotel on Booking.com, you gain access to the company's massive network of users. This means that your property will be exposed to a larger number of potential guests who are looking for accommodation in your area. For these reasons, Booking.com is a great online travel agency to host your property.
Other benefits of listing your property on Booking.com:
Listing your property is free.

The platform offers 24/7 customer service, in 43 different languages.

You're able to report guest misconduct and block them from booking with you again.

Guest reviews are reviewed by the team to ensure their credibility.

Benefit from Booking.com's powerful marketing tools.

You're able to integrate bookings with your external channel manager.
Before you sign up, there are a lot of elements you'll need to consider to create a stand out listing – from photography to amenities and pricing. Planning will be the key to your success and this process can be lengthy if you aren't prepared. It's best to go through each of the following steps and note down what information you're currently missing. We also recommend you also dedicate time to researching current listings on Booking.com, to see where you'll property will be positioned on the market, what makes others memorable and to consider what you can offer guests that will help yours stand out.
Step One: Basic Info

The first thing you'll need to do is create a listing for your property. To do this, log in to your Booking.com account and click on the "Add New Property" button. There are multiple options to select from, such as Apartment, Hotel, B&B and Alternative Places. Choose the option that best fits your property, as this will be how guests can search for it later via the Booking.com filters.
On the next page, you'll be asked to enter some basic information about yourself and your property, including your contact details, its name and location and whether you currently use a channel manager. Make sure to enter your property address correctly as Booking.com may send you a physical letter to confirm this, and it's difficult to change this once you submit your listing for review.
Step Two: Layout and Pricing
The next step is to add the rooms you're offering and their pricing. This includes information such as the room type, room name, and how many identical rooms you have on offer. You'll also need to add information about the beds you are supplying in the room, their size and how many people can comfortably stay there. There is an option to include the room size too which is a great opportunity to upsell your property if your property is larger than the average hotel room.
One of the most important aspects of running a successful hotel business is pricing your rooms correctly.
You want to make sure that you are making a profit, but you also don't want to price yourself out of the market. The good news is, Booking.com makes it easy to set your prices and manage your inventory.
To start, you'll need to decide on the currency you want to list your prices in. Once you've done that, you can set your price points by entering the nightly rate and how many nights you want the room to be available for. You can also choose to offer a discount for longer stays, or if you have a vacant room that you want to fill up quickly.
In addition to setting your prices, you'll also need to decide on what payment methods you want to accept. Booking.com offers a variety of payment methods, including credit cards, debit cards, PayPal, and Apple Pay. 
Once you've set your prices and payment methods, it's important to review them regularly and make changes when necessary. For example, if you find that your rooms are consistently filling up at a lower price point than you wanted to charge, then you may need to raise your prices slightly. Alternatively, if you have a room that's been vacant for a while, you may want to lower the price until it's booked.
In this step, you must also include the lowest base rate for this type of room. It's important to think about your base rate carefully and consider what you'd be comfortable receiving after Booking.com takes its 15% commission rate.
PRENO TIP:
Preno's Channel Manager makes it easy to manage your property listings on Booking.com. With Preno's Channel Manager, you can quickly and easily update your availability, rates and photos across all of your distribution channels with a few clicks.
Step Three: Facilities & Services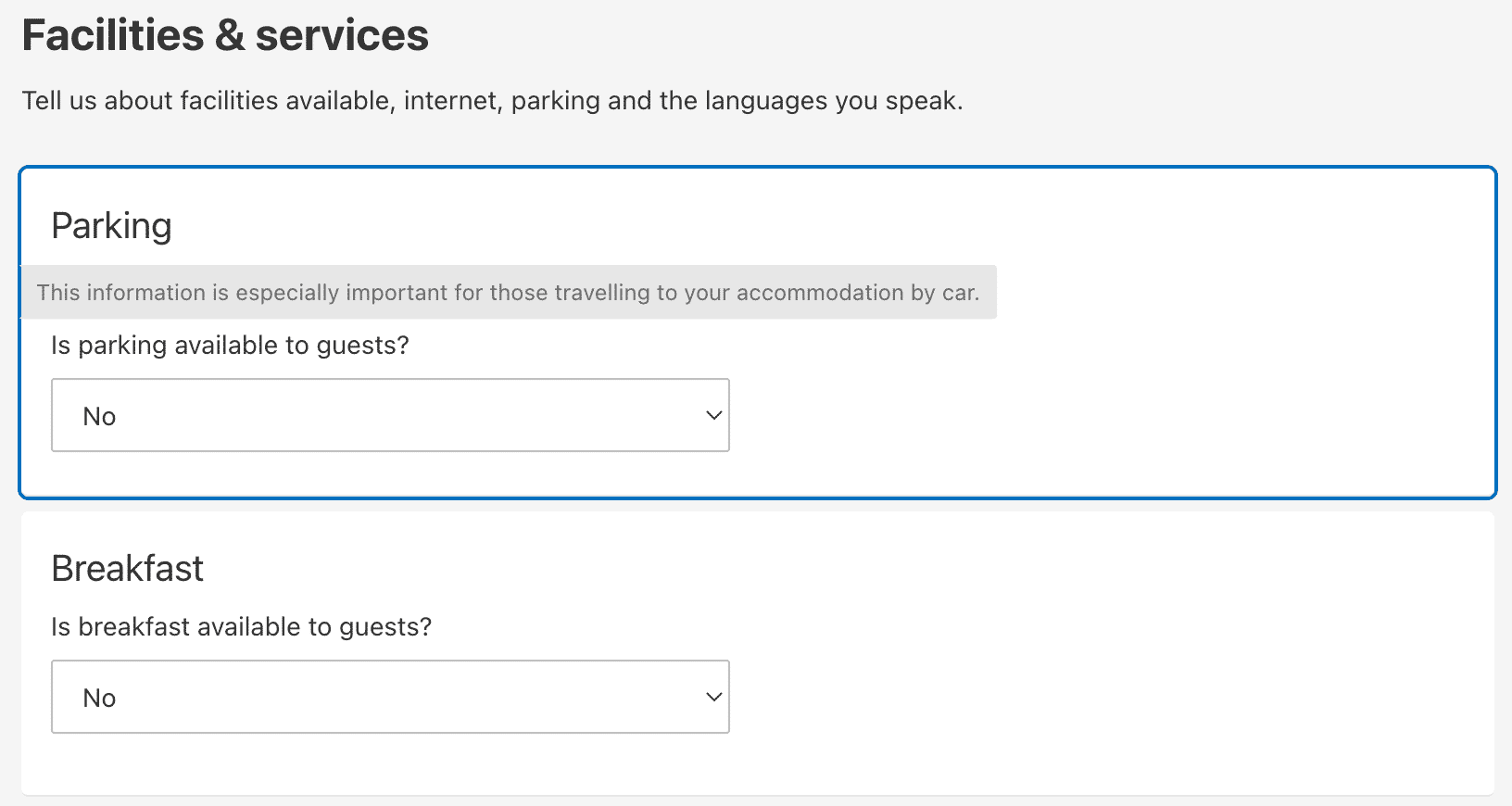 Your amenities and services are the things that will make your Booking.com listing stand out amongst the rest, so don't hold back. By including amenities such as parking, breakfast, free Wi-Fi, and languages spoken, you will be able to attract more guests and make them feel more comfortable during their stay. Keep in mind that guests will expect to be provided with the amenities that you list, so make sure to only include what you are actually able to offer.
Upgrading your property with new amenities is a great way to attract more guests and improve your business. If you're unsure what to offer, check out the current listings in your area – this will give you a good idea of what the standard price is for properties like your own. It's also a good way to see what extras you may want to add in future to improve your guest's experience.
Step Four: Property Photos
It's time to add some photos. When it comes to booking a hotel, guests want to see what they are getting themselves into. They don't want to be surprised by hidden fees or a bad location. Images allow potential guests to get a feel for your hotel and what it has to offer. Booking.com allows you to upload up to 20 photos of your property, so take advantage of this and show off your property in its best light!
In addition to helping guests get a feel for your hotel, visuals can also help boost your ranking on booking sites. Sites like Booking.com take into account the quality of your photos when determining your ranking. The key here is selecting well-lit images so that potential guests can see all the details of your property – including photos of the exterior, interior, and any amenities your property offers. This is also the time to capture any selling points, such as a great view, an outdoor bath that overlooks a lake, or a built-in movie theatre too. When taking multiple photos of your property, be sure to keep the lighting and framing consistent across all shots.
Don't just stop at your property – show off the surrounding area too. Are you located near a popular attraction? Do you have an on-site restaurant? Be sure to include imagery of these to sell potential guests the whole experience, not just the room they'll be staying in.
While it is possible to take your own hotel photography, we recommend hiring a professional. They'll have the necessary equipment to capture your hotel in the best light and create stunning visuals that will help you stand out from the competition. They'll also be able to see your property with fresh eyes and be able to highlight features of your property that guests will find interesting, which you may have overlooked.
Step Five: Policies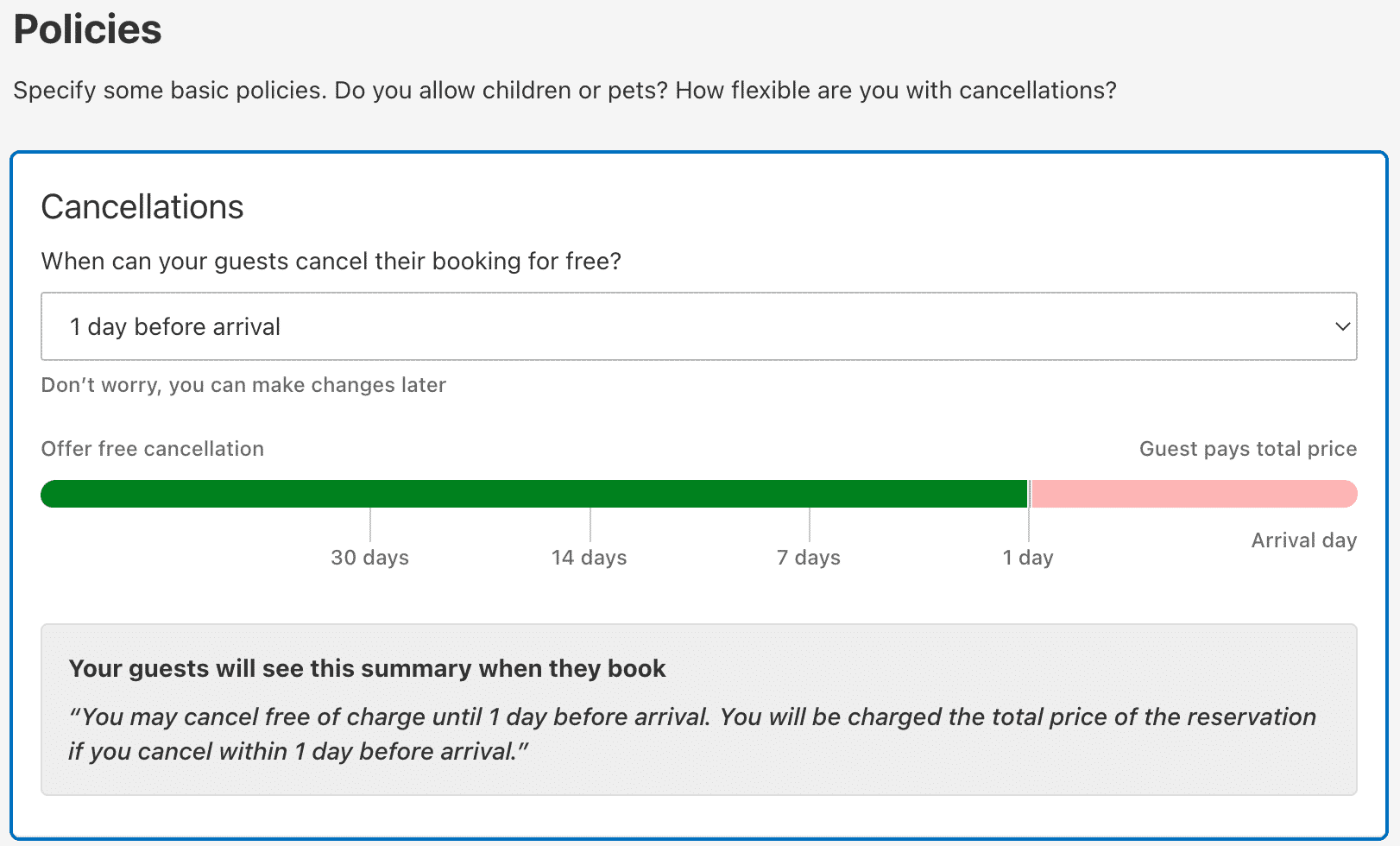 The next step is to add your policies. This is where you'll include things like your cancellation policy, check-in and check-out times, age restrictions, and any special requests that guests should be aware of. It's important to be as clear and concise as possible when writing your policies so that there is no confusion for guests when they are booking.
When drafting your policies, be sure to keep the following in mind:
Are your policies clear and easy to understand?

Do they match the expectations of guests who will be staying at your property?

Are they reasonable for both you and the guest?
For example, if you have a strict cancellation policy, be sure to list this prominently on your property's page so that guests are aware of it before they book. The last thing you want is for a guest to cancel their stay at the last minute and leave you with an empty room.
Once you have your policies drafted, take a step back and read them over. Are they clear and easy to understand? Are there any areas that could be clarified further? Do they seem reasonable for both you and the guest? If the answer is yes, then you're ready to add them to your listing.
Step Six: Payments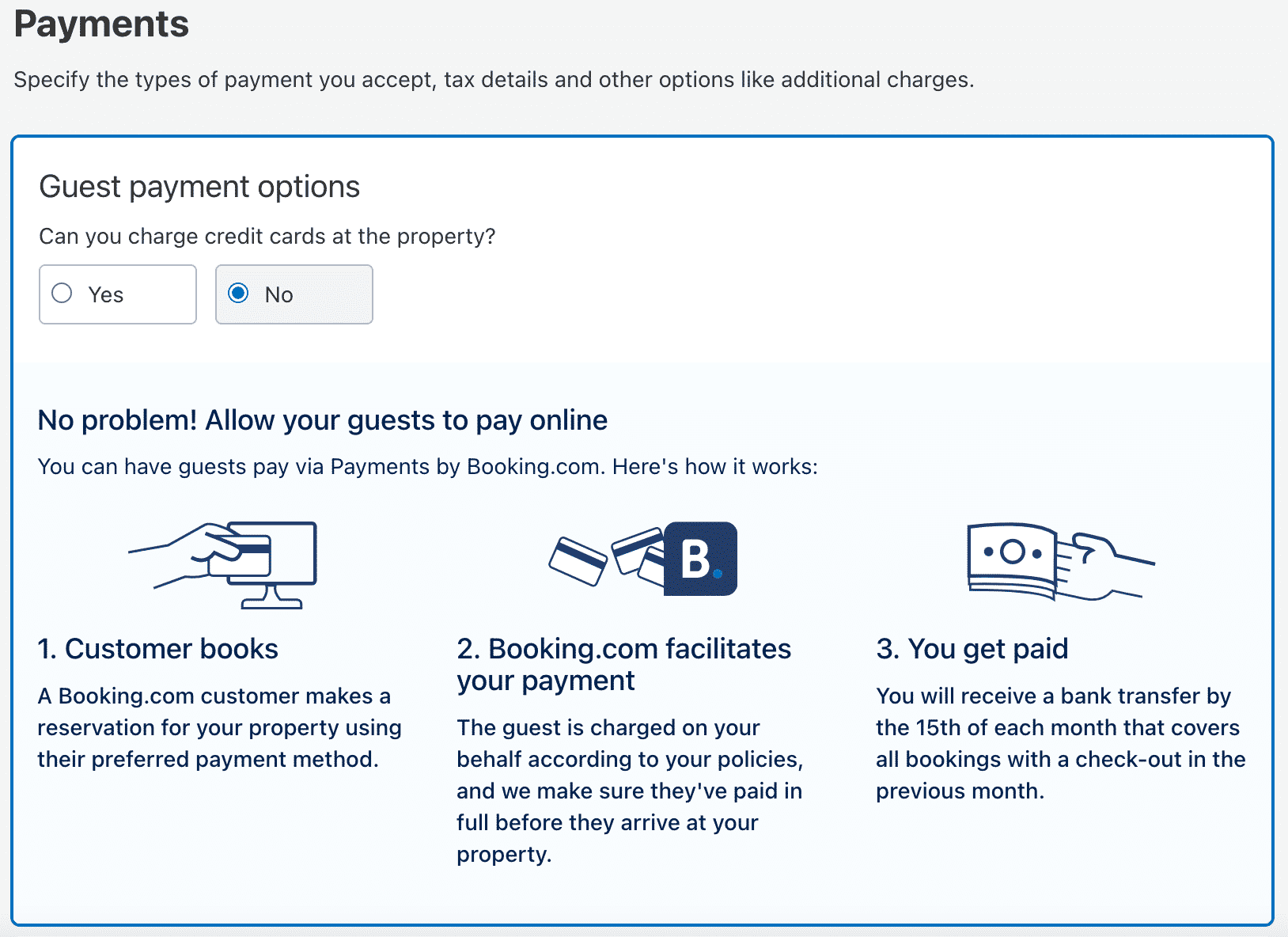 The final step in setting up your Booking.com listing is to add payment information. This includes whether you can accept credit card payments at your property, or whether you need Booking.com to facilitate all charges. If you do accept credit cards, there are many you can select from to make the process easy, such as Visa, American Express and Mastercard.
Once you've added your payment information, you're ready to start taking bookings!
Subscribe to our newsletter