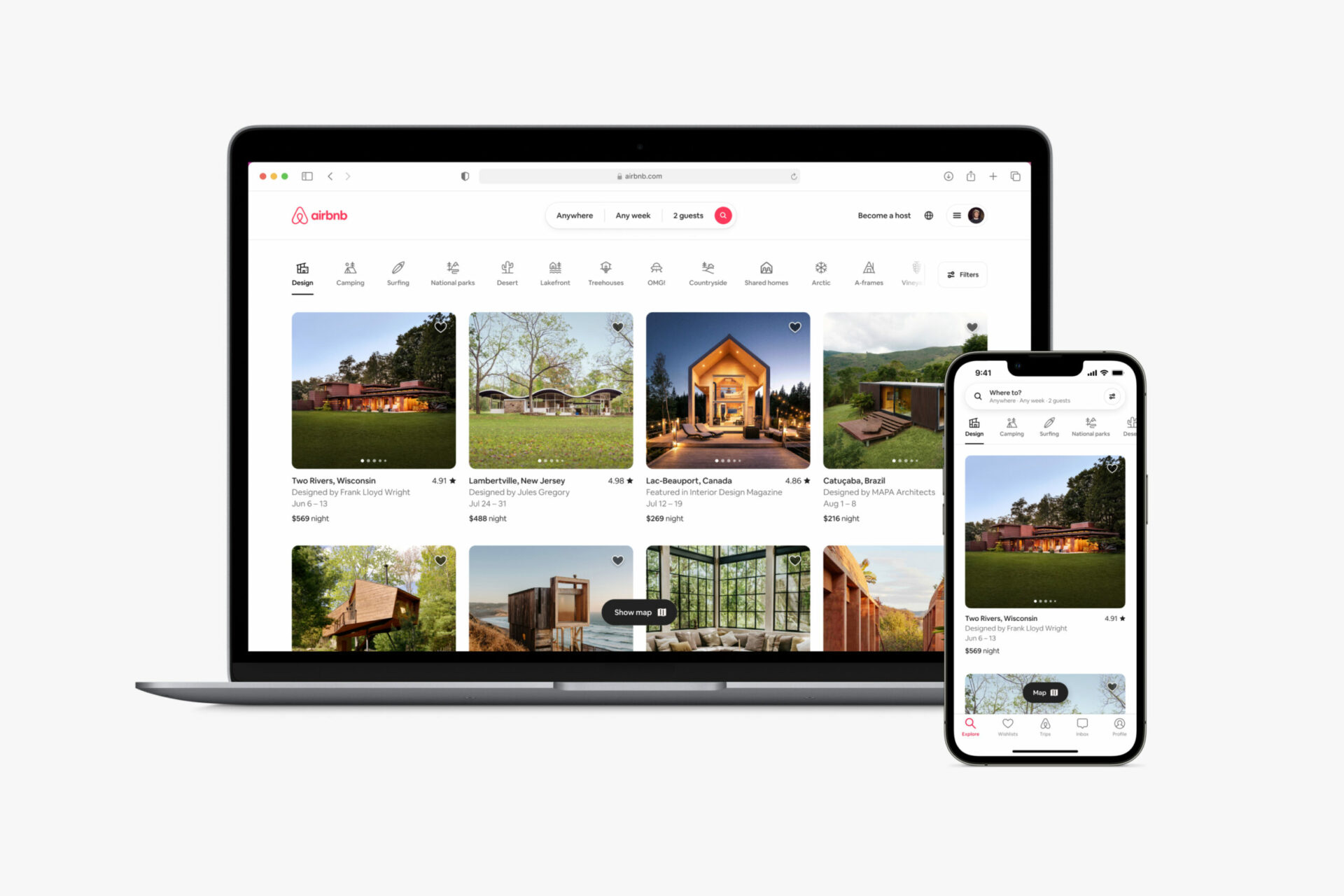 Airbnb Announced It's Biggest Change in a Decade
This month, Airbnb announced its "biggest change to Airbnb in a decade." After identifying changes in typical traveller's behaviour, they've redesigned their platform to accommodate those who are flexible about where they want to work and live after Covid.
There are three notable additions to Airbnb, these are:
Airbnb Categories
In the past, Airbnb has provided a simple search box, where you can simply enter your location of choice and dates. With the most recent changes, you'll now be able to search by 56 different categories. These results will be showcased by the style of accommodation, its general location, and how close to your destination is to activities.
As you navigate through the different categories, you'll also be taken through them on the map so you'll have a better idea of where they're located.
Airbnb will now establish whether your accommodation fits into these different categories by analysing your listings keywords. These are pulled from your listing title, descriptions, photo captions and reviews from your guests. Their dedicated curation team will also establish whether your listing fits into their featured categories by reviewing your imagery.
PRENO TIP
With the introduction of the new Airbnb categories, it's more important than ever to optimise your listing for SEO. Read our article 'Airbnb Marketing Strategies: How to Increase Your Bookings on Airbnb' to find how more.
Split Stays
With more people working remotely than ever, the average travel time has changed too. "In the last three months, nearly half of nights booked on Airbnb were for trips of a week or more" stated Airbnb, and because of this, they've added their new feature Split Stays.
Split Stays allow travellers to split their trip between two different locations. This search feature will showcase more listings to those looking to book, and therefore, increase the visibility of listings on Airbnb. Properties will appear within 14 different enticing categories, such as skiing, surfing and camping.
When using Split Stay, Airbnb will also serve you with other properties that pair well with the place you intend to go to. When viewing this on the map, it will also tell you the distance between properties for convenience. This new feature is intended to encourage travellers to extend their trips and experience more of the area.

AirCover for guests
With Covid still lingering, Airbnb has introduced AirCover. AirCover is comprehensive travel protection that is free and included in every guest's booking. This is aimed to bring travellers more peace of mind when they're moving from location to location.
There are three main areas that this protection covers:
Booking Protection Guarantee
If a host cancels within 30 days of your check-in date, Airbnb will find alternative accommodation for you or they'll refund the booking.
Check-In Guarantee
If you aren't able to check into your accommodation and this isn't resolved with the host, Airbnb will find you alternative accommodation or refund your stay.
Get-What-You-Booked Guarantee
This cover may be the best addition to AirCover. Guests can now feel confident when they book as they'll now be able to get alternative accommodation, or a full refund, if the property isn't what was advertised. An example of this is a different number of rooms than what was listed, or if there are amenities that aren't working.
24-Hr Safety Line
Airbnb has extended its safety line and will now give you priority access to trained agents if you don't feel safe where you're staying. This help is available in 16 different languages, 24/7.
Photo Credit: Airbnb
Manage your Airbnb listing with Preno. Try it today free – no credit card required!
Subscribe to our newsletter