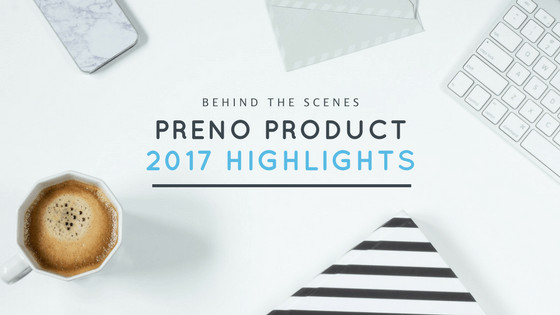 2017 Product highlights, and what's next
2017 has been a great year so far for product development in Preno. We have improved workflows, added new functionalities and integrated with the best partners, so we can help our customers run their properties more seamlessly and efficiently. We couldn't have done it without open feedback from our customers, and their willingness to engage with our team – thank you! Before we head into the busy end of year season, let's take a look at what we've developed over the last 9 months, and what's to come.
Save time on admin
We understand how many tasks our customers need to juggle at one time, so that their guests can have a great stay. Admin should not be one of them. We've improved workflows, introduced multiple email templates, and made settings more configurable. Our email templates make it easy to personalise any email. These updates help get the job done, with less effort.
Most of our customers also use a point-of-sale system in their restaurant or bar. Allowing guests to bill to room is admin heavy, especially when you need to ensure the charges are recorded correctly. We've partnered with Lightspeed Kounta POS (a cloud based point of sale system) so you can send charges directly to the guest's booking in real time without the admin.
More secure and reliable
We take data security seriously at Preno, so we regularly audit and improve our operations. Helping customers be PCI compliant has been a big focus. We've partnered with payment gateways for secure storage of credit card information. You can now sign up for a Stripe account in-app via Stripe Connect, and it'll be connected to your Preno account. You'll be up and running in minutes. Magic!
Behind the scenes, we've migrated our servers to Amazon AWS to ensure our services are reliable and secure. This was a massive job for Max (CTO) and the engineering team, and is a great outcome for our customers.
Easier to get started
We developed Preno with hoteliers so it's intuitive to use, but we understand that everyone has different learning styles when getting started. Earlier this year we introduced our help centre, with easy to consume articles based on popular questions. More recently, we've started publishing short videos on YouTube. This means that starting with Preno, and training new staff members, is now much easier.
2017 is not over…
There's still more to come in this last quarter for 2017. We have a major update coming for our reporting really soon. It will bring powerful insights and metrics, so our customers can make the best decisions when running their properties. As we head into the busy season, we'll also be releasing more improvements and automation to make it easier for our customers to provide a personalised guest experience. Stay tuned!
Want to see our latest features in action? Contact us to find out more.
Subscribe to our newsletter