10 of the Most Popular Preno Features You Might Have Missed
Are you a Preno user? If so, have you taken advantage of all the platform has to offer? If not, now is the time to start exploring! We've rounded up 10 of the most popular Preno features that you might not have known about.
1. Auto-Emails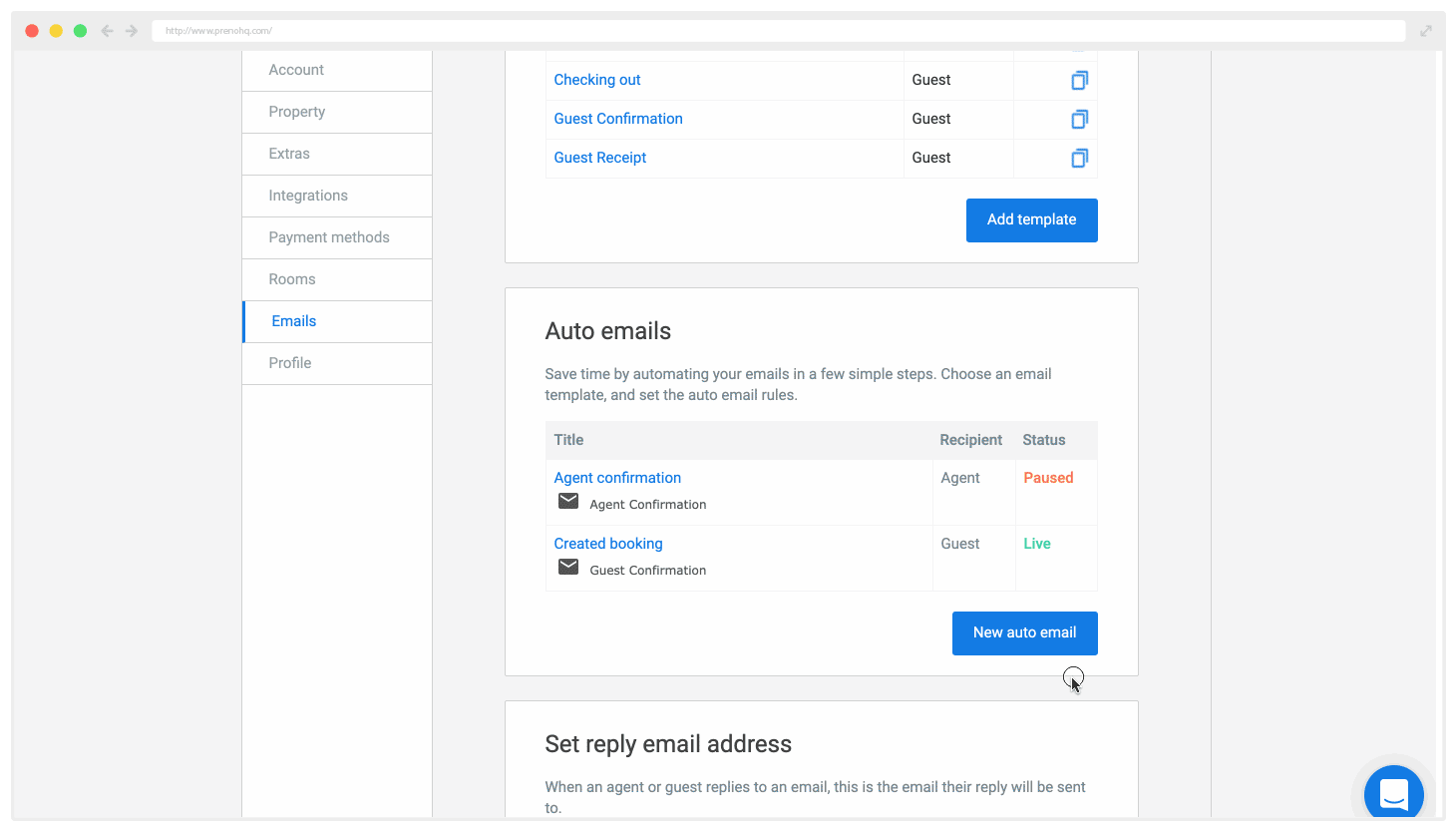 As a hotelier, staying on top of communication with your guests can be a challenge. That's why you should always have a helping hand, like Preno's auto-email feature. Say goodbye to the hassle of manually sending emails for check-in instructions or post-stay surveys – Preno will do it for you.
For example, you can set up an email to be automatically sent to guests a few days before their check-in date with details on how to access the property. This will include important information like the check-in time, Wi-Fi password, parking details, and any other necessary information for their stay.
Auto-emails can also be set up to automatically collect new reviews on an OTA like Tripadvisor, Expedia or Google. Reviews are one of the most important ways accommodation businesses can market themselves.
Automatic emails is a must-have for any property management system, and Preno delivers with customisable templates for various scenarios such as booking confirmations, pre-arrival information, cancellations and post-departure feedback requests. These emails can be triggered at specific times during the reservation process that you choose to ensure seamless communication with your guests.
Here are two email templates for the two examples I gave above: 
Welcome Email
Hi _______(*insert guest name*),
Welcome to the______ hotel (*insert hotel name*). We're excited to have you here! Here is the Wi-Fi password, along with some other useful information for your stay:
Wi-Fi Password:__________
Pool & Spa Opening Hours:____________ Front Desk Hours:___________
Phone Extension Numbers:_________
Please do not hesitate to contact the front desk should you require assistance with anything. Enjoy your stay!
Kind regards,
The team at ________(*insert hotel name*) 
Review Request
Hi _______(*insert guest name*),
It was great to have you stay with us during your visit to Queenstown (*tailor location*).
We hope you had a great time, and if so, we would love it if you could share your experience at ______ (*insert hotel name*) on Trip Advisor (*tailor review site*).
(*insert link to review site*)
We appreciate your business and support.
Have a great day!
Thank you and kind regards, ________(*insert hotel name*) 
2. Extra Guest Charges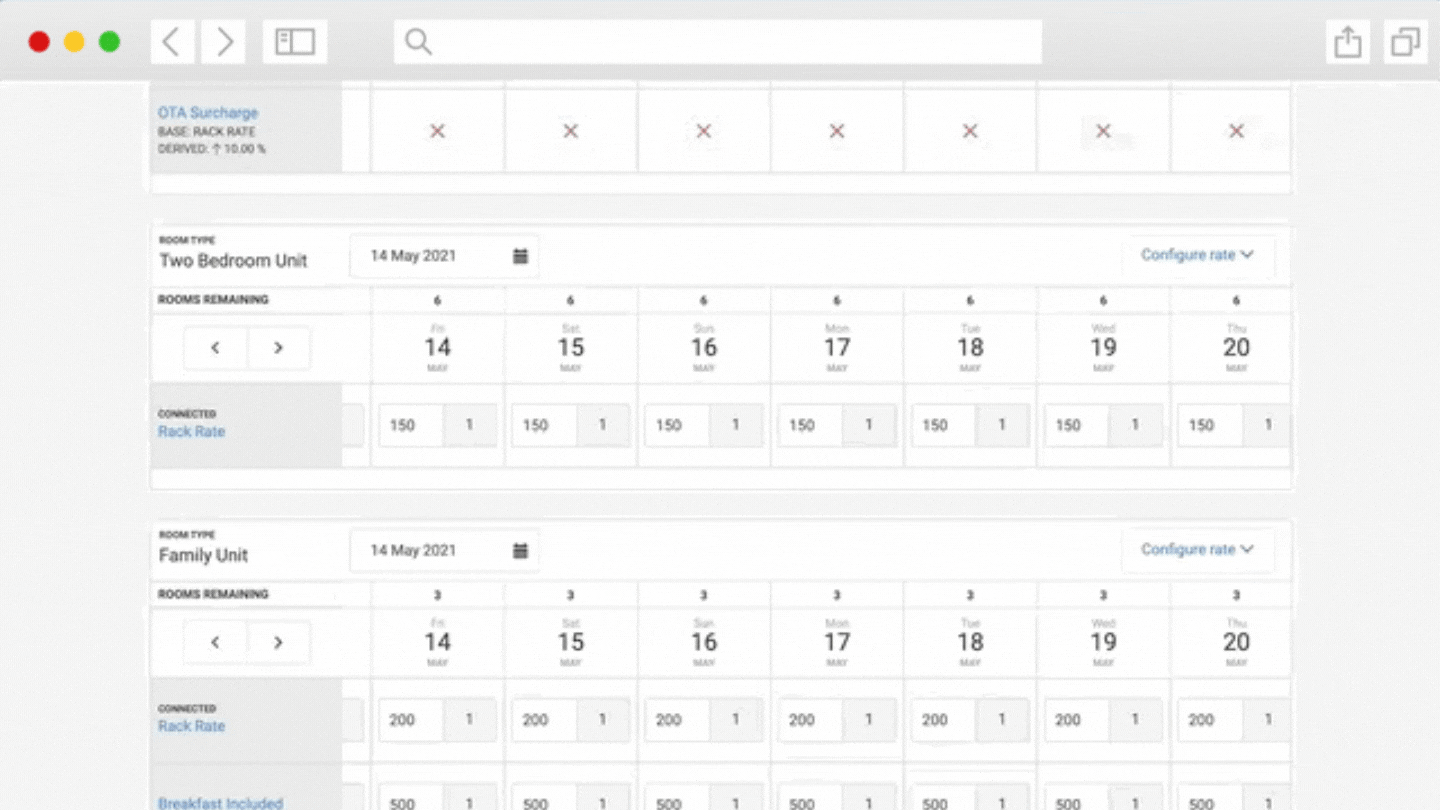 Using Preno, you can easily set up extra guest charges for your room rates. With the ability to set base rates and add on additional charges, such as for extra guests in a room, Preno helps ensure that your hotel is accurately and efficiently billing its customers. These charges will automatically be added to any manual bookings made through the system, ensuring that you never miss out on additional revenue from extra guests.
You can also set extra guest charges in Preno for other fees, such as pet fees or cleaning fees. Simply follow the steps outlined on our site and specify the fee name and amount. These extras do not show on the booking engine, and need to be set up separately by submitting through the Booking Engine wizard.
By setting up Preno's extra guest charge feature you can accurately track and charge for any additional charges for your guests, streamlining your financial processes.
3. CTA/CTD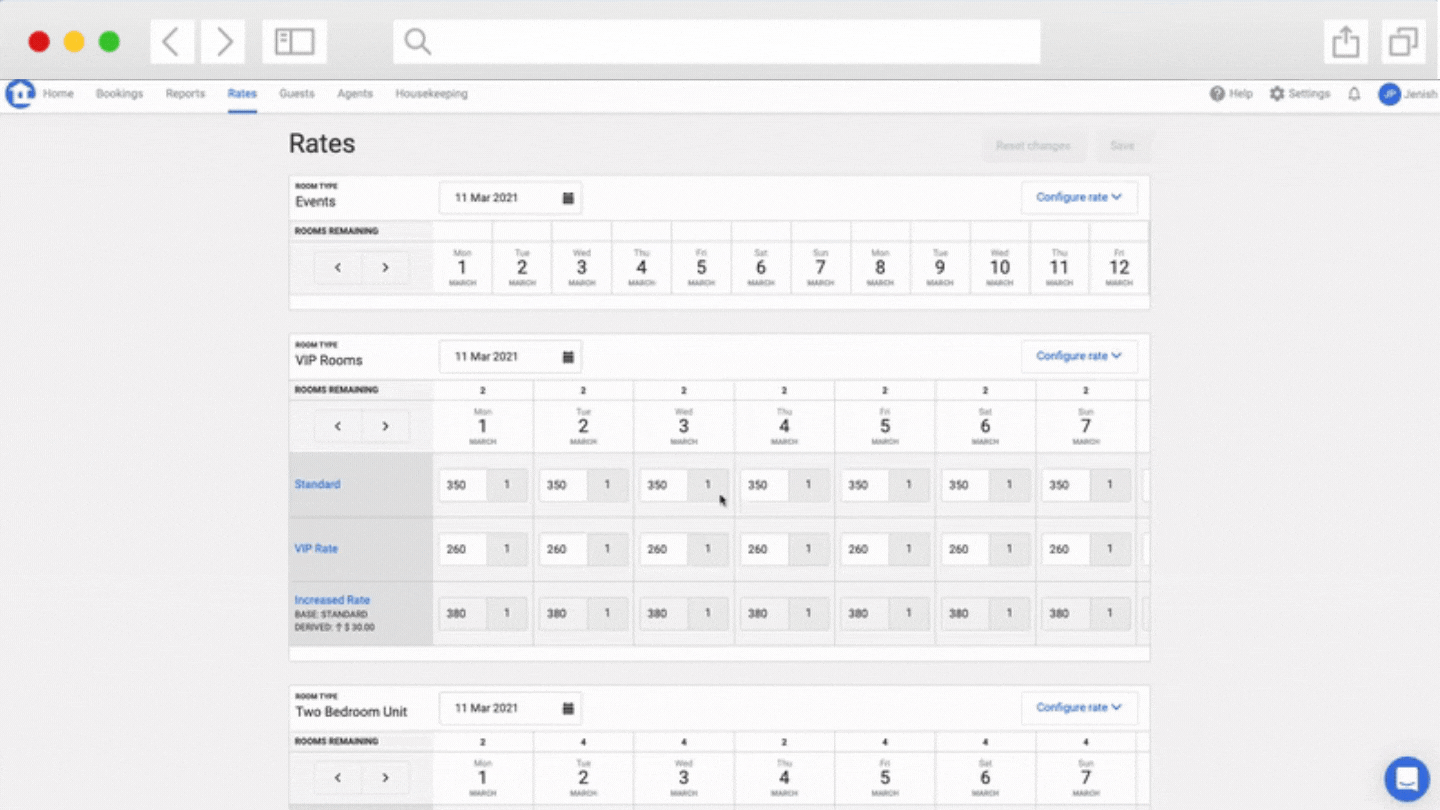 Close to Arrival (CTA) and Close to Departure (CTD) restrictions can be useful for ensuring your property has enough time to properly prepare for new guests, or to allow for maintenance between bookings. This feature allows you to easily apply stop sells for certain dates, giving you more control over your room availability. This can also help with forecasting and maximising revenue potential.
For example, for Christmas Day you can set a CTD restriction for the day before and after, ensuring that your property has enough time to prepare for new guests and clean the rooms between bookings.
To set up CTA/CTD restrictions in Preno, navigate to the Restrictions tab under Settings and choose the dates you want to apply stop sells for.
4. Derived Rates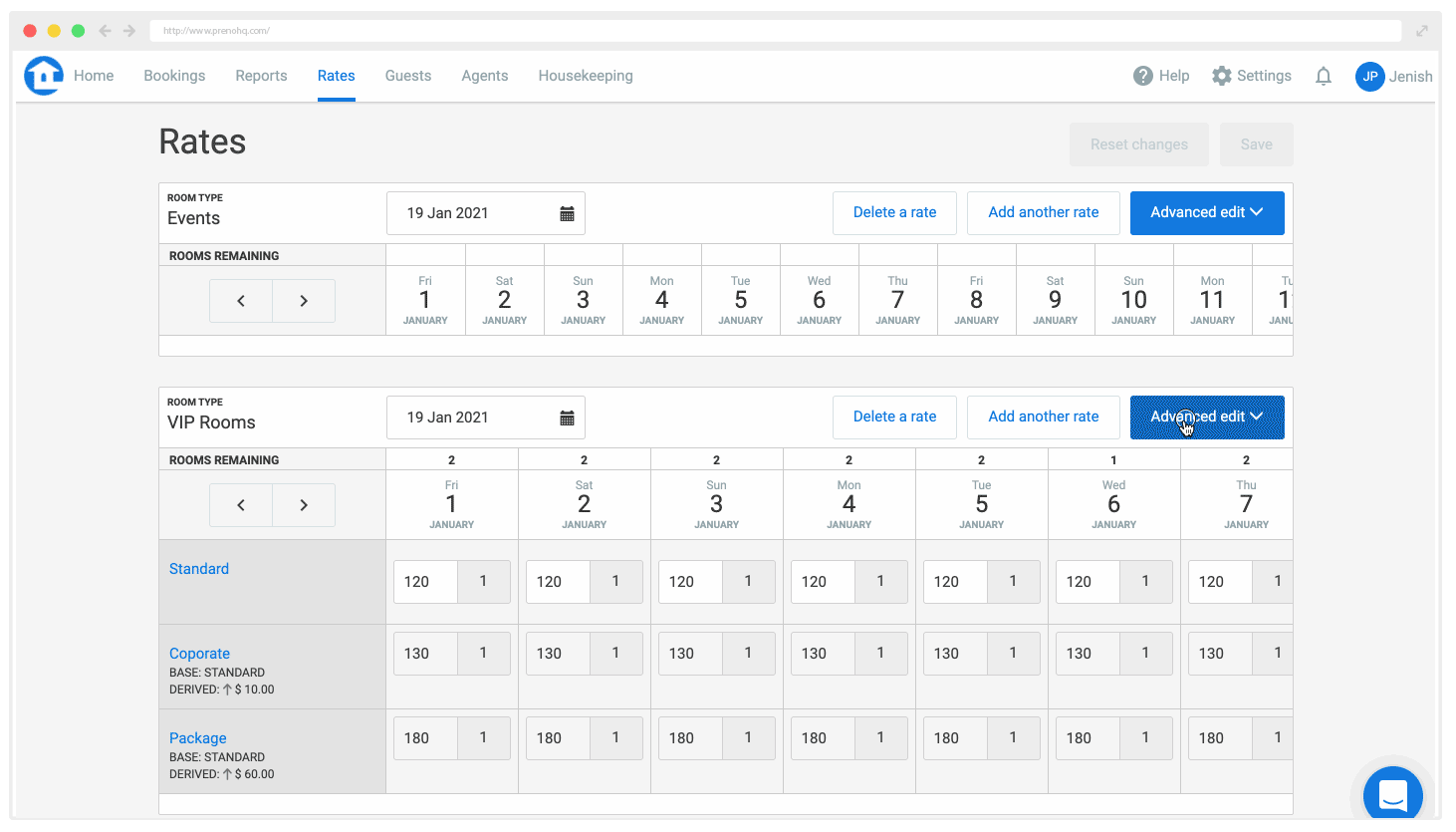 Preno's derived rates feature allows users to save time by dynamically adjusting multiple rates at once. By setting a base rate and using it as a foundation, other rates are automatically calculated. This feature is especially useful in a competitive marketplace where the ability to quickly respond to changes in demand can give you an advantage.
This feature also allows you to quickly and easily create customised pricing for specific situations. For example, you can create a discounted "walk-in" rate by decreasing your standard rate, or offer a percentage discount to all relevant booking channels through the channel manager. This saves time and ensures consistency across all of your booking platforms.
Preno's derived rates feature allows for increased efficiency and reduced pricing errors. The rates page clearly displays all of your rates, and any changes are tracked under the "Rates History" tab. This feature also offers flexibility with four adjustment options, including the ability to increase or decrease by a set amount or percentage. Rules can be easily edited as well. Overall, our derived rates feature streamlines the pricing process and helps to avoid errors.
5. Flexible Grid Rows
Preno allows users to add events, public holidays, car rentals, and waitlists to the Grid view. This feature makes it easy for property managers to see their bookings at a glance and plan accordingly. It can be customised to fit the needs of each individual property, making organization and planning even more efficient.
The Preno Grid allows users to add extra rows for tracking events or public holidays, car rentals, offline rooms, conference or function rooms, tuck shop sales, waitlisted guests, and deferred bookings. This added flexibility allows users to easily keep track of all aspects of their accommodation business in one place.
With Preno, you can also easily exclude room types from occupancy reporting, so you can add events or car rentals without affecting your overall occupancy numbers. This feature helps keep your figures accurate and gives you more flexibility in managing your property.
Overall, the Grid feature in Preno simplifies the booking process and offers convenience for property managers.
6. Connected Rooms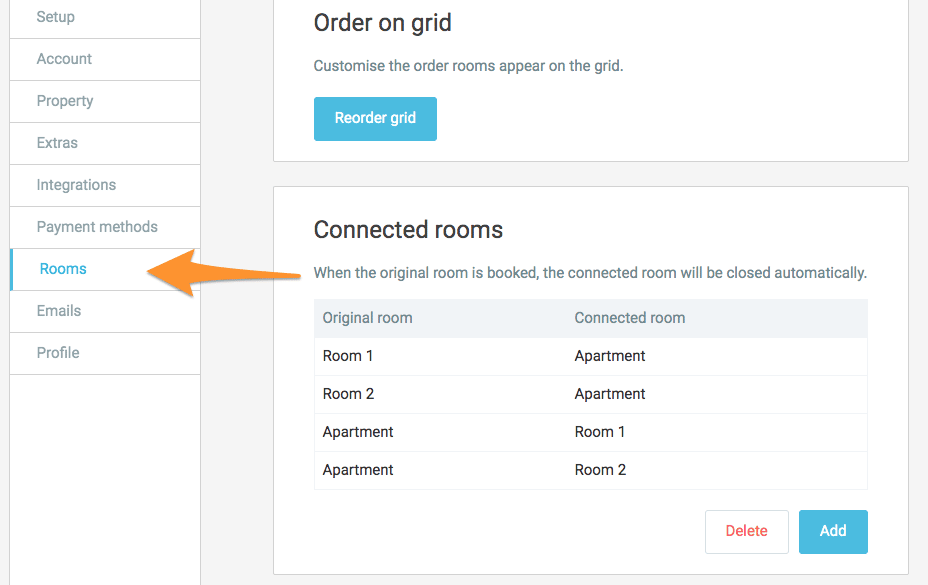 Preno's Connected Rooms feature allows for easy management of multiple rooms that can be sold separately or as one unit. When a room is booked or closed, Preno will automatically close any connected rooms to prevent overbooking and simplify the booking process. This is especially useful for properties such as apartments or vacation homes that can be rented as a whole or by individual rooms.
The Preno feature "Connected Rooms" allows for rooms within a property to be connected, so that their availability is linked. For example, if a property has two connected rooms, they can be booked separately or as a unit. Preno will automatically close the unit if one room is booked to prevent overbooking and streamline the booking process.
It is good to note that if someone is selling the entire house, but also the one bedroom, there's  nothing to stop a guest from booking the both at the same time. We suggest to our customers to make it very clear on your website what the layout of the house your listing options for is.
Selling your rooms as more than one option can be a great way to both increase your chance of gaining bookings by selling more accommodation options, and increase your overall revenue.
7. Xero Invoicing
Preno:
Create booking in Preno.

Add deposit/payments to the booking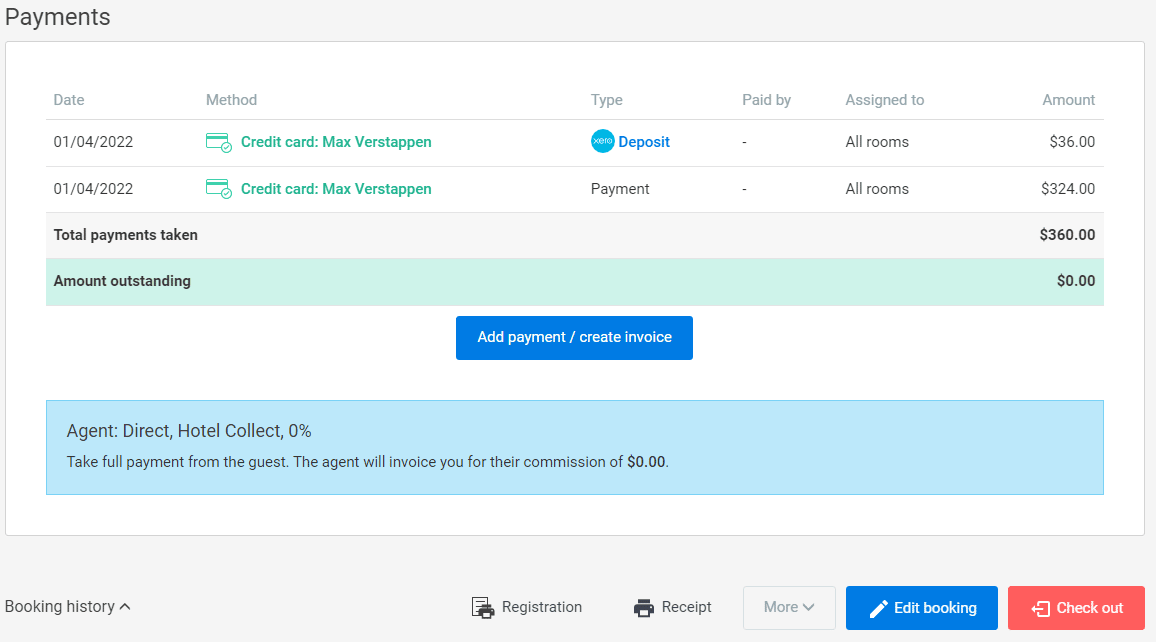 Xero:
Check out the booking in Preno.

Final invoice for the booking is generated in Xero.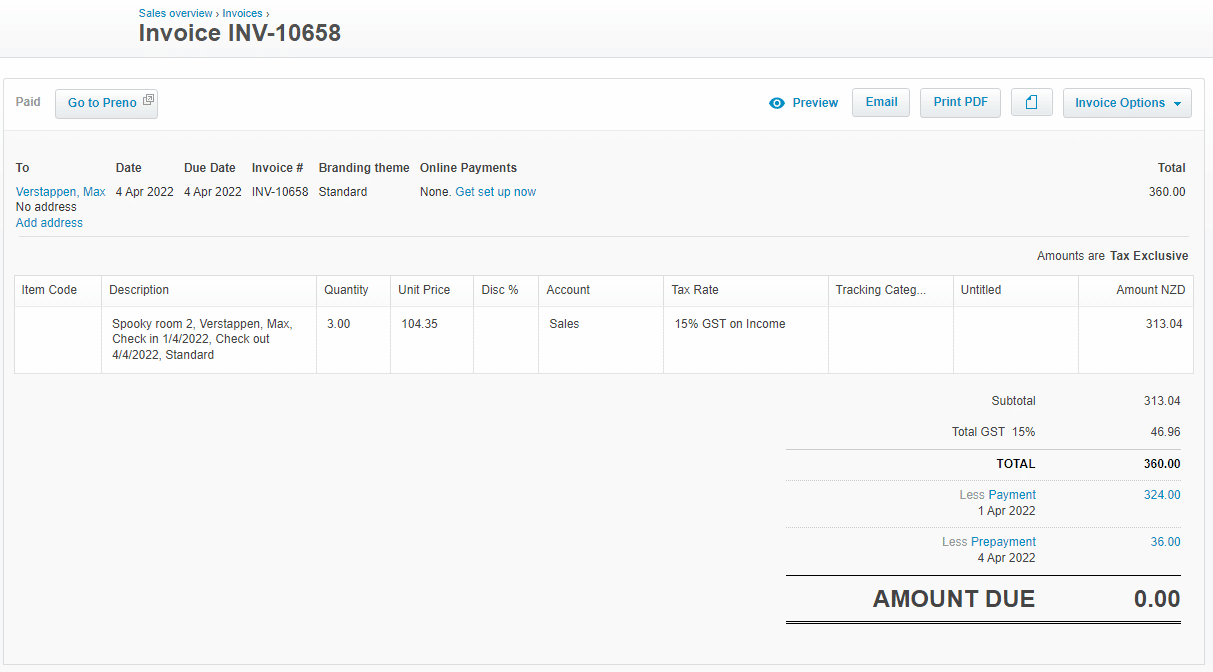 By using Preno, invoicing through Xero becomes a breeze. With Preno's seamless integration with Xero, all booking and invoice information is automatically synced and updated in real time. This means no more manually inputting data or double checking for errors.
Invoicing is also made simpler with customisable templates and the ability to bulk generate and send invoices. Not only that, but users can also custom map their chart of accounts to ensure accurate reporting and coding of revenue streams. And with Xero Payroll and Xero Bookkeeping integrated into the system, all of your financial data is easily accessible and organized.
Overall, Preno and Xero work together to make managing your finances a breeze.
8. 1-Click Upsells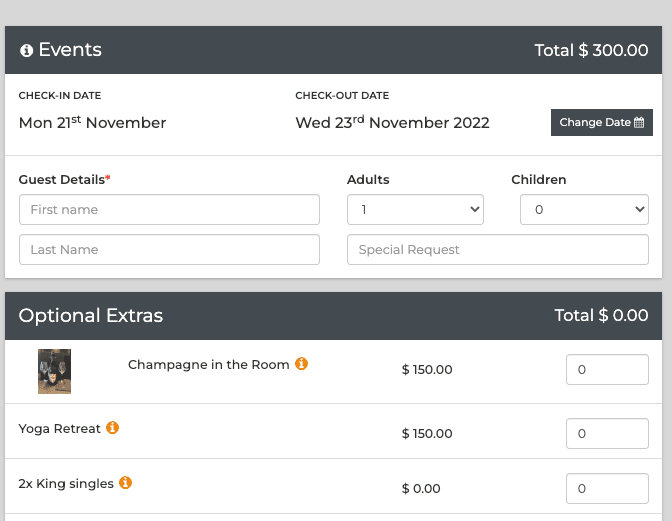 By using Preno's booking engine, you can easily offer additional products and services to your guests during the booking process. This feature, known as 1 click upsells, allows you to increase revenue and provide a better experience for your guests. Upselling options can range from room upgrades to amenities such as spa packages or airport transfers. With Preno's easy-to-use interface, adding and managing upsells has never been simpler. Start maximising your revenue potential with 1 click upsells today.
9. Security Notifications: New Device Alert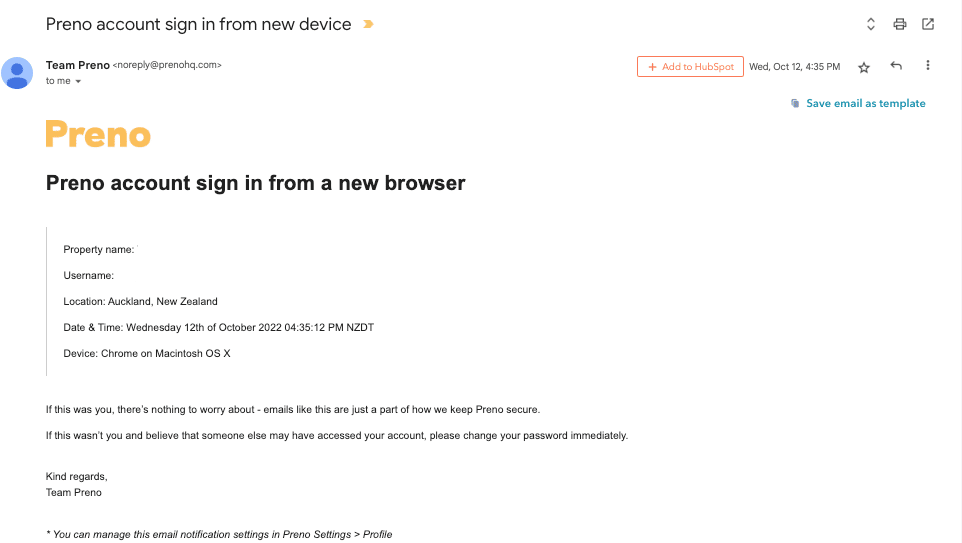 Preno is constantly working to improve security for our users. As part of these efforts, we now offer a new device alert feature. When logging in from a new or unrecognised device, users will receive an email notification for added security measures. This gives our users peace of mind, knowing that their account and information are protected. So log in with confidence – Preno has got your back.
10. Auto-payments
We also hosting a second webinar on the 30th of November, introducing our BRAND NEW feature "auto-payments"- and trust us, you won't want to miss it.
We'll cover the full details of how this new automated function will help with your daily admin, and ways to use it to get the most out of this exciting new Preno feature.
Subscribe to our newsletter