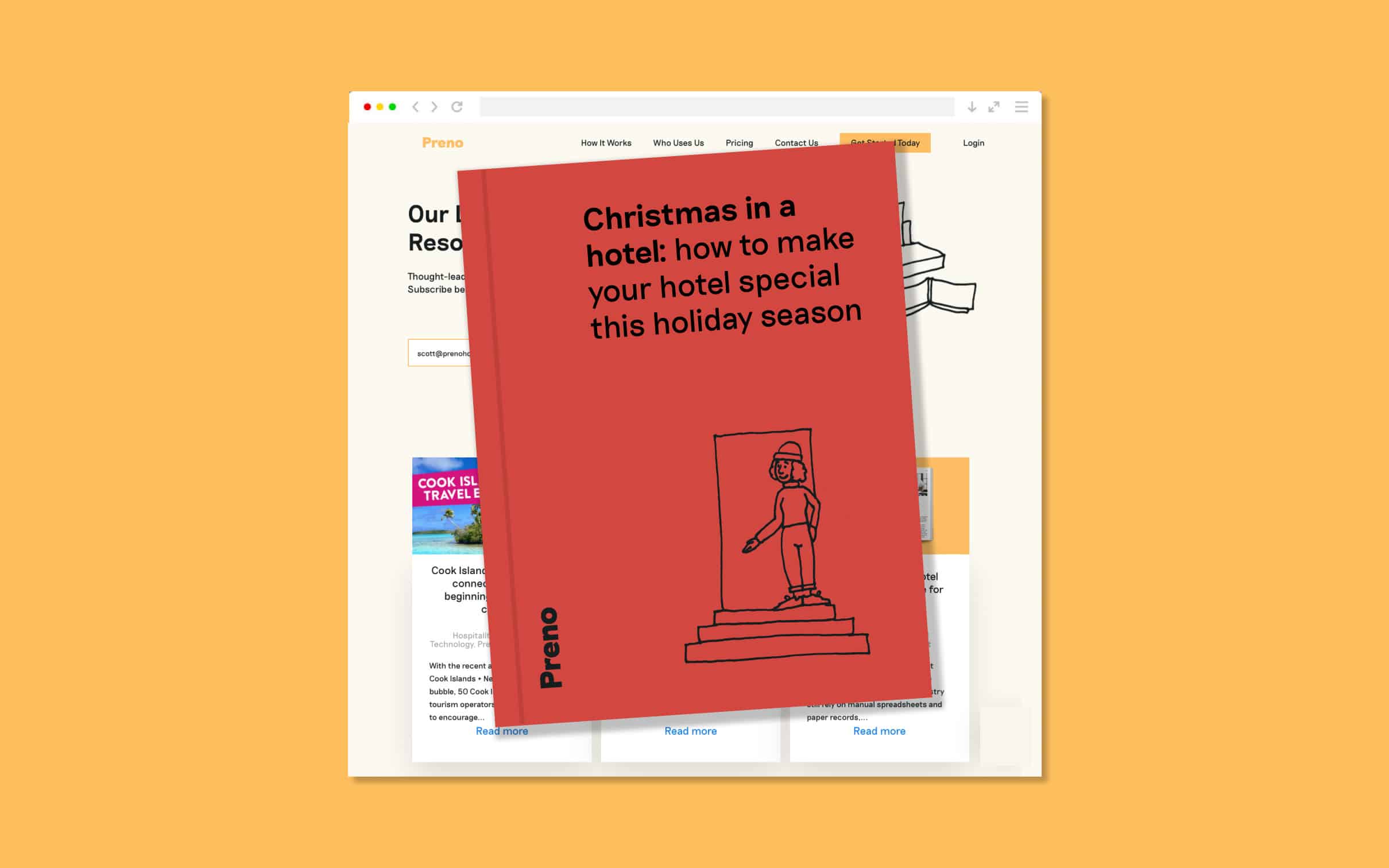 Christmas in a hotel: how to make your hotel special this holiday season
Hotel Christmas decorations, foods & activity ideas to make your hotel festive this Christmas
The holiday season is upon us! It's time to light the Christmas tree and bring out the tinsel, because your guests will be arriving soon, and you want your hotel to be extra special.
2020 has been a rocky year for us all, and although your target market may have shifted – domestic travel will likely surge this holiday season. The world has been in and out of lockdowns, so a vacation is just what everyone needs.
We've put together some hotel Christmas decor and festivity tips to help you make your guests stay with you extra special this season.
PRENO TIP
Remember: your hotel is a home-away-from-home for your guests. Make your guests feel comfortable celebrating Christmas in a hotel, just as if they were at home.
How to decorate a hotel for Christmas
When it comes to hotel Christmas decorations, the first place to start is of course your hotel lobby and common areas. But you'll also want to add a touch of Christmas to your guests rooms.
Hotel lobby Christmas decorations
When a guest arrives at your hotel, the first thing they see is your lobby. Just as you would usually keep your lobby pristinely neat, tidy and nicely decorated – you'll want to uphold these standards when adding hotel Christmas decorations.
Make your decorations seasonal
If your hotel is located in a country where it is winter, try a winter wonderland theme. Think white Christmas trees, dazzling lights and a cozy fireplace with stockings. If you're located in a summer destination, keep the decorations fresh – fill your lobby with the smell of pine.
Keep it elegant & don't go overboard
Add touches of Christmas around your hotel common areas – hang some fairy lights, tinsel, or garlands. But remember not to go overboard, you want to achieve a balance of professionalism with celebratory. Too many decorations can appear tacky or untidy.
Decorate with consistency
When it comes to Christmas hotel decorating, or any decorating for that matter, the best way to impress your guests is by having a theme. If you choose a winter wonderland, stick with the whites and golds, or if you choose the classic green and reds, stick with it. Whichever you choose, ensure you keep it consistent.
Hotel room Christmas decorations
While the common areas are very important in a guests perception of your hotel, the presentation of their hotel room trumps. A hotel room is a guest's personal space, so it should be presented with care and precision.
Add personal touches
To make your guest feel at home in your hotel this Christmas, consider adding some personal touches to their room. Add a card thanking them for their stay with you and wish them a Merry Christmas. It could be as simple as a note on their bedside table.
Make your guests feel at home
For many travellers, waking up in a hotel room on Christmas morning might be a new experience, so having some hotel Christmas decorations to wake up to might make them feel more at home. Add a small tree, some tinsel or other decorations – just a few touches around the room will do.
Surprise your guest with a gift
One way to make your guest feel extra special this Christmas season while staying with you is to add a little gift to their room or stay. This doesn't have to require a lot of spending, even something simple such as chocolates or a bottle of wine in their room. Or if you want something a bit more, add a complimentary breakfast to the guests booking.
PRENO TIP
Your hotel room is a guest's personal space during their stay with you. Never underestimate the importance of detail when decorating the rooms in your hotel, because this is where guests should feel most comfortable and at home. The guest experience is in the detail.
Other ways to make your hotel festive for Christmas
In addition to hotel Christmas decorations, there are many other things you can do to add to the guest experience and make their stay with you more festive. Consider amending your restaurant menu to include some classic Christmas dishes, or host some activities to add some festive fun.
Hotel menu tips for Christmas
One of the most exciting parts of Christmas is the food! When it's Christmas there's no such thing as a diet, and when you're on a holiday, there isn't either. So when your guest is staying with you at Christmas, they'll definitely love to eat some festive treats.
Choose local favourites
One of the perks of hosting domestic travellers is that you know what they like or how they like to celebrate Christmas (for the most part). If your property is based in New Zealand for example, adding a Kiwi classic like Pavlova dessert to the menu is a great idea.
Offer Christmas classics
When it comes to Christmas, you can't go wrong with a classic festive menu. Think ham, turkey, cookies, Christmas cake, and so on. You don't have to offer everything on your menu, but even just a few Christmas dish options will make your guests stay special.
Hotel activity tips for Christmas
Another way to make your guests stay with you extra special this holiday season is to organise and host some festive activities. This doesn't have to cost a lot and is a great way for guests to meet and mingle, as well as provide an enhanced guest experience.
Offer complimentary activities
To enhance your guests' stay with you when they're celebrating Christmas in a hotel, offering some festive activities is a great way to go the extra mile. This might be as simple as a movie night, or Christmas crafts and cookie decorating classes (great for families).
Host a communal Christmas banquet
If you own a smaller hotel property and your target market are social people, hosting a communal banquet is a great way to make your guests' Christmas visit special. This could be an elegant sit down dinner, or a casual buffet lunch – whichever you think your guests will enjoy most.
PRENO TIP
Christmas hotel decorating, food and activities don't have to go beyond your hotel budget. Try something simple, add a touch of Christmas here and there and your guests will be sure to notice. When it comes to the guest experience, details don't go unnoticed.
Every detail counts: your guest will love the dashes of Christmas you add
Whether you choose simple hotel Christmas decor or decide to host a variety of festive activities, your guests will appreciate it
Celebrating Christmas in a hotel is a different experience for many travellers, so why not make it a great one! They're on holiday, so they deserve a bit of indulgence, with a bit of the comforts of home brought to them.
Go that little bit further this holiday season and ensure your guests have a lovely Christmas hotel experience.
Want to see Preno in Action? Join our free webinar: Sign up here.
Need help running your hotel business? Try Preno – a seamless property management system.
Subscribe to our newsletter