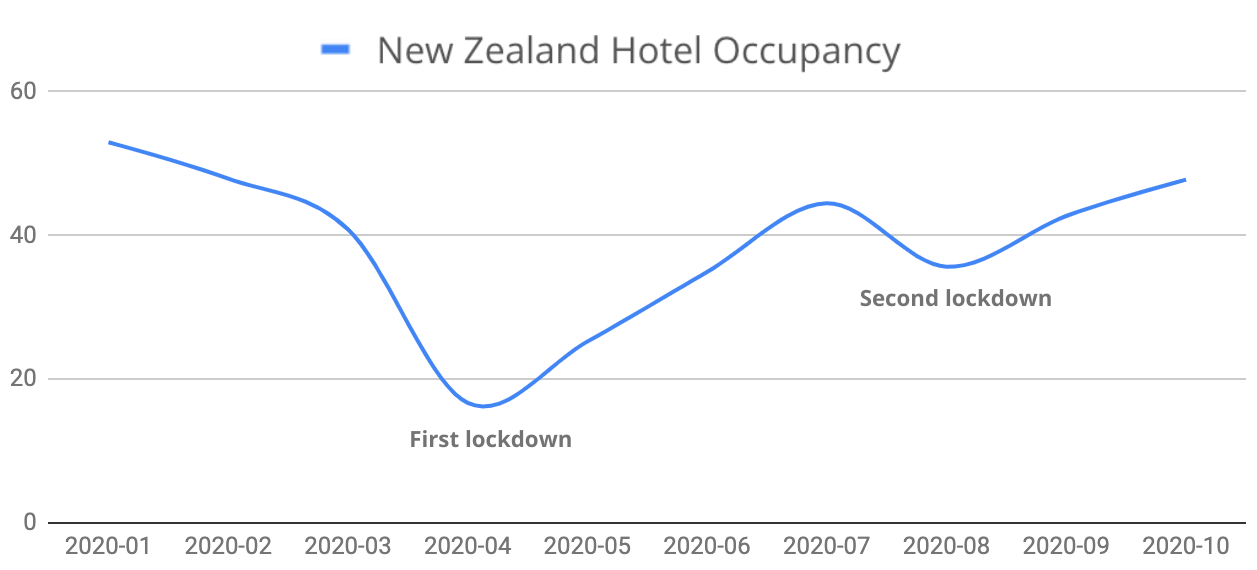 Preno customers: an inspiring v-shaped recovery in New Zealand
Many of our customers have shown remarkable resilience & bounce back from the impacts of covid-19
It isn't a secret that 2020 has been a year of hurdles – a rollercoaster in fact. But for the hotel industry, we are in absolute awe at the resilience exhibited.
Accommodation owners have faced some substantial challenges, what with international travel being limited (or closed off altogether in some regions). Some hoteliers have had to sadly close their doors or rescale their staff and most have had to adjust their strategies – but many have shown astounding hotel occupancy recovery rates.
We pulled the data from our customers, and we're heart-warmed by the v-shaped recovery exhibited.
Shining a light on Preno customers covid-19 hotel recovery
When covid-19 first introduced itself into our lives (it's now hard to imagine a world without it), the most densely populated countries were hit first.
Our customers in the Europe region were hit hard, and Australia and New Zealand followed soon after.
Sadly, Australia was already amidst a natural disaster – one of the largest, most dangerous bushfire spreads Australia has seen yet. So, add a global pandemic to the mix, and Australian occupancy rates were bound to drop rapidly.
As expected, our customers faced a steep decline in occupancy rates – but their recovery was rapid
The virus might've been a surprise, but the impacts were not. Lockdowns were put in place and borders were closed – hoteliers knew that their livelihood was on the line.
The question wasn't whether occupancy rates would drop, it was whether hoteliers would recover this sudden change to the market.
Comparing the numbers: how have occupancy rates changed?
A 26% increase for New Zealand hoteliers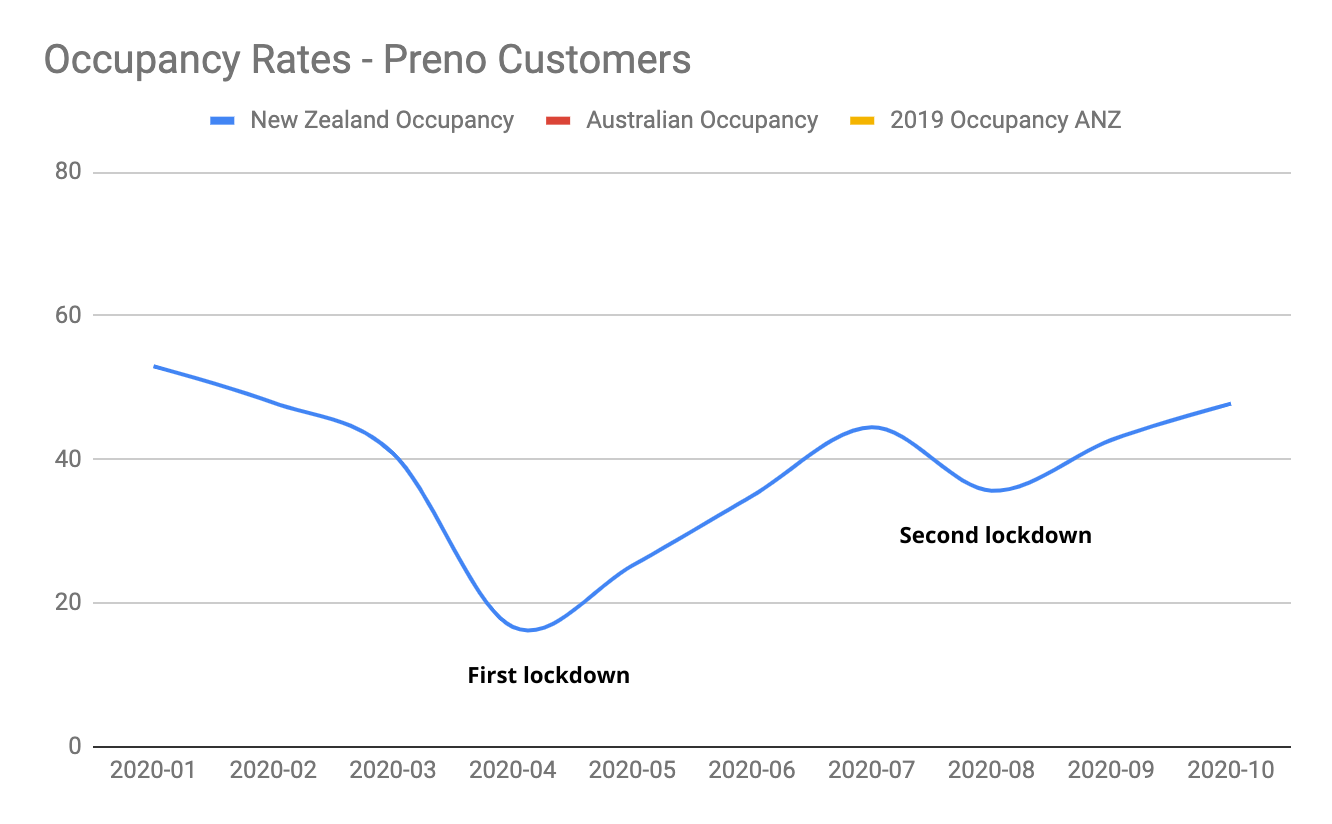 For New Zealand hoteliers, we can see on this graph that hotel occupancy rates took a dive back in April when the country went into lockdown.
In the initial months of 2020, occupancy rates took a slow downturn when the covid-19 panic was settling in and other countries were closing off their borders. New Zealand's first case hit, and by late March, the country was in lockdown, international travel was closed off and occupancy rates had dropped significantly (down to just 16.7%).
Post lockdown? The graph shows a steady growth back to normal. For most of our customers, occupancy rates were back up by August, with another small dip during the second lockdown. By October, our customers occupancy rates exhibited another surge and are now sitting at more than 42.71%.
What caused this v-shaped recovery for New Zealand hoteliers?
The love for travel has always been prominent in New Zealand – Kiwis love to explore, and get away from the hustle and bustle of daily life.
The border closures and travel restrictions of covid-19 have meant that Kiwis are now exploring New Zealand more. They're flying to new cities, going on road trips, and supporting local tourism providers.
This shift in the market is exactly what our customers needed to bounce back from their drop in occupancy rates. And it's truly remarkable to see that rooms are filling up at a similar rate (sometimes even higher) from domestic tourists, as they normally would be from international tourists (pre-covid).
An 11.74% increase for Australian hoteliers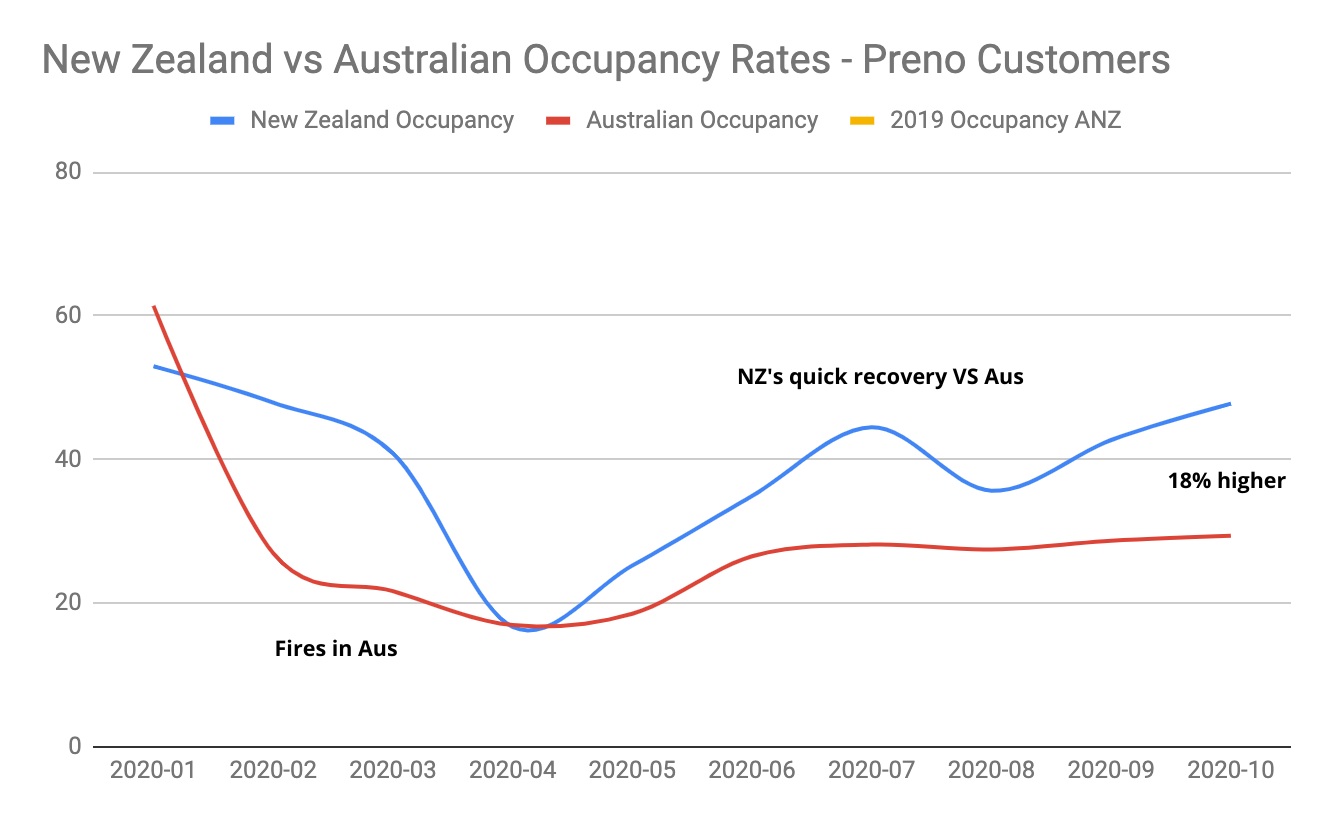 For our Australian customers, it's been an even tougher year. Pre-covid-19, Australian bush fires surged the country, endangering lives, damaging properties and causing havoc.
This explains Australia's occupancy rates taking a steep dive over the January – February months. Then with coronavirus hitting the country hard, occupancy rates stayed as low as 16.94%, before slowly growing to a steady 28.68% by October.
While the numbers for Australia look less encouraging than New Zealand, they are still impressive considering their multi-factor impacts, and size and scale of population. Many Australian cities have been in lockdown for months – and despite this, they have managed to attract a steady flow of guests, with occupancy rates sitting around the 26-28% mark.
Comparing the numbers: average hotel occupancy recovery rates for Australia & New Zealand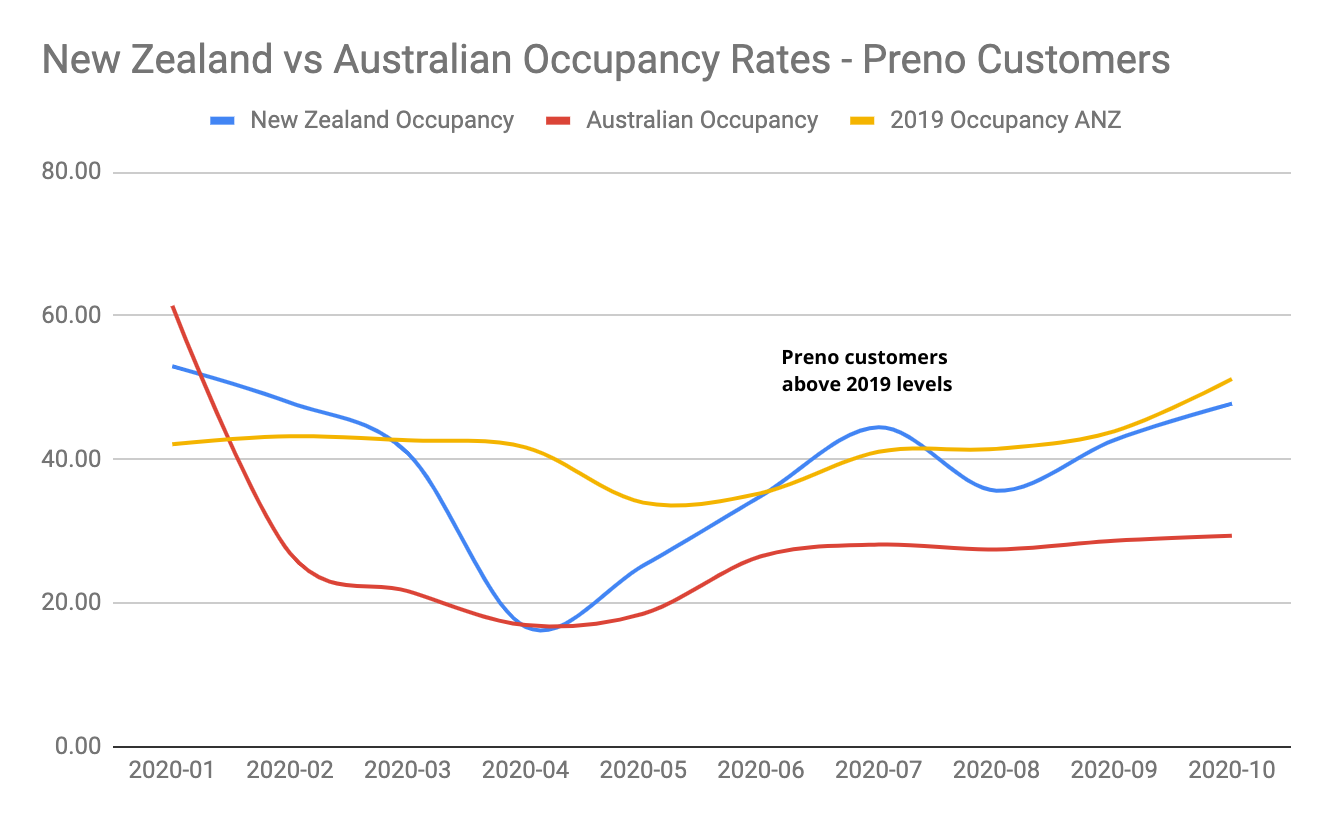 When combining Preno customer data from both New Zealand and Australia, we can see a steady flow of, and growth in occupancy rates, despite major lockdowns.
In fact, when you compare early 2020 to now, you can actually see an average increase in occupancy rates, which is a really encouraging performance indicator.
The numbers are a true testament to community values of New Zealanders and Australians – as they are spending local and supporting small businesses.
Not only this, but the resilience and perseverance of our customers is evident, in that they have re-angled their focus to domestic travellers, and responded well, despite the shock and stress of covid-19.
We're beyond proud of our customers & their v-shaped recovery
The industry's ability to bounce back to an impact of such an immense scale, is beyond impressive
The ability to react, respond and recover in such a short period of time shines a light on our customers resilient work ethic, and the strategies they've put in place to survive. And we're so happy to be a part of this journey with them.
At our recent Preno on Tour event, our customers expressed their amazement towards how busy they have been post-lockdown, and that the simplicity of Preno has made these times easier for them.
Our customer Chris, owner of Camelot Motor Lodge, shared how he has noticed a trend in one of his room types constantly selling out! The simplicity of the Preno grid made it easy for him to upgrade customers and free up popular rooms, to increase occupancy even further.
This feedback was very encouraging to hear, and a great example of how implementing clever tools and technology into your business helps with creating effective changes.
Want to see Preno in Action? Join our webinar: Sign up here
Searching for a suite of tools to improve your hotel? Try Preno.
Subscribe to our newsletter