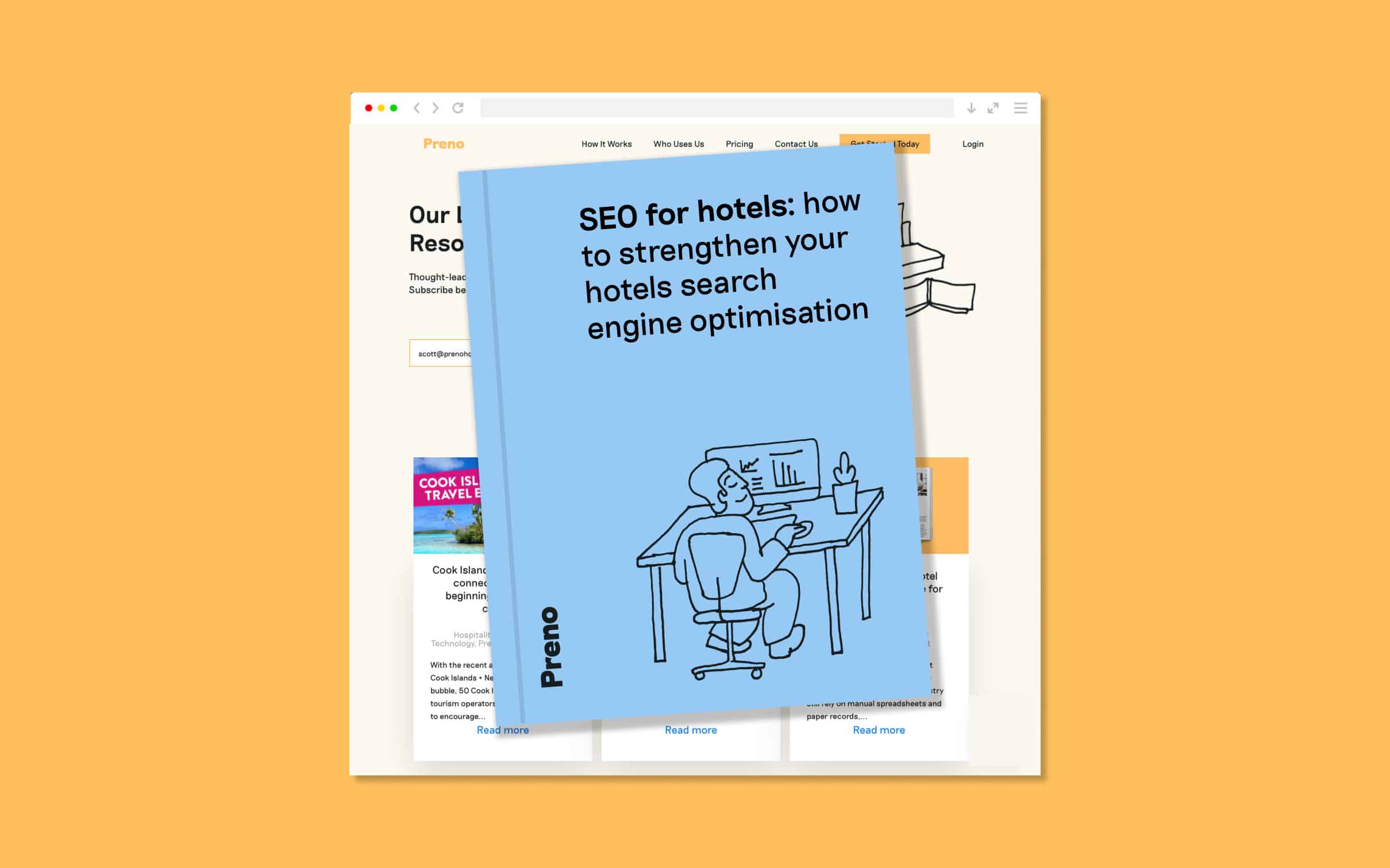 SEO for hotels: how to strengthen your hotels search engine optimisation
Did you know that your positioning on Google determines your consumer reach?
Think back to the last time you searched something in Google – how far did you scroll? It's almost certain that you didn't make it past the first page of results. In fact, you might've only made it half way down the page.
It is a known fact that when it comes to modern consumerism, Google, and other popular search engines (e.g. Bing and Baidu), are the place where people search for goods and services.
As a hotel owner, you have an expansive number of competitors – this means that when it comes to your positioning on Google, you're going to need to rank well. This is what we call hotel search engine optimisation (SEO).
How do you increase your reach on Google? With hotel SEO
What is hotel SEO?
As the term 'search engine optimisation' suggests, hotel SEO refers to the organic (meaning non-paid) positioning of your brand and website on Google and other search engines.
Hotel SEO encompasses all of the elements of your branding and details of your website that proves the reputability and strength of your property and service. These factors, in turn, determine how far your consumer reach is.
So what does SEO for hotels look like? What impacts this positioning?
There are an abundance of factors that contribute to your hotel search engine optimisation – from backlinks, to hotel SEO keywords, to metadata, and more.
SEO for hotels can be quite complicated, but it can also be quite simple. When it comes to hotel SEO, it is often the small details that can improve your positioning. And after all, you've got to start somewhere, right?
A basic hotel SEO strategy: 5 tips to get you started
1. Implement hotel SEO keywords
When it comes to SEO for hotels, the first thing you're going to want to do is research and implement hotel SEO keywords across your website.
What are hotel SEO keywords?
These are the key search terms that your target market search for in Google. For example, if your property is a resort in Fiji, a couple of examples of a relevant hotel SEO keywords for your business might be "affordable Fiji resort" or "island resort in Fiji".
Implementing a variety of these relevant keywords across your website (think page content and blog articles) will mean that when your target market searches for these terms, Google will pick this content up, and over time you will appear in more search results.
PRENO TIP
There are a number of hotel SEO keyword tools you can use to find the most relevant keywords for your property and customers (e.g. Mangools and Moz). When choosing hotel SEO keywords, we suggest a variety of high, medium and low search terms, to ensure your reach is varied. We also recommend choosing some localised terms (e.g. "Fiji resort, Savasi Island").
2. Strategise hotel SEO backlinks
Another key tool in improving hotel search engine optimisation is the implementation of backlinks.
What are backlinks?
Hotel SEO backlinks are all of the links on the internet that link back to your website. For example, it might be that you partner with other companies, and they link to you on their website. Other backlinks include social media links and advertising links – essentially, any link on the internet that connects to your website is a backlink.
Why are backlinks important when considering SEO for hotels?
Not only are links awesome because they are literally paths to your website (hence more customer reach, and easy access to your services) – backlinks also contribute to the SEO of your website.
Google's algorithm considers how many backlinks your website has – and the higher the volume, the more desirable your site seems, hence, this improves your Google ranking.
3. Strengthen hotel SEO metadata
If you really want to drill down and ensure all base elements of your hotel SEO are covered, refining and strengthening your websites metadata is another element you'll want to consider.
What is metadata?
Metadata, in hotel SEO, refers to the descriptions and titles of your website that appear in Google searches. For example, when you search for something in Google, a title and description appears.
These words are the first thing people read about your business, so they have to be 1) polished and professional, and 2) incorporate key search terms.
Here is an example of metadata you might see when you search for Preno:
Preno – Simple Hotel Property Management Software
Have more time for your guests with simple hotel property management software that is easy to use, saves time and integrates with Xero…
Note that both the title and description incorporate the keyword "hotel property management software", and the information is clear, concise and obvious what the product is.
Here is a generalised example of metadata you might use as inspiration for your hotel:
Fiji Hotel – An Affordable Island Escape – Fiji Resort, Savasi Island
Swim with dolphins, snorkel with sea life and relax on the beach at our beautiful Fiji resort, Savasi Island…
4. Enhance hotel SEO content
Another thing you can do to improve your hotel search engine optimisation and increase your Google ranking, is simply improving the quality of your content.
Have you heard of the saying quality is more important than quantity? Well when it comes to your website, this is all too true.
Here are a few tips to enhance your website content:
Refine your writing style so it is suitable for skim-reading (people don't have time to read long paragraphs).
Add in hotel SEO keywords using the guidelines above (and avoid keyword stuffing – remember quality over quantity)
And last of all, ensure that all content on your website is both relevant and helpful to your target market.
Google is smart, and if it thinks your content is irrelevant, unprofessional or confusing, it'll penalise you for it (i.e. push your hotel down the ranks).
5. Accelerate hotel SEO usability
Something else that is profoundly important when considering your hotel SEO strategy (and actually just in general for your business) is the usability of your website.
Not only should your web design be professional, organised and aesthetic – it should be simple to navigate, fast to load, and optimised for all devices.
If your website is slow or it isn't mobile friendly, web traffic (i.e. the people who visit your site) will get frustrated and leave. This will not only result in loss of potential customers, but also poor bounce results, which Google's algorithm will pick up.
Put yourself in the customer shoes and think about how frustrated you would feel if a website was slow, difficult to navigate, or generally just confusing.
PRENO TIP
When designing your website, be sure not to scrimp. There are some affordable web designs out there that are user-friendly, just make sure you do your research and don't settle for confusing designs. Also try using slightly lower resolution images, as too high can result in a slow website.
Increase your hotel's reach by taking the time to implement hotel SEO
Hotel SEO has been around for some time now, & while it is ever-evolving, it's base elements still remain relatively similar
Ensuring the quality of both your written content and website usability will always be a crucial element to the success of your website, and thus your hotel SEO reach. And following best practice SEO for hotels tips like improving metadata, implementing hotel SEO keywords, and increasing backlinks will build a strong foundation for your website reach.
So, now that you know how to improve your Google ranking and benchmark your hotel SEO you can go ahead and get started.
Searching for a smart tool to streamline your admin, so you have more time to focus on your hotel SEO strategy?
Try Preno for free – a fully cloud-based hotel management system.
Want to see Preno in Action? Join our free webinar: Sign up here
Subscribe to our newsletter