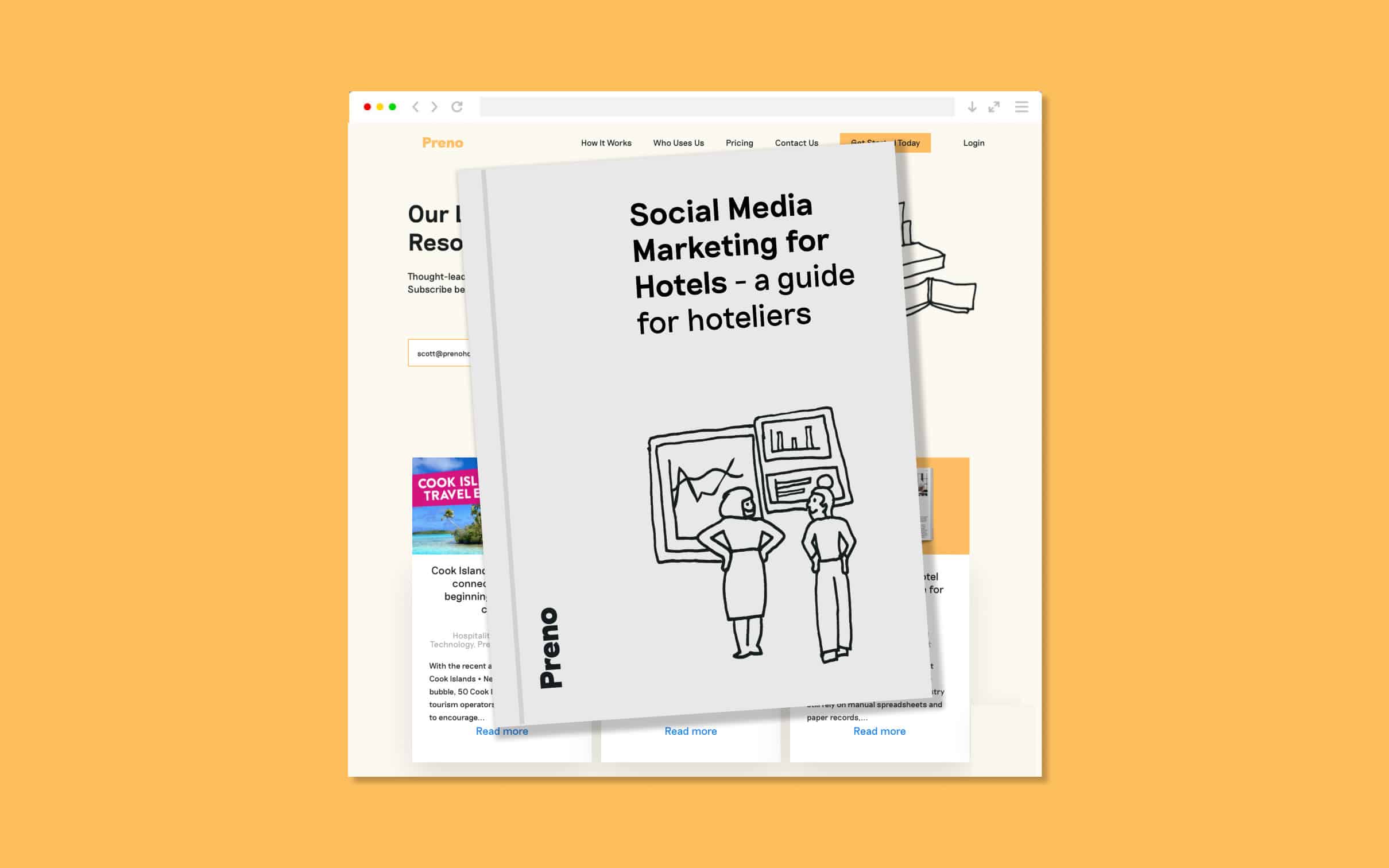 Social Media Marketing for Hotels
A simple guide to creating a hotel social media strategy that works
The prominence of social media marketing for hotels
Social media is at the centre of everything we do. Work or personal life, social media is all around us (whether we want it to be or not). We're living in a digital world, and it could be argued that businesses without a social media presence are invisible.
That might sound like a strong statement – but for the hotel industry in particular, social media marketing is key.
Why social media marketing in the hotel industry matters
As a hotelier, your key target audience is travellers. And today's traveller is an online shopper. The modern traveller doesn't make decisions on a whim. They're spending their hard-earned cash to stay with you, so before they go ahead and click 'book now,' they're going to make sure the experience will be worth it.
Potential guests will be judging your hotel on:
Appearance
Relevance
Reviews
And where are they going to find this information? Online.
While the occasional traveller might still turn to a travel agency, the vast majority will research and book online. This means your potential guests are most likely judging you based on your online presence – and that includes social media. That's why today, more than ever, it's so important to have a clear and consistent hotel social media strategy.
Here's everywhere they're going to look:
OTA's
Social media
Tripadvisor
Your website
So let's see how we can boost your hotel strategy to align with the way of the world, shall we?
Creating a social media marketing strategy for hotels
Step 1: Consider your target audience
The first step to creating an amazing social media strategy for your hotel is re-identifying your audience. Have a think about the people you're targeting, and consider how they might engage with you online.
Consider your audience's demographic and interests. Are you targeting 20 year olds looking to party? Instagram might be the way to go. Are you targeting 40 year olds with kids? Facebook might be more suitable.
PRENO TIP
When in doubt, bring your thoughts back to your target audience. If it resonates with them, it'll likely work for your business.
Step 2: Prioritise your platforms
Social media is constantly on the rise, and new platforms are popping up all the time. But if you don't have the time, budget, or energy to be on them all, don't be alarmed, because you don't have to be.
In fact, the base of an effective hotel social media strategy is all about having a strong presence on a few platforms, as opposed to an average one across them all.
PRENO TIP
Remember, when it comes to content, quality is often better than quantity.
For hoteliers, we recommend prioritising these top 3 platforms:
Facebook
Instagram
Tripadvisor
Facebook marketing for hotels
The great thing about Facebook is that it is used by a wide demographic of people. This means that you can take advantage of marketing your hotel to a wide audience.
Research shows that Facebook users range from as young as 13 to as old as 65+ – so whoever your hotel is targeting, you'll likely find them on Facebook.
So, how can you integrate Facebook into your hotel social media marketing strategy?
From organic marketing to paid advertising, the opportunities to create awareness of your hotel on Facebook are plentiful!
Here's a Facebook best practice to-do list:
Keep your profile up to date
Link your profile to your website
Post engaging content, regularly
Keep your content fresh / try new things
Try specified 'targeting' advertising
Like & comment / publicly engage with guests
Review & measure your Facebook insights
PRENO TIP
When posting on social media, don't get stuck in a rut. Try new things, and keep a close eye on industry trends. Word has it that hotel videography attracts great engagement!
Instagram marketing for hotels
Although it is now owned by Facebook, Instagram is quite a bit different. In the last few years it has grown exponentially, so today it is a very influential marketing channel.
This social platform's major focus is imagery, which is perfect because the desire to Travel is instigated by imagery.
Travellers use the internet to search for images of unique locations and stylish accommodations – the modern traveller wants to 'see' before they buy. They're looking for a taste of your hotel atmosphere, so they explore imagery associated with it. This means that when taking into consideration social media marketing for hotels, Instagram is a must-use tool you should be optimising.
Every traveller is a bit different – whether they're looking for an upmarket place to stay, or something a little bit simpler, there's one thing you can count on. They are looking. So what can you post that will entice your target guest?
Here are a few Instagram tips for hoteliers:
Post enticing imagery
Show off your property's atmosphere
Be spontaneous with Instagram stories
Use industry-relevant hashtags
Encourage guests to tag you in their photos
Establish an Instagram style
Check on your competitors
Try paid Instagram advertising
Tripadvisor marketing for hotels
Tripadvisor is the world's leading review platform for all tourism and hospitality businesses. So if you're not already on it, you should be.
Today's traveller is savvy, and they don't just spend their money anywhere. All it takes is a quick search of your hotel, a look at your socials and an analysis of your Tripadvisor account, and their opinion of you is instantly formed.
Your presence of Tripadvisor is a fundamental element of your hotel social media marketing mix.
Here's how to stand out on Tripadvisor:
Keep your profile up to date
Share useful information about your property
Engage with travellers
Monitor & reply to reviews
Upload enticing photos of your property
Try sponsored placements to increase your ranking
Link your profile to your website & other social platforms
Step 3: Be an integral member of the social media community
It isn't enough to just have an Instagram account, or to post the occasional update on Facebook – in order to drive results (i.e. bookings) you have to engage.
PRENO TIP
It's one thing to have a social media account, it's another to have a social media presence.
When travellers view your social profiles they judge your images, your content, your reviews – and perhaps most importantly, how often (and how effectively) you engage with guests. Based on what they see, they'll form a judgement on how much they think you care about your guests.
Here's a rule of thumb: always reply to guest reviews, queries, questions, and especially complaints.
Don't just be another number. To stay competitive as a hotelier, you must be a member of the social media community and show potential guests you care. This is how you'll attract attention.
Step 4: Post creative, eye-catching content (frequently)
Don't be boring. It is all too common for businesses to post content again and again that is similar and uninspired. Don't let yours be one of them.
It may sound cliche, but creating eye-catching social media content is an absolute must. Your business is part of the travel industry, and the travel industry is highly visual. Remember: the desire to travel is instigated by imagery. Guests are searching for the visuals – they're looking for a magical holiday experience and they want to know what your accommodation looks like, as well as get a feel for its atmosphere.
Post content that captures the essence of your accommodation. Share photos of people enjoying themselves and post professional videos that explore your property.
Give potential guests a reason to book with you. They're searching for an experience, so utilise free social media tools such as Instagram stories or Facebook Live to give potential guests a taste. Leave them wanting more.
If you foster it, hotel social media marketing will benefit your business
So now that you understand the significance of social media marketing in the hotel industry, you can get started!
Make social media a key element of your hotel marketing mix, and try your best not to neglect it. Prioritise platforms that your target audience use the most, establish a strategy, post great content, and engage with social media users.
The more exposure you build yourself on social media, the more results you will see. Now start taking photos and creating videos that will wow potential guests and turn them into repeat guests!
Need help setting up your hotel?
Try Preno, we offer a fully integrated cloud-based property management system that simplifies your hotel processes. Talk to the Preno team about getting set up.
Subscribe to our newsletter