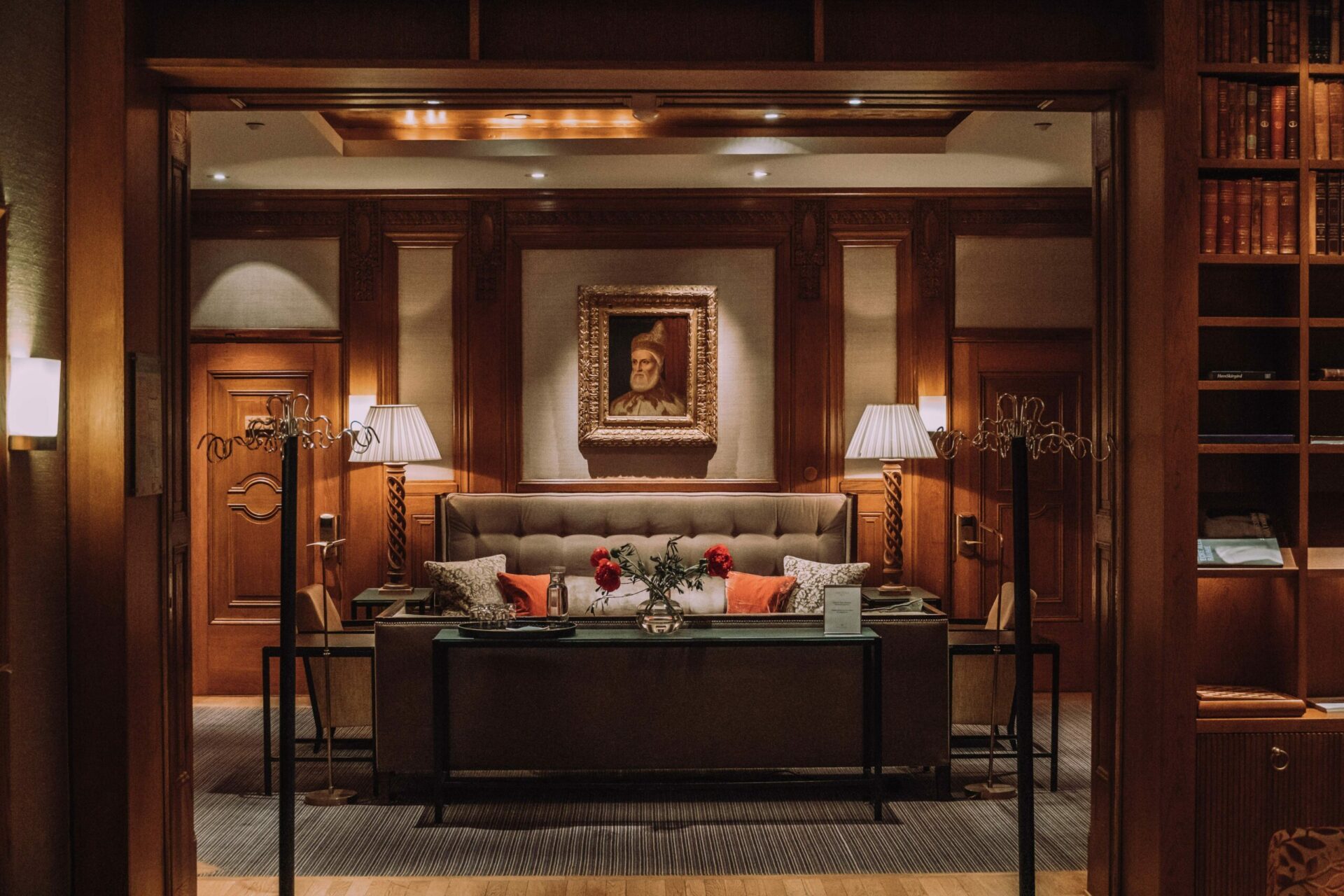 The Best 5-Star Hotels in the UK
As the hospitality industry continues to evolve at a rapid rate, hoteliers across the United Kingdom are striving to provide their guests with an unforgettable experience in 5-star facilities and services. You might be wondering: how many 5 star hotels are there in the UK? The answer: it changes by the day.
With so much competition out there, it can be difficult for hoteliers to know what makes a truly outstanding 5-star hotel. To help you on your quest for excellence, we've put together a list of the top 5 best 5-star hotels in the United Kingdom. These are establishments that offer an amazing array of amenities, activities and services tailored to provide you with a remarkable stay.

Top 5 Best 5-Star Hotels in the UK
The Montcalm Royal London House, London
The 5-star hotel has a history to share. Housed in the mid-century former Royal Mail head office styled in the 1950s, the hotel has a blend of old vibes and modern facilities tied with state-of-the-art tech. The hotel offers a great combination of work and play. Guests can unwind at the well-equipped spa that houses an eight metre swimming pool, jacuzzi, eight-seat sauna and steam room. The cutting-edge meeting spaces are excellent for hosting small events. This hotel offers a vast selection of food and drinks, ensuring that you will never run out of options. Two restaurants and an inviting rooftop bar are great spots for dining and enjoying a great view of the city.
The luxurious hotel is designed with a spacious lobby and beautifully designed bedrooms with calming neutral interiors. The combination of dark wood finishes, bespoke lighting, pale leather, plush upholstery, and comfortable beds define the rooms and suits. The spacious bathrooms are designed in understated monochromes. To make guests comfortable to the core, the bathrooms are equipped with Elemis skincare products and soft bathrobes. There are several choices of rooms to suit guest requirements.
Room Choices:
Deluxe
Deluxe Twin
Club Double
Club Twin
Montcalm Club Double
Montcalm Club Twin
The Palm
The suites at Montcalm Royal London House are the right blend of style and substance. The thoughtfully designed and decorated spaces lift the degree of comfort and convenience by a notch. Each suite comes with a stylish lounge area and also includes access to the luxurious Club Lounge where you can enjoy a hearty continental breakfast, with hot and cold beverages and evening canapés.
Suite Choices:
Junior Suite
Family Suite
Studio Suite
Business Suite
Quad room
The Montcalm experience promises an uncompromising commitment to quality and style. It is located conveniently close to St Paul's, the Thames and London's best galleries, bars and boutiques.
The 5-star hotel provides a thrilling, deeply comfortable experience with that exclusive vibe you expect. Your Montcalm journey doesn't end with your stay. Guests have the option of joining the Montcalm Club and the Corporate Club Rewards to accumulate points to reap future benefits like room upgrades and extended checkouts.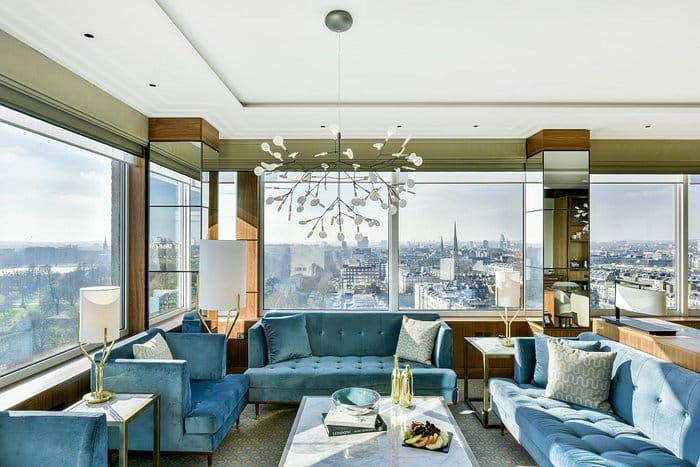 Royal Lancaster London, London
The hotel with 411 rooms and suites offers a panoramic view of the London skyline. The rooms are comfortably designed with all the amenities available to make the guests feel luxury at every step. The hotel provides all the essential amenities like 24-hour front desk service, room service currency exchange, laundry, restaurant, 24/7 gym, and airport transportation. Along with that, guests can enjoy in-room spa treatments in the privacy of their rooms. The treatment menu offers a range of massages and facials. Guests can book manicures, pedicures, hairdressing, and makeup sessions seven days a week.
The soundproof rooms at this hotel are tastefully decorated with a bright and lively look. Each room has a smart TV and a work desk. The marble bathrooms have comforting heated floors and USB charging points. Like all 5-star hotels, you will get free toiletries and a bathrobe to wrap yourself up after a relaxing bath.
Room choices:
Classic
Classic Family Room
Deluxe View
Superior Deluxe Triple
Executive
Accessible Executive
Suite Choices:
Studio Suite
Spires Suite
Park Suite
Studio Family Suite
Lancaster Suite
Royal Suite
This 5-star London hotel is conveniently nested on Lancaster Terrace, close to Hyde Park, Sussex Gardens, and the Marble Arch. The Lancaster Gate Tube Station Is easily accessible. The Paddington Underground Station is a mere 5 minutes walk from the hotel.
The Royal Lancaster is also a popular venue for corporate meetings, weddings, and gatherings. The hotel has two large ballrooms and multiple smaller meeting rooms. It is a great venue for hosting live, virtual, or hybrid events at the hotel's innovative XR Mixed Reality Production Studio.
The Royal Lancaster houses two award-winning restaurants. The Nipa Restaurant serves authentic Thai cuisine. The elegant surroundings make the meals even more appetising and enjoyable. The hotel offers scrumptious meals and signature dishes at the contemporary Tony Page Island Grill. It also offers a huge selection of exclusive wines. For light snacks and refreshing drinks, the guests can head to the Hyde Cafe that's open all through the day. The Park Restaurant serves a hearty breakfast menu with a buffet and a la carte options.
The Grand, York
The Grand at York so truly promises to make each moment magical for their guests. This uber posh 5-star hotel has impeccable service and the staff is always willing to go the extra mile to make their guests comfortable.
The rooms at The Grand are spacious, comfortable, and stylish. They offer varying room styles to cater to different requirements. Housed in a heritage building, the decor offers a mix of the historical Edwardian style and modern features. The bathrooms are spacious with impressive marble decor, and powerful showers. Robes, luxury toiletries, and slippers are provided to the guests and so is complimentary mineral water. All rooms have a flat-screen TV and free wifi access. Some rooms are equipped with rechargeable mini-bars and Nespresso coffee machines. Each room comes with a complimentary spa and gym access.
The opulent, apartment size penthouse suite has a panoramic view of the city and offers a grand luxury experience. The super king-sized bed, a dedicated lounge area, the twin rainfall shower, and the exclusive, freestanding rolltop bath allows you to relax and unwind while enjoying York's skyline.
Room Choices:
Classic Room
Executive Room
Grand Family Room
Suite Choices:
Heritage Suites
Grand Heritage Suite
The Penthouse Suite
This 5-star hotel is close to the York railway station. The river Ouse is just a 5 minutes walk from the hotel.
The Afternoon Tea at the Grand is an elaborate affair. A delectable mix of sweet treats and savoury are served on a silver stand which excites the eyes as well as the taste buds. The afternoon tea menu brings choices for everyone with the Grand afternoon tea package, Blissful afternoon tea package, Hendrik's afternoon tea package, and Children's afternoon tea package. Legacy is the Grand's fine dining restaurant. The menu is inspired by a modern British and traditional Yorkshire twist that focuses on sustainability, seasonality, and local produce.
The Rise Restaurant Terrace & Bar is the perfect place to socialise. The open kitchen offers modern British cuisine with an impressive, evergreen selection of all-time favourites. The 1906 Bar has a long list of classics, Yorkshire's finest ales, and signature cocktails. You can enjoy live music on Fridays and Saturdays and even request a song.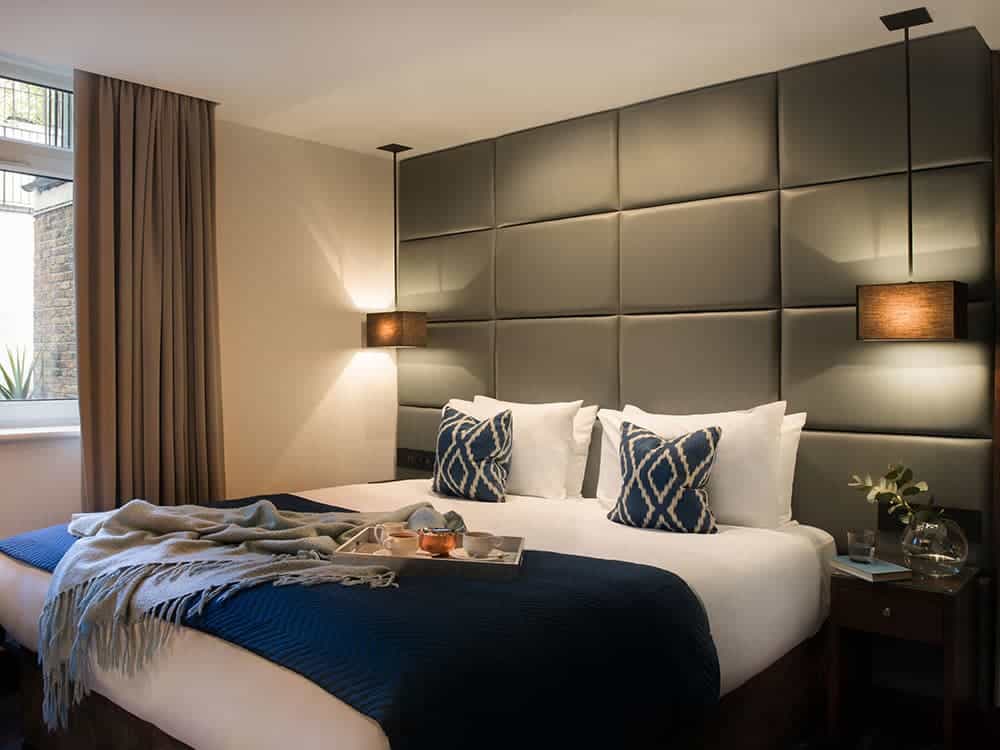 The Chilworth London Paddington, London
The 124 rooms of Chilworth are thoughtfully designed with neutral tones and natural materials. The calming interiors of the rooms are complemented by marbled bathrooms. To enhance the bathing experience of the guests, the rain showers at Chilworth are innovatively designed to dispense invigorating, vitamin-infused water to boost the well-being of hair, skin, and nails. Mild, pleasing fragrances from in-room aroma boxes diffuse bespoke scents to create a relaxing atmosphere in the rooms.
If you are a wellness enthusiast, Chilworth has many things to offer. The morning yoga sessions and the urban spa are the ultimate ways to kick start the day and feel energised. Hyde Park is a stroll away from the hotel. You can find the perfect spot for outdoor yoga and workout, or go for a run or jog.
Chilworth's rooms are decorated with their signature blues and greys. The rooms are comfortable and filled with good things. Climate-controlled air conditioning, a mini-bar, complimentary toiletries, a secure digital safe, wardrobe space, and in-room coffee/tea making facilities are some of the amenities that each room comes with.
Room choices:
Chamber Single
Chamber Compact
Chamber – Double
Chamber- Twin
Chamber Triple
Club Rooms:
The food at Chilworth is mindfully sourced and beautifully prepared with fresh, seasonal ingredients. The restaurant has a warm and classy feel with its wood-panelled walls.
The hotel extends superior services to make every guest's stay a memorable experience.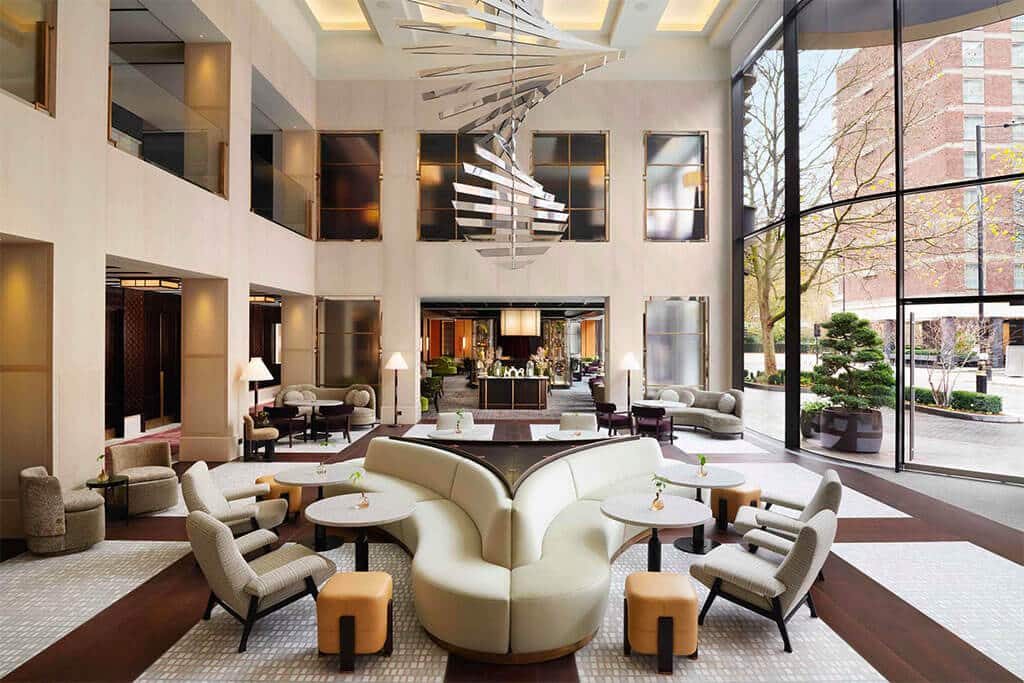 Nobu Hotel London Portman Square, London
If you are looking for a Japanese touch of luxury in the city of London, the Nobu Hotel is the place to go.
With 249 guest rooms and suites, the 5-star London hotel provides world-class amenities and dining options. From valet parking, 24-hour in-room dining, full laundry, and complimentary high-speed internet, you will get all the essential amenities at this 5-star hotel in London.
Brightly lit with wide windows for natural lighting, every bedroom design at Nobu hotel draws inspiration from the traditional English garden at Portman Square. That explains the extensive use of natural materials, earthy textures, and the colour choices. Spacious and tastefully decorated, the rooms are designed with calm and harmonious neutral colours. Every room has a large ultra high-definition TV, mini bar, and a Nespresso machine. The walk-in shower, bathrobes, and complimentary toiletries come in the classy Nobu style.
Room choices:
Superior Room
Deluxe Room
Deluxe Balcony Room
Suite Choices:
Junior Suite
One Bedroom Suite
Zen Suite
Saijoukai Suite
The Nobu hotel takes wellness seriously. Offering a range of traditional and cutting-edge therapies, and body and facial treatments specially curated by Nobu, guests can use them to harmonise their body and mind. Apart from that the state-of-the-art gym and pilates studio have personalised workout apps and personal training plans for its guests.
Located in the heart of central London's Portman Square, Marylebone area, it is easily accessible from the Marble Arch subway station and the Marylebone train station.
The Nobu restaurant has exceptional food and a versatile menu pioneered by Chef Nobu Matsuhisa. The iconic Nobu menu is not the everyday English cuisine that you expect to eat in London. The food here is greatly influenced by Japanese cuisine. The diverse flavours at the Nobu restaurant stand as a distinct trademark of 'Nobu Style' worldwide. The hotel also has a Nobu Bar & Nobu Terrace and a relaxed bar and restaurant – The Lounge.
In conclusion, all of these 5-star hotels offer excellent examples of how to create a luxurious and unique experience for guests. Chilworth Hotel provides a classic British atmosphere with its wood-panelled walls and fresh seasonal ingredients in the restaurant. Nobu Hotel offers a unique touch of Japanese luxury with its modern design, traditional therapies, and top-notch cuisine. By studying these examples, hoteliers will have a good starting point in creating their own 5-star experience that will keep guests coming back time and time again.
Subscribe to our newsletter