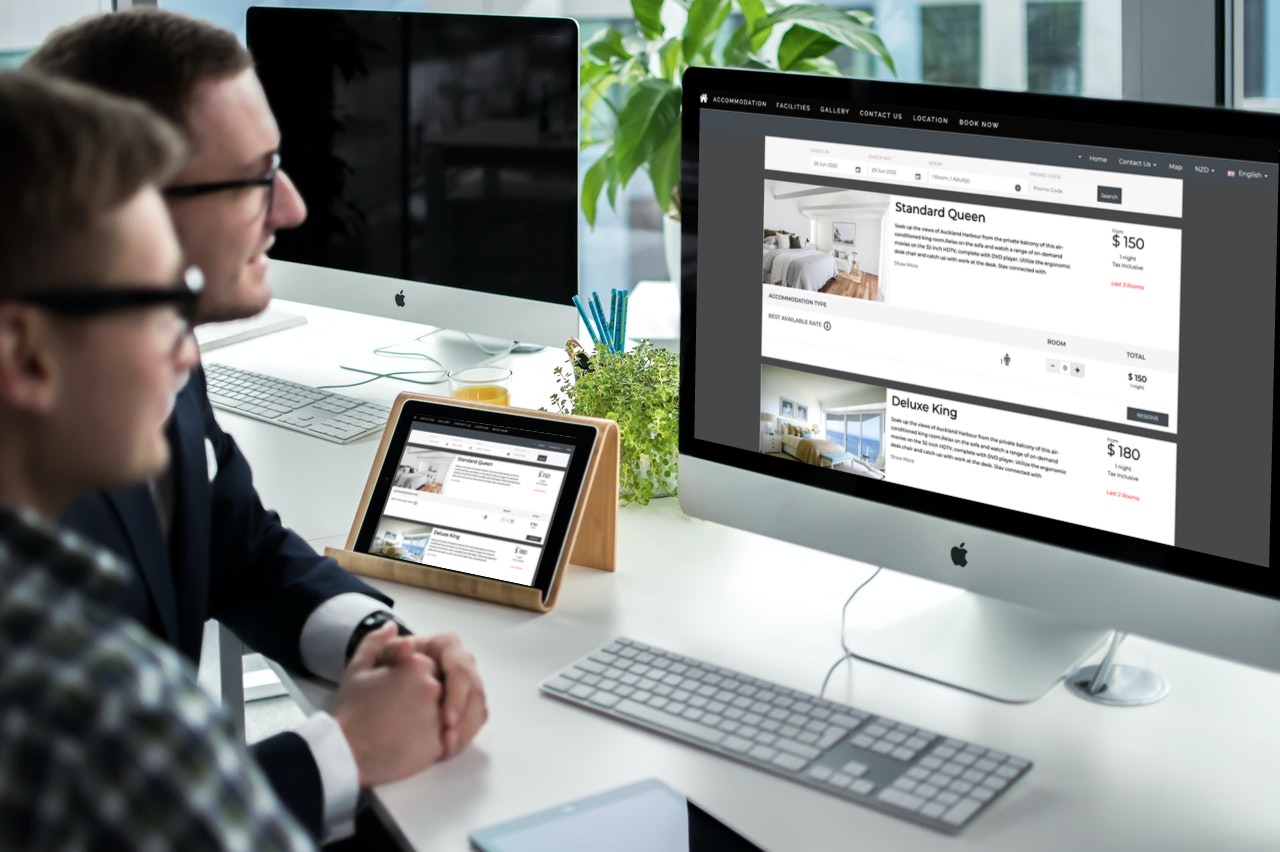 Why Every Accommodation Business Needs a Hotel Booking System
As a hotelier, your main focus is to offer impeccable service to your guests, increase the occupancy rate and boost revenue. The fundamentals remain the same, although an accommodation provider today is mostly overwhelmed by the large-scale changes taking place in the industry.
In an uncertain regulatory landscape, the rise in health and sanitation-related concerns and rapid digitalisation has changed the rules of the business. 
A Missed Opportunity?
Let's check some statistics before we go further. According to Google Trends and Statista, online users made up more than 80% of hotel and tourism-related bookings in 2018 with the preferred choice being mobile apps. 
Most of the users made bookings through travel agencies such as Airbnb and Booking.com. But here's an interesting fact: more than half of the users browsed the hotel's website for more information before going back to the OTA to confirm their reservation.
So you can conclude that most hoteliers are losing out on potential revenue that can be captured through direct bookings. The solution is to make your website a dynamic self-service shop, open 24/7, rather than serving as a static brochure. 
Why Use a Hotel Reservation System Software?
A hotel booking system, also known as a hotel reservation system, provides you with the opportunity to convert your website into an income-generating application. A hotel booking system is a property management tool that allows your guests to check availability, pricing and crucially, make bookings directly on your website.
How will it benefit you? For starters, your profit is straightaway boosted by a minimum of 15% taking into account the commissions deducted from OTA-driven bookings. But the advantages are more than the cash upfront. 
While data is the new oil, it's pretty much useless if you don't own your guests' details. With your hotel booking system, the transactions take place on your website proving you with ownership of the data according to your terms and conditions. You can easily create a database of names, phone numbers, email IDs and credit card information to create a detailed marketing campaign. 
Visibility with Control
A hotel booking system enables you to create a database and provides you with the means to not only expand your reach but build lasting customer relationships and brand awareness along the way. Regular newsletters featuring holiday plans, travel packages tailor-made for frequent guests and the use of promo codes to incentivise previous guests to return are some of the options you have for proactive marketing. 
You can personalise the entire experience from sending emails, and tracking special preferences, to requesting feedback. This puts you in control of the sales and marketing process. You don't have to be at the mercy of OTA algorithms which could limit your visibility by putting your accommodation offering on the 200th page.
Is it User-friendly?
So what's the hallmark of a good hotel booking system? A guest should be able to complete the booking within three clicks. Ease-of-use is directly proportional to a higher conversion rate from browsing to booking. 
The user interface should be intuitive with large and prominently displayed call-to-action buttons contrasted against the background to draw attention. The system needs to provide an immersive experience for your guests allowing them to see photos of the exact room they are booking. This could include the view from the windows and details about the accommodation such as a swimming pool. 
An intelligent hotel reservation system will also be responsive to the user's actions, removing unnecessary distractions after the guest has taken the next step towards making a booking by adding a date. Your hotel reservation system in short needs to function like a capable salesperson to guide your guest through the booking process.
Universal Accessibility
Ease-of-use and ease-of-access go hand in hand. More than two-thirds of online customers prefer mobile phones to search for travel and accommodation services. A versatile hotel booking system compliant with all smart devices and different operating systems will ensure you don't miss out on any business due to technology limitations. Apple or Microsoft, Windows or iPhone, tablet or mobile phone, your system will handle all queries like a pro.
Tap Into Multiple Revenue Streams
For a hotelier, up-selling and cross-selling are important sources of revenue. You need to tap all potential income streams to boost your revenue per available room (REVPAR). However, most hoteliers struggle to reach the optimum potential as they miss the best time to offer add-ons which is when your guests make the booking. 
A hotel booking system takes care of this anomaly by presenting one-click up-sell options to your guests after they have entered their credit card details. You can offer back-end services whether in-house such as breakfast or third-party options such as transportation.
All Under One Roof
Hoteliers today have to use several tools such as a property management system, accountancy software and channel manager. 
Add in regulatory compliance, and you have to devote a substantial amount of time to activities that take your focus from running your core business. A hotel management system can seamlessly integrate all business functions from booking, payment processing and year-end reporting under one roof. 
Who Foots the Bill?
You may also have faced the unenviable situation where some guests caused damage to the room, and you notice it later leaving no recourse to claim damages. Your hotel reservation system stores your guests' credit card details and lets you prepare for such contingencies where you are not left holding the bill.
You won't have this luxury with OTAs who usually don't share credit card details with accommodation providers. What's more, you can also validate credit cards and curb instances of fake bookings.
Streamline the Booking Process
A hotel booking system provides you with a comprehensive view of all your bookings, invoices, check-ins and check-outs allowing you to plan for the next few months. You can also sync your hotel reservation system with channel managers of popular OTAs and ensure that all your data is updated in real-time. This makes for a smooth booking experience for accommodation providers as well as guests. 
You won't have to go back and forth on emails and calls with guests to confirm a backing to prevent instances of overbooking or double bookings. More importantly, it cuts back the chances of human error messing up your booking schedule. 
Payment Rules According to Context
You can also automatically set rules for close to arrival or departure and single-night stays for better revenue management during peak holiday seasons such as Christmas. This ensures you are better able to manage your occupancy rates.
You can set rates according to different parameters. For example, different rates for bookings done online and walk-ins or OTA and direct bookings. If you find the commissions higher for certain OTAs you can set rules to make it cheaper to book directly from your website.
Transform Raw Data to Market Intelligence
You may be inundated with data about your customers but unless you can sort and analyse it you won't derive any insights from it. You can integrate your hotel management system with Google Analytics and your system will double up as a market intelligence application providing you with key metrics about the performance of your business.  
You can at a glance know what's working for you and what isn't and change your strategies accordingly. Furthermore, you can add parameters such as room type, and occupancy rate for predefined durations and differentiate between direct and third-party bookings. 
Who Calls the Shots?
Today you have to increase your visibility to your customers before you can even think about bookings. You look to partner with online travel agencies (OTA) to be where your customers are, but then you notice commissions eating into your profit. 
You invest in search engine optimisation and social media marketing but are unsure about how to go about it and the overall benefits in measurable terms. The result is a feeling that you have less of a say in making decisions that impact the bottom line. Well, it's time to take back control in managing your own business with your hotel booking system.
To grow your business with a powerful hotel booking system – try Preno for free today.
Subscribe to our newsletter